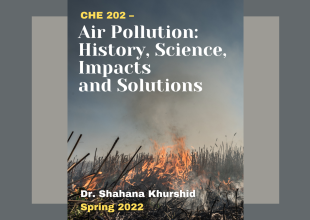 ChE 202 – Air Pollution Spring 2022
Anthropological sources, including emissions from power plants, industries, and vehicles, have decreased the quality of air that we breath over the last few centuries. This has led to concerns over the impact of air pollution on human health and the earth. Air pollution is a multi-faceted issue. ChE 202 – Air Pollution course, will study the science behind it, the policy implications on it, and the threats it poses. The focus of this course will be the underlying science behind air pollution and how it originates. Various types of air pollutants and the sources of these pollutants will be described. Physical and chemical interactions between pollutants will also be covered. The topic of indoor air pollution will be introduced which will also highlight the importance of duration of exposure to pollutants.
The course will move into studying some of the biological effects of exposure to air pollution, and how these effects are gauged. The apparent and projected effects of air pollution on the health of the earth will be examined. Policy interventions play an important role in the extent of air pollution. The effect of different policy interventions implemented across the world will be analyzed to understand the role that policy and regulation play on air pollution. Science-based and policy-based steps to mitigate air pollution will be presented to help describe possible pathways towards achieving cleaner air. Dr Shahana Khurshid from the Department of Chemistry and Chemical Engineering will be teaching this course in Spring of 2022 at SBASSE, LUMS.