Opportunities
Explore our current vacant positions and opportunities.
Afiniti Fellows: Women Leaders at the Frontiers of Science, Technology and Innovation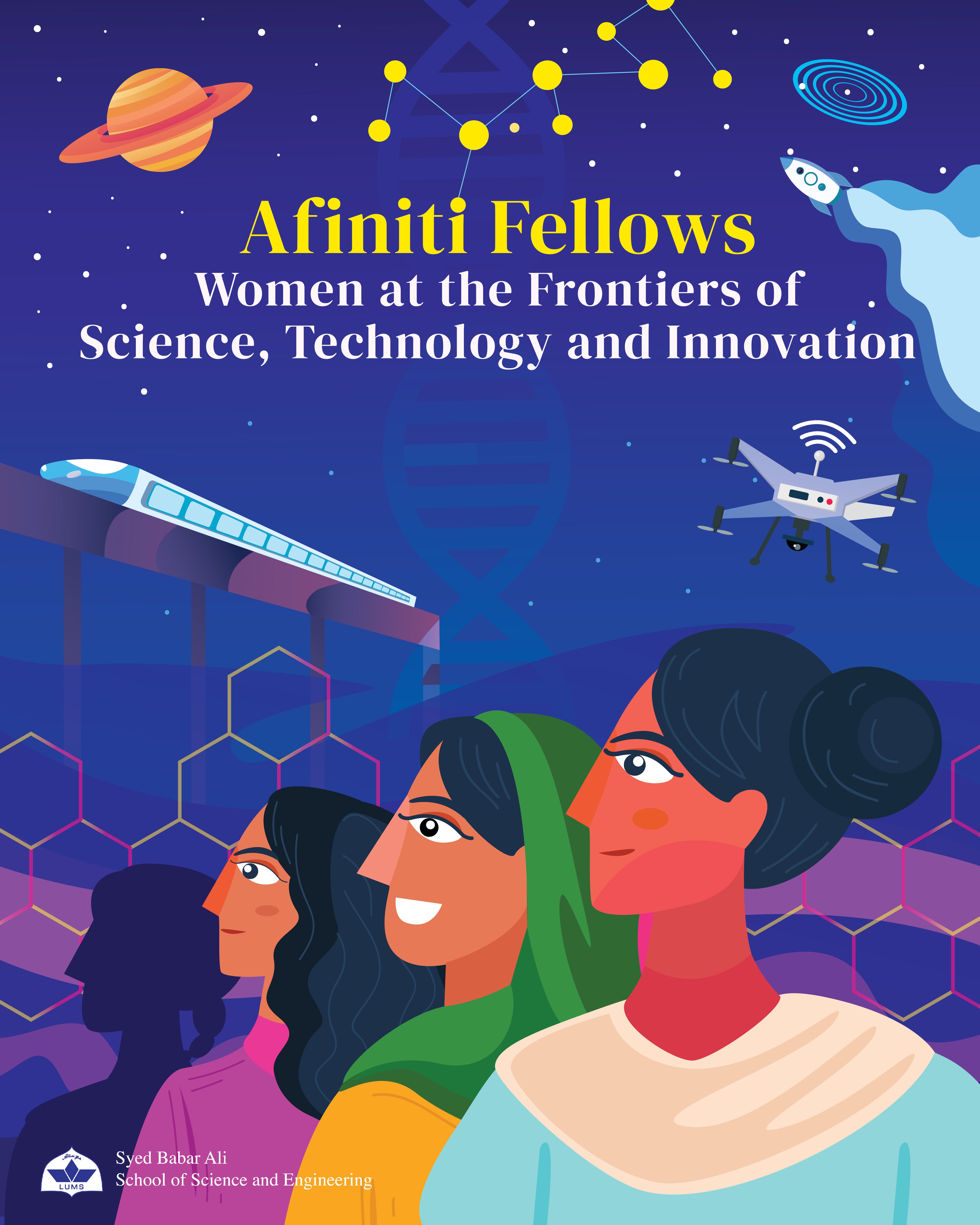 The Syed Babar Ali School of Science and Engineering (SBASSE) is proud to launch the Afiniti Fellows Program for Women at the Frontiers of Science, Technology and Innovation (STI) Program. 
This program is enabled by a generous gift from The Resource Group (TRG) and Afiniti. 
One of the major objectives of this initiative is to attract young female Faculty working in adventurous and futuristic areas in STI to inspire a new generation of women into taking up the scientific profession.
The program will fund an outstanding female Faculty member in science and technology for a period of two years. The Afiniti Fellow will hold a PhD degree with demonstrated credentials of excellence. 
The fund will support her salary, travel for research and outreach purposes, setting up of research space and the hiring of human resource to assist in her work. The position will be hosted in the Dean's office, SBASSE. 
The position is specially meant for women PhD holders in areas that are truly frontier and synergistic, and do not usually fall into one of the conventional departmental compartments that already exist in the SBASSE and other institutes of Pakistan. We are especially looking to advance our body of knowledge and expertise in the following areas:
•    Earth and planetary science including astronomy and the atmosphere
•    Understanding of the brain including neuromorphic computing
•    Pakistan's ecology (including its wildlife, flora and fauna)
•    Interface of physical sciences and engineering with medicine and clinical practice
•    Applications of science and technology to archaeology, museums and the heritage
•    Other novel and emerging areas in STI
Faculty privileges: The Afiniti Fellow will hold all privileges equivalent to a full-time Faculty member. For example, she can apply for internal and external competitive grants. She is not only welcome, but also expected to supervise research students for their final year projects and independent activities. 
Teaching: The Afiniti Fellow will be required to teach at least two courses in an academic year in her area of expertise, with the intent of introducing these novel disciplines to students at LUMS. Therefore, at the time of hiring, strong evidence of innovative and transformative teaching potential is required. 
Catalyzing new research areas: Furthermore, the Afiniti Fellow is called upon to develop a vibrant research niche to keep her research agenda truly vibrant. The Fund will support her research endeavours be it the setting up of a research laboratory, provision of space, computing facilities or research assistants. Naturally, either of the SBASSE departments could be inclined to participate more fully in her ambitions and provide her with local logistic support as well as mentorship. The Afiniti Fellow can also continue to maintain strong links with mentors and collaborators outside LUMS. 
The call for applications will go out on our website and national newspaper(s). International applicants will also be encouraged to apply. The Dean of the SBASSE will forward these applications, after a preliminary ranking, to the School Appointments, Promotion and Tenure Committee who will do a further shortlisting and invite selected candidates to appear for an interview and talk. At the time of application, candidates will initially be requested to submit (a) a detailed CV, (b) a brief research plan, (c) a plan for teaching and (d) a list of at least three referees. Applications can be sent to dean.sbasse@lums.edu.pk.
A proposed tentative timeline is as follows:
| | |
| --- | --- |
| Applications due: | May 31, 2021, or until a suitable candidate is brought into the candidacy pool |
| Decision announced: | June 30, 2021 |
| Afiniti Woman Leader start date: | Upon mutual consent, preferably in Fall 2021 |
At the conclusion of the two year period and review
The Afiniti Fellow will be asked to submit a report of her work at the end of the first year of appointment.
The contract will be for a period of two years. The Afiniti Woman Leader will be expected to have applied for and won grants to support herself should she wish to continue at LUMS. She will also be eligible, like any other prospective faculty applicant, to apply for a Tenure Track Faculty position and the regular process of assessment and review by the requisite Department or the School will follow. 
 
Research Assistant/Research Associate/Academic Advisor
Position Title:    Research Assistant/Research Associate/Academic Advisor
Department/School:    SBASSE Dean's Office
Reports to:    SBASSE Dean with input from Director, Office of Advising, LUMS
Job Level:    RA
Location:    Lahore
---
Position Overview
The Dean's Office at SBASSE oversees the academic and administrative functioning of the school. This includes academic advising of students which is delivered through faculty advisers, staff advisers, peer advisers as well as dissemination of information through emails and group sessions. The RA will be involved in the academic advising stream of the Dean's office which will involve engaging directly with students as well as designing and implementing initiatives to further advising at SBASSE. 
Key Responsibilities
I.    Leadership and Program Development:
●    Identify advising-needs of students and advising-gaps of the system at SBASSE through evaluation of current practices, stakeholder input, benchmarking best-practices, and support from Office of Academic Advising, etc.
●    Collaborate with stakeholders to create policies, processes and programming related to staff advising, peer advising and faculty advising at SBASSE.
●    Ensure that university-wide standards for advising are customized for SBASSE and effectively implemented.
●    Monitor advising initiatives to identify changes that will improve retention, degree-completion, and student success.
●    Support peer advising through recruitment, selection, training, supervision and evaluation of peer advisers.
●    Support faculty advising by suggesting improvements to the faculty advising system, serving as a resource to departments/faculty advisers, and coordinating with individual faculty on specific student cases.
II.    Advising:
●    Stay up-to-date about departmental, school and university policies (e.g. graduation requirements, school transfers, petitions, etc.)
●    Ensure that the student-body is well-informed about relevant deadlines, procedures and policies.
●    Plan and implement group advising sessions on various topics (e.g. major selections, graduate schools, etc.)
●    Advise students one-on-one  regarding academic and curricular topics (e.g. guiding course selection, elective recommendations; explaining academic policies; referring students to specialized counseling sources and/or to faculty, and more). Maintain accurate records of all student interactions.
●    Support retention efforts for students who are identified as academically "at risk". 
●    Assist students with the completion of forms/documents (e.g. grade changes, curriculum changes, petitions, etc.), and inform them of pertinent procedures and requirements. 
●    Maintain confidential academic files on students in the program ensuring integrity, accuracy, and consistency for decision making and future reference.
●    Support advising unit during important timelines (e.g. enrolment phase, etc.)
III.    Coordination and Administration:
●    Develop and sustain relationships with internal and external partners, specifically other schools and administrative departments at LUMS. Interface with SBASSE departments and the offices of Student Affairs, Financial Aid, National Outreach Program, RO, Accessibility and Inclusion, CAPS and other units for student cases.
●    Develop and document systems to facilitate capacity building of advising unit and departmental succession.
●    Extract and analyze data from Zambeel to provide support for decision making (e.g. review enrolment statistics, etc.)
●    Support the development of operational/strategic reports to highlight the performance and achievements of the office.
●    Maintain up-to-date reference documents such as university handbooks.
●    Contribute to the general administration of the advising unit, as needed, including communications, documentation, records-management, recruiting, budgets, office space, compliance with university regulations, etc.

Note this is not an exhaustive list. Given that the office is relatively small, the RA is expected to participate at all levels of the office's functioning (from basic administration to policy-setting leadership).

 
Dimension

Essential

Desirable

Qualification

Bachelor's degree in a science or engineering discipline

Bachelor's degree in a scientific field.
Master's degree (in any field) from a recognized foreign university.

Experience

1-3 years of work experience.

Experience working in a higher education context.
Experience working with students in the sciences.

Knowledge

Proficiency in Excel
Graphical presentation of data
Basic data analytics

 

Background in a relevant field (educational studies, psychology, public policy, etc.)
Experience with data analysis

Skills and Attributes

Commitment to supporting diverse populations and an ability to guide individuals toward future opportunities
Leadership, autonomous functioning, goal-setting.
Ability to interact with stakeholders at multiple levels, both internally and externally.
Willingness to learn and grow (both through self-learning and through feedback).
Strong research skills. Excellent communication, presentation & writing skills.
Creative problem-solving and initiative-taking qualities.
Excellent interpersonal skills.
Good administrative skills.
A 'can-do' attitude and ability to work both autonomously and in a team.
Attention to detail and commitment to excellence.

Familiarity with program-design and program-evaluation tools.
Proficiency in statistical analysis
Additional Information

Travel

The position is based on the LUMS campus; at times travel to other cities may be required if necessary for SBASSE events organized by the Deans Office.

Work Schedule

Work hours may extend into the evenings and weekends to accommodate deadlines or events. During the Covid-19 situation, you may be allowed to work from home, which will require you to create a suitable work environment for yourself (internet connectivity, an environment that supports your productivity at home per your own preferences and working style, setting your own work-hours, etc.)  
Interested candidates should send their resume, transcripts, and cover letter to advising@lums.edu.pk. Applicants may be asked to submit written samples.
 
Siemens Chair - SBASSE
The Syed Babar Ali School of Science and Engineering (SBASSE) Lahore University of Management Sciences (LUMS) invites applications at the rank of Associate or Full Professor to occupy an endowed chair position in the area of power electronics, electrical power systems and energy conservation. Of particular interest to the school are various sustainable green technologies including renewable energy generation, design of energy storage and optimization.
 
SBASSE, established in 2008, comprises Electrical Engineering, Computer Science, Physics, Mathematics, Chemistry, Chemical Engineering and Biology faculties co-located in a modern purpose-built building. SBASSE has a vision of 'no-boundary' multi-disciplinary research and it offers a unique academic environment that values high quality and cutting-edge projects. Based on the high quality of our students, vibrant BS, MS and PhD programs, our publication record and research funding, we are recognized among the top programs in Pakistan. We aspire to gain further international recognition and be known for top programs in the region by expanding our portfolio of research, teaching and societal impact. 

Credentials:
Internationally recognized scholar in his/her chosen field of research possessing a strong track demonstrated by scientific publications in top peer reviewed journals, supervision of graduate students and acquisition of competitive research funding;  
Experience of design and delivery of innovative academic programs with a genuine passion for teaching, mentorship and program building; 
Proven track record of professional leadership and service to the community.  
The successful candidate is expected to manage, direct and lead scientific research by setting up a world-class research group, collaborate with other centers of excellence and departments at the School, acquire major research funding and help diversify the curriculum by developing new courses, certificates and programs.
  
This endowed position carries a professorial rank appointment at the department of electrical engineering, a highly competitive salary package and a research fund. LUMS is an equal opportunity employer that offers an excellent work environment for professional growth.

The application should consist of a single PDF file including: a cover letter; an up-to-date curriculum vitae that lists the names of three experienced professional referees; a research statement; and a statement on teaching philosophy. This may be emailed to:hr-ee@lums.edu.pk, with the subject Siemens Chair Search 2021
The application deadline is 15th March, 2021 for an anticipated start date of July 1st, 2021. However this search will continue until the appropriate candidate is identified.
For more information on SBASSE, please visit sbasse.lums.edu.pk