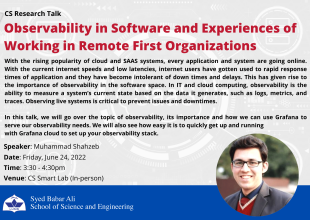 Observability in Software and Experiences of Working in Remote First Organizations
Shahzeb is equipped with an engineering degree from FAST and an MBA degree from LUMS and is currently working at Grafana Labs as a Senior Cloud Integration Engineer. He has previously worked with big names in the technology space like Afiniti and Plumgrid.
Apart from his corporate career, he also has a very strong freelancing profile where he has built multiple technical solutions for his clients along with his team independently.