Abdus Salam Postdoctoral Researchers
One year postdoctoral position at SBASSE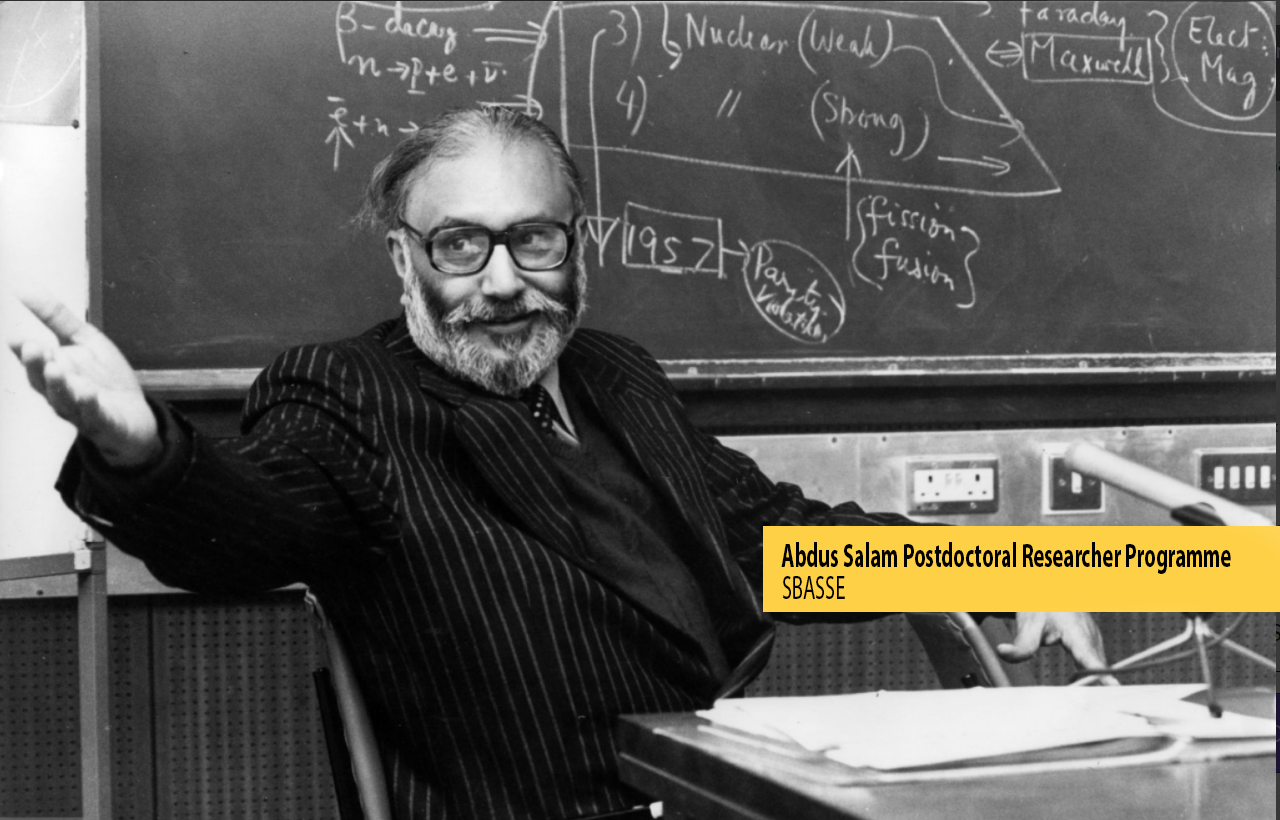 Context and Background
In order to become trailblazers in research, our universities and research institutes, must establish an exemplary research culture. Alongside the secondary needs of cutting-edge equipment and facilities, the primary determinant is investment in human resource. Such an investment involves nurturing available talent, and searching for the proper talent, which manifests  in the form of young inquisitive students, early-career researchers and experienced faculty members. 

At the Syed Babar Ali School of Science and Engineering, a considerable amount of attention has been placed in facilitating the training of graduate and undergraduate students. For example, every year about >20 students graduate with a PhD degree, with an average graduation duration of 5 years. We also train around 200 Masters students and about a thousand undergraduates. Besides, our ecosystem comprises a thriving segment of visiting or short-term researchers.
Project Rationale
When we look at global practices and standards, we notice a large discrepancy between what is considered the norm in Pakistan, and international standards. Globally, after completion of a PhD, graduate students (especially those wishing to stay in academia) progress by becoming post-doctoral fellows, as opposed to immediately becoming the assistant professors. This line of progression is now a common practice globally, as well as on a regional level (see, for example, http://physics.sharif.ir/~web/people/ ). 

A post-doctoral researcher is generally far more independent than a graduate student; although he/she still requires a research supervisor, typically a faculty member. Research scientists and researchers are routinely expected to come up with their own individual research ideas, plan their research projects, and eventually find ways in which their research overlaps with the supervisor's research, and ultimately execute them. Additionally, they are generally expected to help in applications for research grants. 

In short, a post-doctoral researcher is very similar to a young faculty member, but without the typical teaching responsibilities. This is an important distinction as students who have completed their PhD are able to gain the invaluable guidance that comes in the form of post-doctoral training. They will be provided with the necessary knowledge and access to platforms, allowing them to enhance their grounding in the subject, and prepare for important pedagogical and research roles. 

As mentioned before, post-doctoral research fellows typically work in research groups headed by a faculty member, enriching the overall brainpower of the group and advancing the overall research direction. By bringing experience from previous research groups, post-doctoral fellows can enhance the quality of research output within their host universities, bu injecting fresh ideas and ushering adventurous approaches towards problem solving and futuristic discovery. 
Objectives: Accelerating the Path to Global Impact
In SBASSE, we are creating the Abdus Salam Post-doctoral Research Programme, with funding derived from the Abdus Salam Chair endowment, a resounding honor to Pakistan's only Nobel Laureate in science and physics. 

With thriving educational programmes, and an active faculty, whose publications find place in the world's top ranked and most celebrated journals and conferences, and the vast magnitude of grant generation activity currently underway, it has been long felt that the addition of post-doctoral fellows to the ecosystem will not only fill an important gap, but also help accelerate the path to global impact. 

This Abdus Salam Post-doctoral researcher is aimed at recruiting international post-doctoral research fellows, who display advanced skills and research perspectives. By sponsoring these early-career researchers, who have received their doctoral degrees from across the globe, we will encourage the development of a collaborative research environment that is internationally engaged and allows these post-doctoral fellows to deepen their expertise and acquire new skills, and also enrich the SBASSE LUMS ecosystem.  

By focusing on graduates from international universities, we will be able to make indispensable contributions to the current research productivity and overall enhance the university's international profile, enriching the cultural and research diversity at campus. 

During their tenure at SBASSE LUMS, the post-doctoral fellows are expected to challenge our faculty to consider new research directions, mentor graduate students, thus freeing up faculty's time, and therefore the initiative promises to have a significant impact on the shared goals of promoting discovery, creativity, and innovation. 

This fellowship will integrate researchers who have enjoyed international training and allow them to promote a connection between their home universities and LUMS at large. 
Process for the Abdus Salam Post-doctoral Research Programme
This programme intends to recruit two (2) post-doctoral fellows in a year, from an international pool of researchers. SBASSE faculty will compete for these 2 positions and selection will be done on a rolling basis, routed to the Dean through the Department Chair and the SAPTC. 

The SAPTC will prepare a ranked list and the Dean, with the support of the holder of the Abdus Salam Chair at SBASSE, will make the final decision. Each post-doctoral fellow will be hired for a period of one year only and will be entitled to a salary of up to Rs. 200,000 per month. 

Additionally, international post-doctoral fellows, who are based out of Pakistan, will be provided with a one-way economy class round trip air ticket. They will receive all needed privileges, such as access to the library, sports facilities, laboratories, IT resources, and addition to the faculty mailing lists. Faculty can use additional research support from non-LUMS supplementary grants, to facilitate the research these post-doctoral researchers will undertake. 

The goal of the Abdus Salam Post-doctoral Fellowships is to enhance the creative and innovative potential of researchers holding a PhD from abroad, and who wish to acquire new skills through advanced training, international and interdisciplinary mobility. 

The following aspects will be encouraged: 
Abdus Salam Post-doctoral fellows must have at least 3 years of their latest research experience from international institutions outside of Pakistan, such as regional centers of excellence.  
Hiring of LUMS PhD students is not allowed. 
At the time of recruitment, the candidate must provide a research plan signed off and endorsed by the prospective supervisor. 
Post-doctoral fellows will be encouraged to participate in teaching, mentoring of final year projects or day-to-day supervision of graduate research. 
Expected Impact 
Enhance the creative and innovative potential of researchers holding an international PhD and wishing to diversify their research goals and skills through the high-quality training and experience LUMS faculty can offer. 
Strengthen Pakistan's human capital base with better trained, innovative, and entrepreneurial researchers. 
Enhance the quality of research and innovation, contributing to Pakistan's competitiveness and growth 
Facilitate the knowledge transfer across borders and foster a culture of open science and innovation. 
To apply please click here