Modelling, Learning and Sensing in Hydrology
A webinar series in Modelling, Learning and Sensing applications in Hydrology by WIT

The Centre of Water Informatics & Technology at LUMS is launching a webinar series intended to celebrate distinguished research in Modelling, Learning and Sensing applications in Hydrology. The seminars will be targeted towards individuals engaged in research-based activities in the hydrological sciences and will be delivered by scientists who have produced acclaimed research in the field. The concurrent emergence of new technologies, advancements in data-science and new approaches to modelling have expanded the possibility frontier for effective management of our water resources. Not only this, but these developments are uncovering new insights and spawning new discoveries that change our fundamental understanding of the Earth's hydrosphere. "Models, Learning and Sensing in Hydrology" is aimed at propagating the science and techniques of exactly this field of research.
In order to attend the seminars, interested individuals must register at the following link: https://wit.lums.edu.pk/MLSH2022. Once approved, a webinar link will be sent through which they will be able to attend and participate in the session. Individuals once approved will be eligible to attend all of the future sessions without having to register again.
A list of the first four confirmed speakers is given below:
| | | | |
| --- | --- | --- | --- |
| Speaker | Topic | Date | Time |
| Dara Entekhabi, Massachusetts Institute of Technology | Detection and mapping of shifts in dominant hydrologic processes, plant water stress and drought cascade using satellite data | February, 09 2022 | 6:00-7:00 pm PKT |
| Barton Forman, University of Maryland | What is the Optimal Mixture of Space-borne Sensors for Remote Sensing of Terrestrial Freshwater?: A Comparative Analysis of Passive Optical, Passive Microwave, Active Microwave, and LiDAR Retrievals | February 23, 2022 | 6:00-7:00 pm PKT |
| Manuela Girrotto, University of California, Berkeley | TBA | April 06, 2022 | 6:00-7:00 pm PKT |
| Carlos Rivera Villarreyes, Danish Hydraulic Institute  | TBA | TBA | TBA |
We look forward to your active participation in the sessions.
Series Organizers
Dr. Talha Manzoor,
Dr. Jawairia Ashfaq Ahmad,
Dr. Zahra Lakdawala,
Dr. Abubakr Muhammad.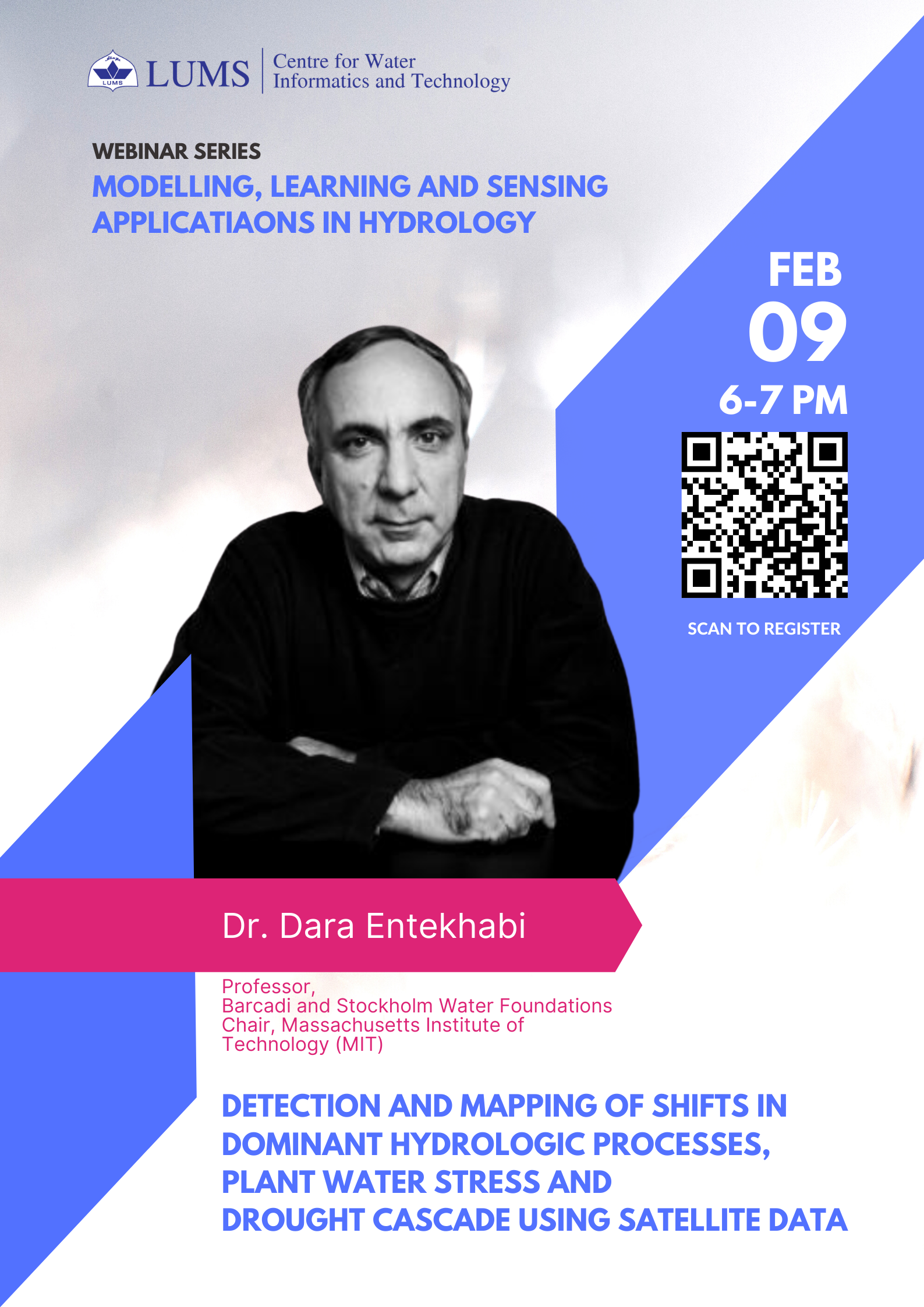 First talk of the Webinar Series
Detection and mapping of shifts in dominant hydrologic processes, plant water stress and drought cascade using satellite data
Speaker: Dr. Kimiko Barrett (Headwaters Economics, Bozeman, Montana, USA)
Date: February, 09 2022
Time: 6:00 PM Pakistan Time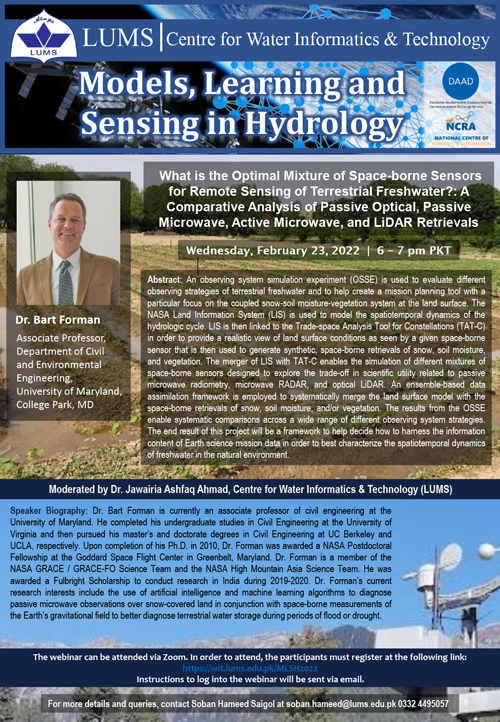 Second talk of the Webinar Series
What is the Optimal Mixture of Space-borne Sensors for Remote Sensing of Terrestrial Freshwater?: A Comparative Analysis of Passive Optical, Passive Microwave, Active Microwave, and LiDAR Retrievals
Speaker: Dr. Bart Forman (Professor of civil engineering, University of Maryland, USA)
Date: February, 23 2022
Time: 6:00 PM Pakistan Time