Opportunities for Students
Explore all opportunities for students
Technical apprenticeship with NMR spectrometer
We are trying to expand the scope of research and learning engagements for our undergraduate students. While the University's pedagogical partnership programme is a brilliant scheme, our technical infrastructure and ecosystem provide additional opportunities. For this reason, we launched an online ambassadors programme; inducted assistant editors who could write science stories for our magazine, 'The Particle'; and have engaged students in helping the departments build academic portfolios and websites.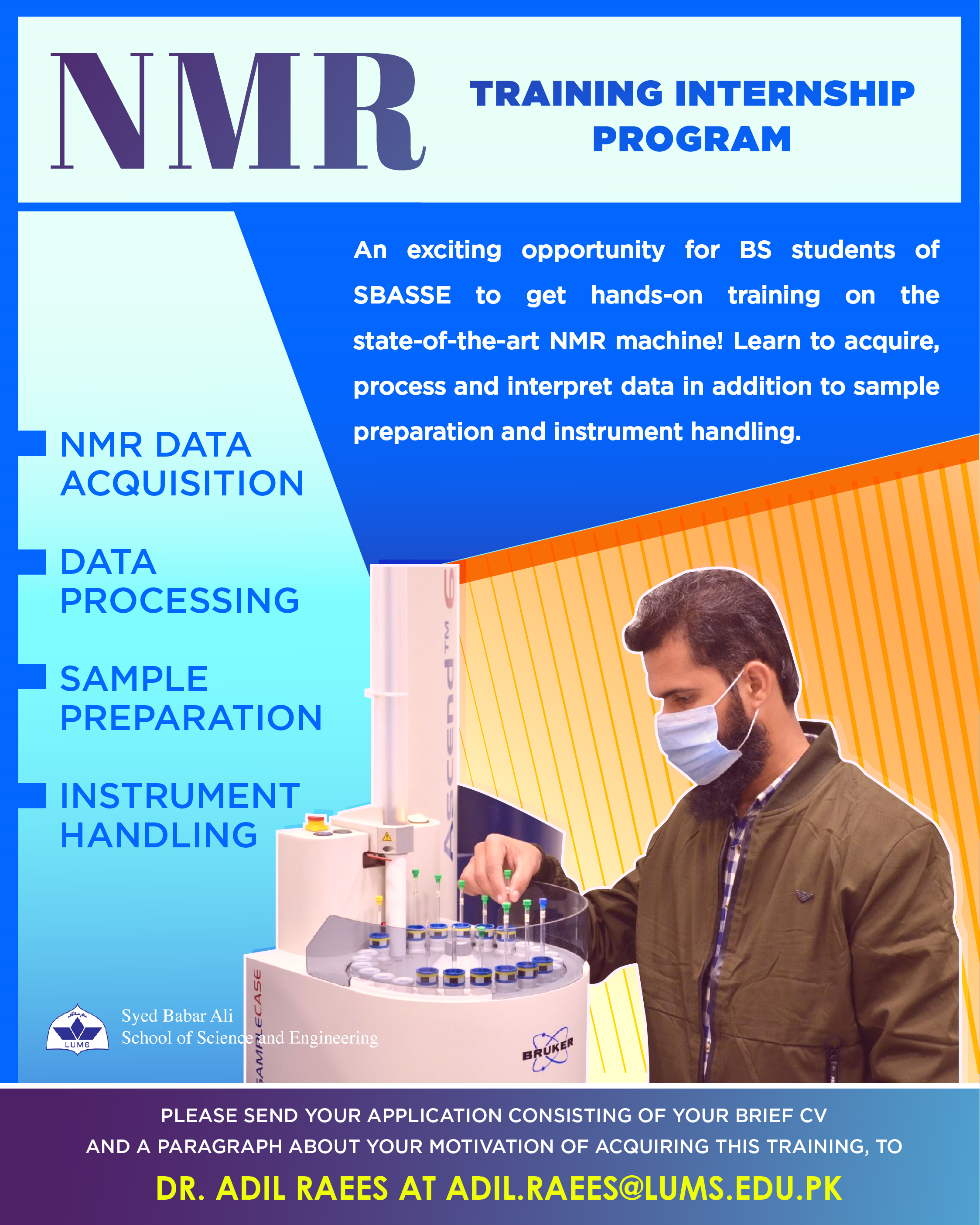 The latest project are our technical apprenticeships. In the first phase, undergraduate SBASSE students are welcome to spend ten weeks in the NMR spectrometer laboratory https://centrallab.lums.edu.pk/nuclear-magnetic-resonance . Our machine is a 600 MHz NMR spectrometer equipped with direct hydrogen, carbon, phosphorus and heteronculear probes and allows the determination of structure of, mainly organic molecules, ranging from small molecules to complex proteins. The NMR spectrometer is a complex radio. The signal is processed using sophisticated processing routines and is visualized and analyzed using specialized software. Furthermore, the machine is a beautiful illustration of quantum mechanics of warm molecules. 
The opportunity therefore is rich and diverse and of wide appeal. 
If you are interested in availing this opportunity (we can accommodate two students at a time), please write to Dr. Adil Raees explaining why you are interested in this apprenticeship. At the successful completion of this work, which may go up to 6-8 hours a week, apprentices will receive a certificate, can become superusers of the machine training others and will also receive a total scholarship of Rs. 20,000.
Assistant Editor - The Particle
The Particle, which is the Syed Babar Ali School of Science and Engineering's quarterly magazine, encourages the LUMS student talent and also to participate in the editorial roles. We are inviting applications from current students of LUMS, from all Schools, for Assistant Editors. If you are interested please apply here.
SSE Online Ambassador Program
We are excited to start an SSE Online Ambassador Program to support incoming first year students. We are inviting applications for SSE Online Ambassadors for the Fall Semester 2020-2021. The Syed Babar Ali School of Science and Engineering and the Office of Academic Advising are committed to provide continuous support to its student population and the SSE Online Ambassadors will play a vital role in providing that support. 
 
Find attached Online Ambassador/Advisor's job description and preferred qualities. If you enjoy socializing with other students and want to support incoming first year's transition smoothly to LUMS, we encourage you to apply! 
The application form is here:
https://www.jotform.com/build/202512616109042
The deadline to apply is 6pm, Tuesday, August 18 2020. We will be able to offer an honorarium of approximately 10,000 PKR for the entire semester. Furthermore, we aim to select about 15 ambassadors.
 
We aim to finalize Online Ambassador/Advisors for the semester within the next week. Therefore, we recommend that you keep yourself available for a quick interview call if you are shortlisted. For these reasons, we will also not be able to extend the deadline, so we request you to plan accordingly.
 
You can email aleena.khan@lums.edu.pk for any questions about the position. We look forward to receiving your applications!