PhD Programme
An Overview on PhD Programmes at SBASSE
The PhD programme at Syed Babar Ali School of Science and Engineering is designed to prepare students to think scientifically and independently conduct high-quality research. The school offers a PhD in six programmes:
To graduate, students must earn a total of 42 credit hours, i.e. 18 credit hours of coursework and 24 credit hours of research work/thesis. Major milestones that must be achieved for the successful completion of the PhD degree include the Comprehensive (Qualifying) Examination, Thesis Proposal Defense, at least one peer-reviewed journal article and PhD Thesis Defense. After admission, a student is "matched" to a faculty member according to the student's research interests. This faculty member will be serving as the student's PhD supervisor (thesis advisor). Students must start preparing for the PhD Comprehensive Examination immediately after admission.   

Although courses taken in the first semester may prove to be helpful, it is anticipated that full preparation of comprehensive examination requires extensive independent study.
Students enrolled in the PhD programme are expected to undertake original research work under the guidance of their thesis advisor. It is the responsibility of the student and the PhD supervisor to ascertain that the quality of the research work is high and that the results are published in at least one peer-reviewed scientific journal that covers the student's field of specialization. The student must then complete the remaining coursework and expand his/her research work culminating in the submission of a written PhD Thesis followed by its defence.
Successful Graduates in 2022
Twenty-six (26) PhD students in the Syed Babar Ali School of Science and Engineering have successfully defended their PhD work, in the academic year of 2021-22.
A PhD journey is meant to create resourceful intellectual capital. Seeing young investigators equipping themselves with the depth of disciplinary knowledge and moving on to make lasting contributions in the society, is the ultimate reward of the Faculty's and the students' work.  

Let us congratulate all of the these students. The list is attached.
Successful Graduates in 2020
In the past six months, the Syed Babar Ali School of Science and Engineering has graduated about 20 PhD students, with an average graduation time of fewer than 5 years. This is important to mention because scientific investigations, especially in Pakistan, are protracted, riddled by the lack of resources, sub-optimal infrastructure, absence of post-docs, and bureaucratic delays coming down with public funds.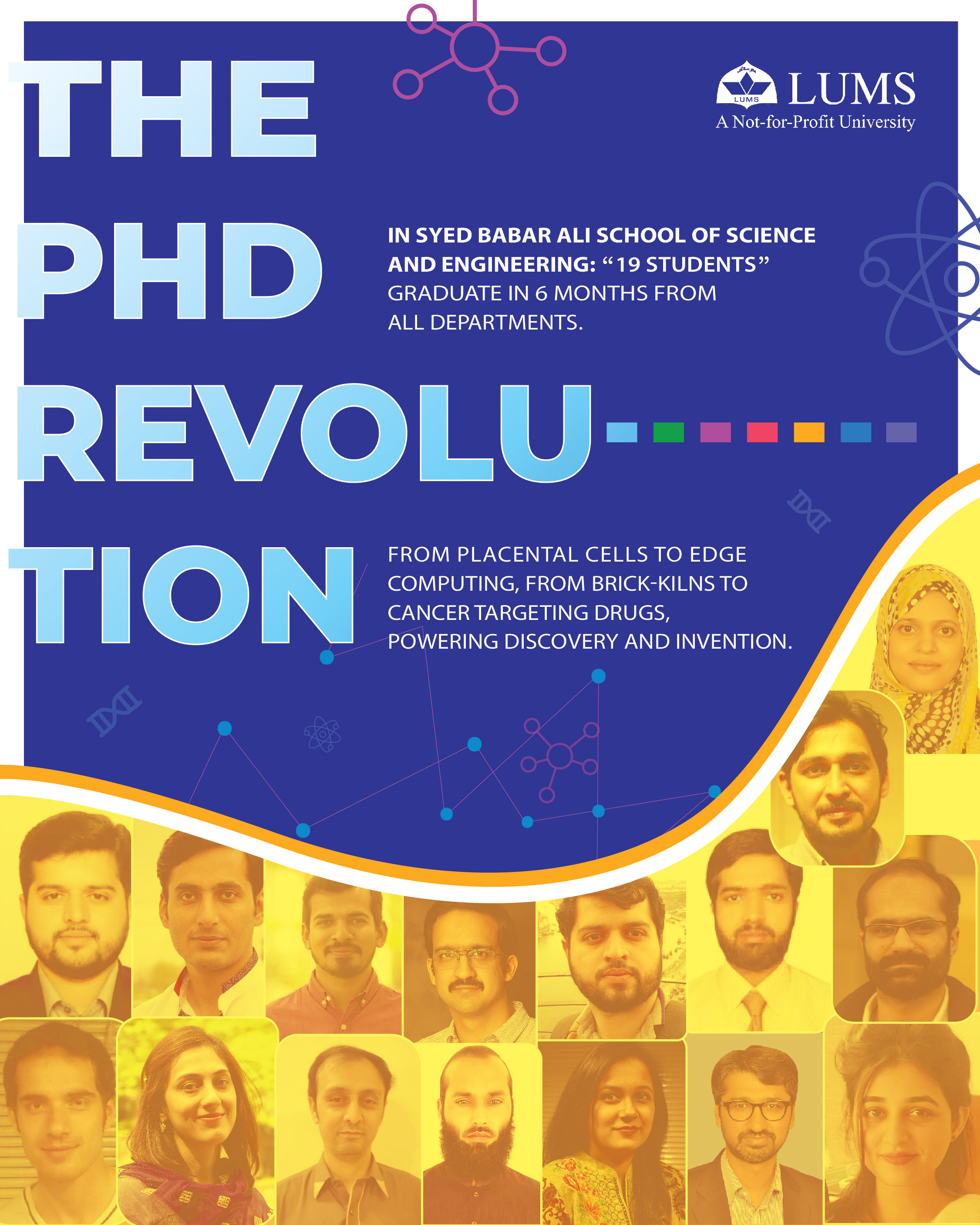 These PhD students have produced more than 50 journal articles with a cumulative impact factor of more than a hundred (100), 25 conference articles, and numerous new tools, technologies and software. This body of knowledge has also helped the Faculty apply for external grants amounting to Rs. 2.5 billion in the past one year alone with a promise for significant University overheads. Most of these grant applications are trans-disciplinary and under review.
The PhD cohort has worked on myriad problems ranging from modelling disease to inching closer to cancer therapies, from measuring quantum processes to synthesizing new drug molecules, and from harnessing sun's energy for chemical reactions to advancing novel paradigms of computing. We will cover these stories in our upcoming newsletters and some of them can be seen here: https://web.facebook.com/sbasselums?_rdc=1&_rdr
We can label this as a mini-revolution brewing in Pakistan's scientific landscape. We had all known about globally competitive undergraduates coming out from LUMS. This news closes cycles and is, in my opinion, the culmination of visionary steps taken by the LUMS leadership, the advisory board and the SSE Faculty only ten years ago. The journey continues. Let us congratulate all of these students, whose complete list is attached.