Graduate Education
For over a decade, the Syed Babar Ali School of Science and Engineering (SBASSE) at LUMS has been imparting top-quality education with an aim to produce future leaders that can make innovative and impactful contributions to Science & Technology – a key to the success of any Nation.
SBASSE offers graduate and doctoral degrees in a wide range of disciplines. During the course of study, student learning takes place through lectures, tutorials, laboratories, problem-solving exercises, research projects and frequent interaction with the experienced and world-class faculty members.
MS Electrical Engineering at SBASSE featuring Dr. Ijaz Haider Naqvi
MS Biology at SBASSE featuring Dr. Muhammad Tariq
MS Computer Science at SBASSE featuring Dr. Muhammad Hamad Alizai
Message from the Dean
SBASSE has a special place in my heart. I joined this school twelve years ago when the school was being built at LUMS. I chose to work here because I thought we could make a difference. With the years, my own belief in the goodness of science and how we can impact the society has grown.
 
The graduate programme in science and engineering at LUMS is poised to make an impact. Even though the largest part of our student population comprises undergraduates, our deepest impact would truly be made by the research that emanates from the work of the graduate (Masters and PhD) students who are indeed the engines and drivers of our research mission.
The SBASSE currently offers MS degrees in six majors: Biology, Chemistry, Computer Science, Electrical Engineering, Mathematics and Physics. Each programme comprises of 30 credit hours, spreading over the core and specialized courses. One of the distinguishing traits of our Master's programme is the focus on fundamentals.  We believe that the undergraduates prepared by most of our esteemed institutions in the country require further sharpening of skills and consolidation of their understanding of the fundamental principles of the subject. Hence the SBASSE Masters programme serves as a watershed in their careers where the students are glided through a condensed refresher sojourn through the basics of their subjects, followed by work on rigorous and interesting research problems, while being intimately mentored by our world-class Faculty.
Many of our Master's students are employed as full-time professionals or are seasoned teachers positioned in colleges and universities across the country. The programme, therefore, aims to enhance the students' vision of the subject and providing them distinct examples of creative, exemplary and inspiring teaching, an attitude they can emulate or benchmark for themselves as they revert to their teaching professions. 
Research dissertations are mostly optional. In many cases, Masters research does become a springboard for doctoral studies; while in other cases, the rigour of our taught coursework prepares our graduates to become inspiring and highly qualified teachers themselves.
The PhD programme at SBASSE also spans the same six disciplines as mentioned above. The PhD programme is our Faculty's most cherished resource and prized possession. It provides them with a chance to ride the wave of discovery, and unleash their penchant for invention. The PhD students participate in their ride with them. They discover together, invent together, explore together. 
Our Faculty's research interests lie in diverse areas, ranging from probing the cosmological grandeur of our universe to the discovery of new vaccines and drugs to ameliorate human suffering; from studying the mechanics of sports to the preservation of our cultural heritage, and from the making of wearable medical diagnostic implements to investigating how petroleum seeps through rocks. Research in SBASSE straddles across Departments and in many cases, has a multi-faceted, inter-disciplinary flavour; with many a time, insights from the social and economic aspects also shaping the course of our scientific investigations. 
The Centres at LUMS, particularly the Center for Water Informatics, the LUMS Energy Institute, the National Centre in Big Data and Cloud Computing, the Technology for Peoples Initiative and the upcoming National Centre for Nanoscience and Nanotechnology are multi-disciplinary institutions in their own right, providing an impetus and resources for solving the grand challenges of our times.
The SBASSE LUMS provides a conducive research culture to our graduate students enabling a dedicated focus towards the research endeavour, while we at the School, strive to take care of provisioning them with the supplies, materials and equipment. Our PhD students enjoy a rich research infrastructure powered by central research laboratories, a Makerspace, fully equipped workshops, disciplinary research wings and state-of-the-art research instrumentation.
 
PhD students are encouraged to travel internationally to share their research with their peers worldwide, can write grants and can also compete for the competitive Syed Babar Ali Research Awards which provide extra support for research. Additionally, all PhD students are provided support for their competing needs and can avail the excellent on-campus housing facilities. In due course, mothers who wish to become graduate students can avail childcare support. 
I hope you will recognize that the PhD programme is also fully funded, for LUMS pays for the tuition fee and all students receive a monthly scholarship. The average completion time for a standard PhD degree at LUMS currently stands at 5.2 years. 
Dear readers, at LUMS SBASSE, we are different because we care for our PhD students, whom we believe give away chunks of their lives for higher learning and for seeking knowledge, which some envisage as seeking the truth—the truth which in many ways liberates us from mediocrity. 

Dr. Muhammad Sabieh Anwar 
Professor of Physics
Ahmad Dawood Chair and Dean
Syed Babar Ali School of Science and Engineering
 
---
Successful Graduates in 2020
In the past six months, the Syed Babar Ali School of Science and Engineering has graduated about 20 PhD students, with an average graduation time of fewer than 5 years. This is important to mention because scientific investigations, especially in Pakistan, are protracted, riddled by the lack of resources, sub-optimal infrastructure, absence of post-docs, and bureaucratic delays coming down with public funds.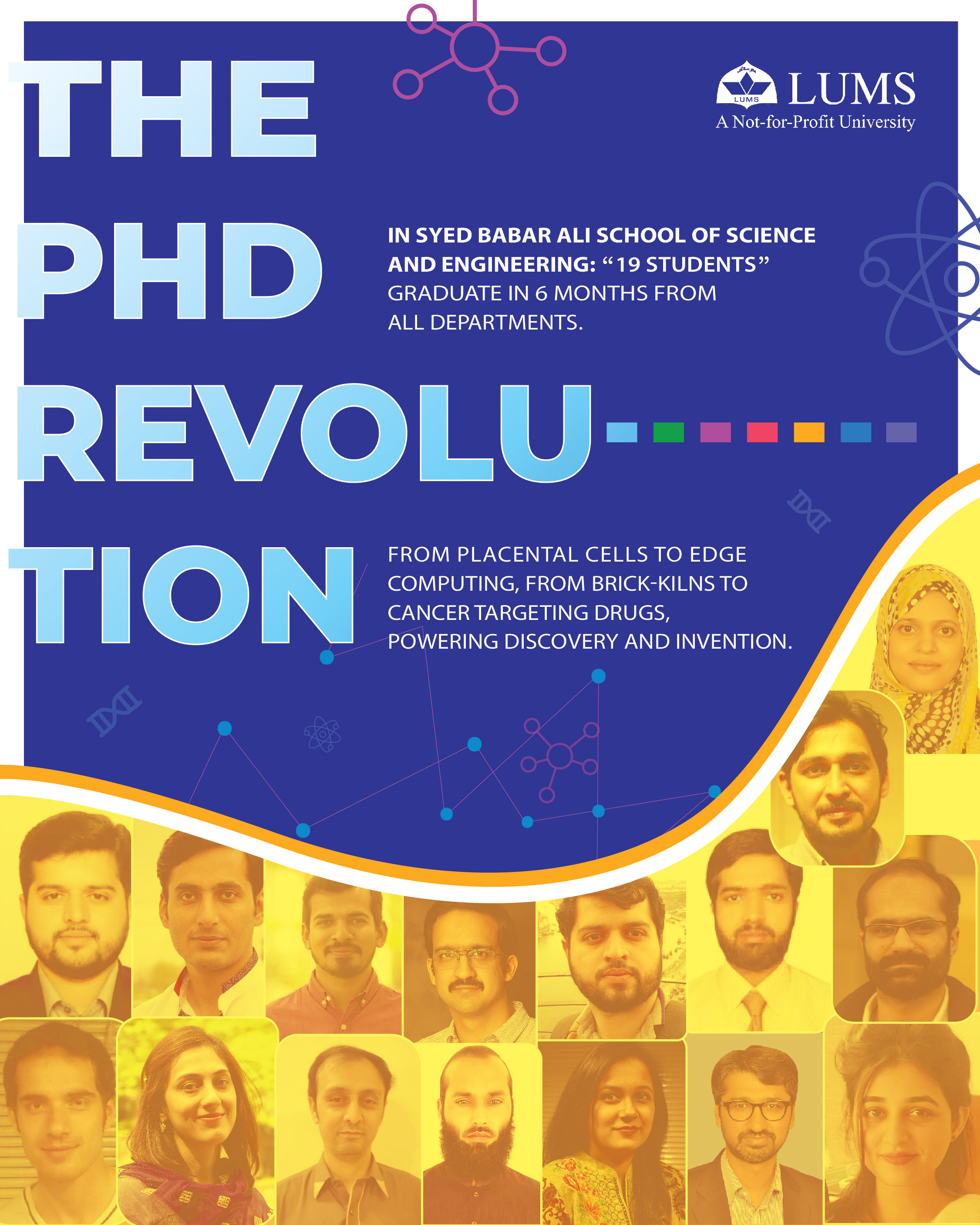 These PhD students have produced more than 50 journal articles with a cumulative impact factor of more than a hundred (100), 25 conference articles, and numerous new tools, technologies and software. This body of knowledge has also helped the Faculty apply for external grants amounting to Rs. 2.5 billion in the past one year alone with a promise for significant University overheads. Most of these grant applications are trans-disciplinary and under review.
The PhD cohort has worked on myriad problems ranging from modelling disease to inching closer to cancer therapies, from measuring quantum processes to synthesizing new drug molecules, and from harnessing sun's energy for chemical reactions to advancing novel paradigms of computing. We will cover these stories in our upcoming newsletters and some of them can be seen here: https://web.facebook.com/sbasselums?_rdc=1&_rdr
We can label this as a mini-revolution brewing in Pakistan's scientific landscape. We had all known about globally competitive undergraduates coming out from LUMS. This news closes cycles and is, in my opinion, the culmination of visionary steps taken by the LUMS leadership, the advisory board and the SSE Faculty only ten years ago. The journey continues. Let us congratulate all of these students, whose complete list is attached.
 
Graduate Handbook 2020-2021
Click here to download
For Graduate Admissions, 
Please click here
---
Please download the detail flyer PDF
by clicking the relevant image below: 
---
KNOW THE FACTS