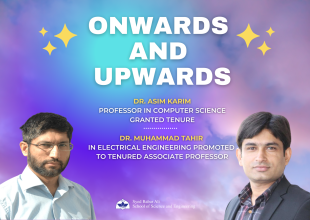 Faculty Promotion
Dr. Asim Karim, Professor in Computer Science has been awarded tenure and Dr. Muhammad Tahir in Electrical Engineering has been promoted to a Tenure Associate Professor. 
Dr. Asim Karim is one of the country's leading scientists in data mining, machine learning and applied artificial intelligence. A pioneer of computing at LUMS, his current research directions include text categorization and clustering, deep learning, social media analytics, and causal analysis and inference from observed data. Dr. Karim has authored two books and more than 25 journal papers and is a highly cited researcher. Dr. Karim is also the director of the Knowledge and Data Engineering (KADE) Lab at the Syed Babar Ali School of Science and Engineering. His work on accessibility and techno-social integration of migrants, refugees and dispossessed communities keeps him at the forefront of national initiatives on technology inspired solutions.
Dr. Muhammad Tahir is recipient of the EE Distinguished Teaching Award. His research focuses on the development of novel algorithms for satellite navigation receiver technology, receiver baseband signal processing algorithm design and development, Bayesian signal processing, detection and estimation theory, channel coding in communication networks, machine learning and sequential Monte Carlo methods. This is a truly diverse portfolio! Since 2016, Dr. Tahir has also been part of the Summer Research Training Program, which is a free-for-all program focused on hands-on training covering topics like signal processing basics, wireless communication, and machine learning amongst many others, a program that is open for students within LUMS and without.
Congratulations to both Dr. Asim Karim and Dr. Muhammad Tahir. Syed Babar Ali School of Science and Engineering is lucky to have both of them at LUMS.