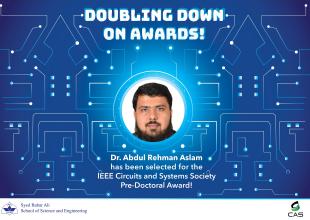 Doubling Down on Awards!
Winner of the inaugural Syed Babar Ali Research Awards, Dr. Abdul Rehman Aslam from the Department of Electrical Engineering at SBASSE has been selected for the IEEE Circuits and Systems Society Pre-Doctoral Award!
The purpose of the annual IEEE Circuits and Systems Society (CASS) Awards is to illuminate the accomplishments of its members and celebrate their dedication and contributions in the field. CASS offers grants to recognize its young members enrolled in a PhD program in a field related to the Society's Field of Interest. The Society has membership top-tier scientists from across the globe and organizes numerous conferences every year. Winning an award from the CASS is a high honor that is only granted to the best researchers, from only the finest of research institutions.
In honor of this recognition, the CASS will grant an amount of USD 2,500 to Dr. Abdul Rehman Aslam to aid his ongoing research efforts. Dr. Rehman credits this achievement to the support and mentorship of his PhD advisor, Dr. Awais bin Altaf. Dr. Rehman's work on developing wearable technology to sense early symptoms of ASD (Autism Spectral Disorder) by monitoring brain activity of affected children, had won him the SBARA award last year. We congratulate Dr. Abdul Rehman Aslam on this laudable achievement and wish him success in his future research.