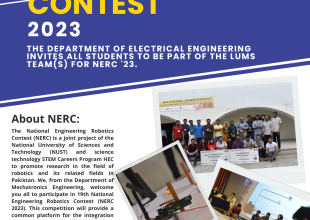 Reignite your passion for robotics - Join the LUMS team for NERC
Robots! Drones! Advanced AI! The future has arrived faster than we could have anticipated, and the students of LUMS finally have the opportunity to step into a utopian cyberpunk-esque age. The National Engineering Robotics Contest (NERC 2023) is approaching steadfastly for all you tech enthusiasts wanting to make your mark in the world of Robotics & Mechatronics.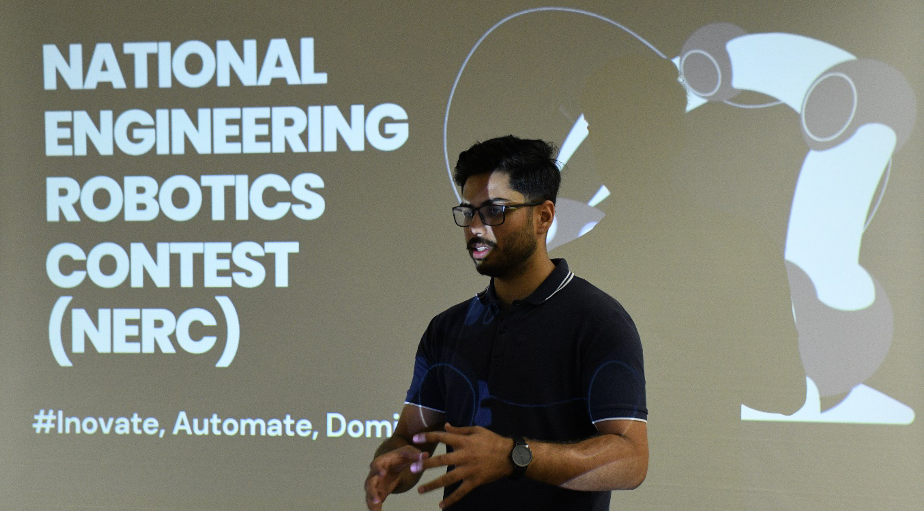 This special collaboration between NUST and the STEM Careers Program HEC arrives again for its 4th edition as the most prominent competition in Pakistan for those aspiring in robotic designs, control algorithms, and architectures. Participants will be able to showcase their talents over 5 days, 11-15th July, at NUST CEME, competing amongst other university representatives and establishing themselves as leading pioneers of robotics research in Pakistan. The Electrical Engineering department of LUMS invites students, even those outside SSE, to team up and unify their creative geniuses to this momentous occasion. Having students even from the SDSB in past, Dr. Jahangir Ikram invites everyone with a burning desire to learn and create to apply. 
This year's theme also resonates deeply with Pakistan's future, particularly in developing and integrating robotic elements within agriculture, which is considered primarily a traditionalized industry. Students acquiring recognition and acknowledgement through NERC 2023 would ensure that successful inventions find their way into mainstream technological utilization within this leading industry of Pakistan.
This theme revolves primarily around how robots could improve overall efficiency and quality of crop production, contributing to reduced manual labor and booms in economic growth. Those of you intrigued by the limitless approaches can begin your engineering journey here and expand your vision into creative territories unknown to you until now. Under the expert guidance of Dr. Jahangir Ikram, and Mr. Mudassar Ejaz as your mentor, all that is required for success in the competition is a passionate drive to create. The future awaits! 
 
All interested candidates can reach out to Mr. Mudassar Ejaz on mudassar.ejaz@lums.edu.pk ASAP. 
All necessary details and categories are available on the website.