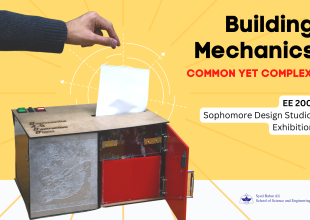 Building mechanics – common yet complex
The first batch of students enrolled in the EE 200 – Sophomore Design Studio Course, offered by the department of Electrical Engineering, got the opportunity to design, ensemble and finally exhibit their paper shredders on 12th December, 2022. Invented to destroy anti-Nazi leaflets, this seemingly common machine requires great precisions and mechanics. Something Qasim Fareed, one of the students enrolled in this course, agrees to while talking about his project. His peers seemed surprised to learn that he had "only" made a paper shredder the entire semester. Little do they know how much effort goes into creating this machine.  "I have a newfound respect for people who make things by hand. Its insanely difficult to measure everything precisely and create. Even making the walls stand straight can be challenging. Our walls are still tilted to the right", Qasim states while pointing at the paper shredder he built with his course mate, Qasim Ali.  
It is safe to say Dr Talha Manzoor succeeded with his goal of instilling a "makers" spirit in the students. He noticed that EE students had little exposure to mechanical design at early stages of their academic programme. With this in mind, Dr Talha designed a course that presents students with an open-ended problem at the start of the course and encourages them to come up with their own solution. This EE course is accessible to all, and had students with major in Mathematics and Physics this time. While working on their projects, the students learnt to fabricate a circuit and use different softwares and tools that are generally not accessible to sophomores. They were required to include some features like having a breaker, wastebasket to collect the debris and ability to deal with potential paper jams. The students were assigned to build a mechanical paper shredder that worked without any programming.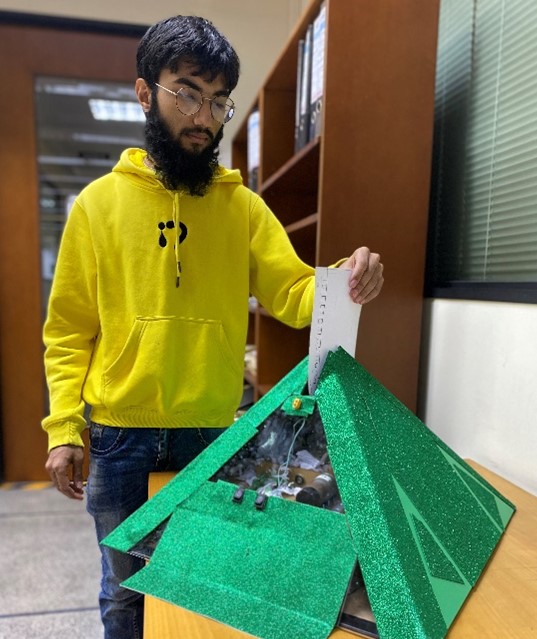 Text BoxSolving the complexity did not limit their creativity, whether it was choosing the name or designing the machine. One project focused on the compatibility of the machine to make it mobile, while another student gave his shredder an unusual pyramid shape to make it unique and prevent hazards by increasing the distance between the blades and where the paper is inserted.  Every shredder had its own name, but the most intriguing one was perhaps QADO, standing for Quintessential A5 Destruction Object. Only Qasim Fareed and Qasim Ali would be able to tell the story behind the acronym that sounds like bottle gourd in Urdu. Despite having multiple assignments, quizzes and exams in the coming days, the students seemed excited about their projects and were motivated to continue with mechanics in their further studies. Given the success of the course, Dr Talha looks forward to run this course again, probably with a different project.