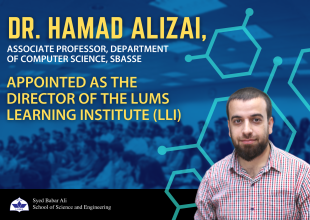 New Appointment - Director, LUMS Learning Institute
We are delighted to announce the appointment Dr. Hamad Alizai, Associate Professor, Department of Computer Science, SBASSE, as the incoming director of the LUMS Learning Institute (LLI).
Dr. Alizai has over 12 years of experience as a software engineer, technical lead in industry and academia. He is a prolific researcher, with interests in the Internet of Things, networks, mobile computing, and related innovative computing technologies. Dr. Alizai is also the recipient of Vice Chancellor's Award for Teaching Excellence, 2022. His interest in LLI goes back during the Institute's formative years when he participated in the Instructional Skills Workshop (ISW) and subsequently, as a certified instructor for ISW programs.
During the pandemic, Dr. Alizai was not only an enthusiastic participant but also led several pedagogical workshops for faculty. Dr. Alzai's growth and impact as a computer science teacher is demonstrated by his ongoing innovation in teaching large classes and designing authentic assessments to enhance the students' learning experiences across 9 different courses in 22 sections.
His commitment and leadership to our teaching community has been evident from the get-go, given his significant contributions to the growth and development of the LLI and its programs. There are wonderful teachers at LUMS. There are fewer who have shown, repeatedly the vision and ability to do things differently in the classroom and across LUMS in ways that influence the learning experiences of students, faculty, and our wider community.
Building on the many contributions of the outgoing director, Dr. Suleman Shahid and LLI staff, and working with the current Interim Director, Dr. Launa Gauthier, Dr. Alzai wants to strengthen LLI's engagement with each School. He wishes to further understand their needs, build school specific programs, trainings and other supports for faculty and students. Dr. Alizai is also keen on developing relationships with both public and private sector organizations.
We are pleased to welcome him aboard and look forward to his work at LUMS!