The Khalid and Mussarrat Aziz Research Grants for Planet Earth
The Syed Babar Ali School of Science and Engineering is pleased to announce The Khalid and Mussarrat Aziz Research Grants for Planet Earth. These grants are aimed at encouraging research scholarship and knowledge creation in the realm of earth systems, with a focus on sustainability. Here are some broad areas that this grant will encourage.
Earth Data: Using planetary data from geographic, seismic, meteorological, climatic, atmospheric, surveillance, satellite, airborne, and other information retrieval sources, to understand, model, and predict processes that impact sustainable living on planet earth and employing scientifically rigorous techniques to decipher, decide and design interventions for improving these processes.
Instruments for the Earth: Building instruments, sensors, software, chemical reactions, and informational paradigms that can aid in the quantitative and preferably geographically distributed measurements of planetary processes, from the micro to the macro scales. 
Algorithms for the Earth: The development and implementation of algorithms that process instrumental and observational data, employing perhaps contemporary techniques in machine learning and artificial intelligence.
Mathematical modeling: Designing mathematical models that can accurately describe terrestrial processes, including natural calamities, and that also harbor the potential to forecast.
Earth-friendly industry: Understanding how industrial activity harms the environment and devising processes, small to large-scale, for assessing industrial influence on the environment, helping the industrial fraternity in achieving its targets for sustainability, lowering its carbon footprint, and achieving optimal efficiency geared towards green operations. 
Ecology: This grant also includes research ideas that revolve around the complex ecological interplay between natural habitats, flora and fauna, wildlife, forests and vegetation, and how anthropomorphic activity unsettles natural equilibria and what means one could devise to ensure ecologically sustainable solutions.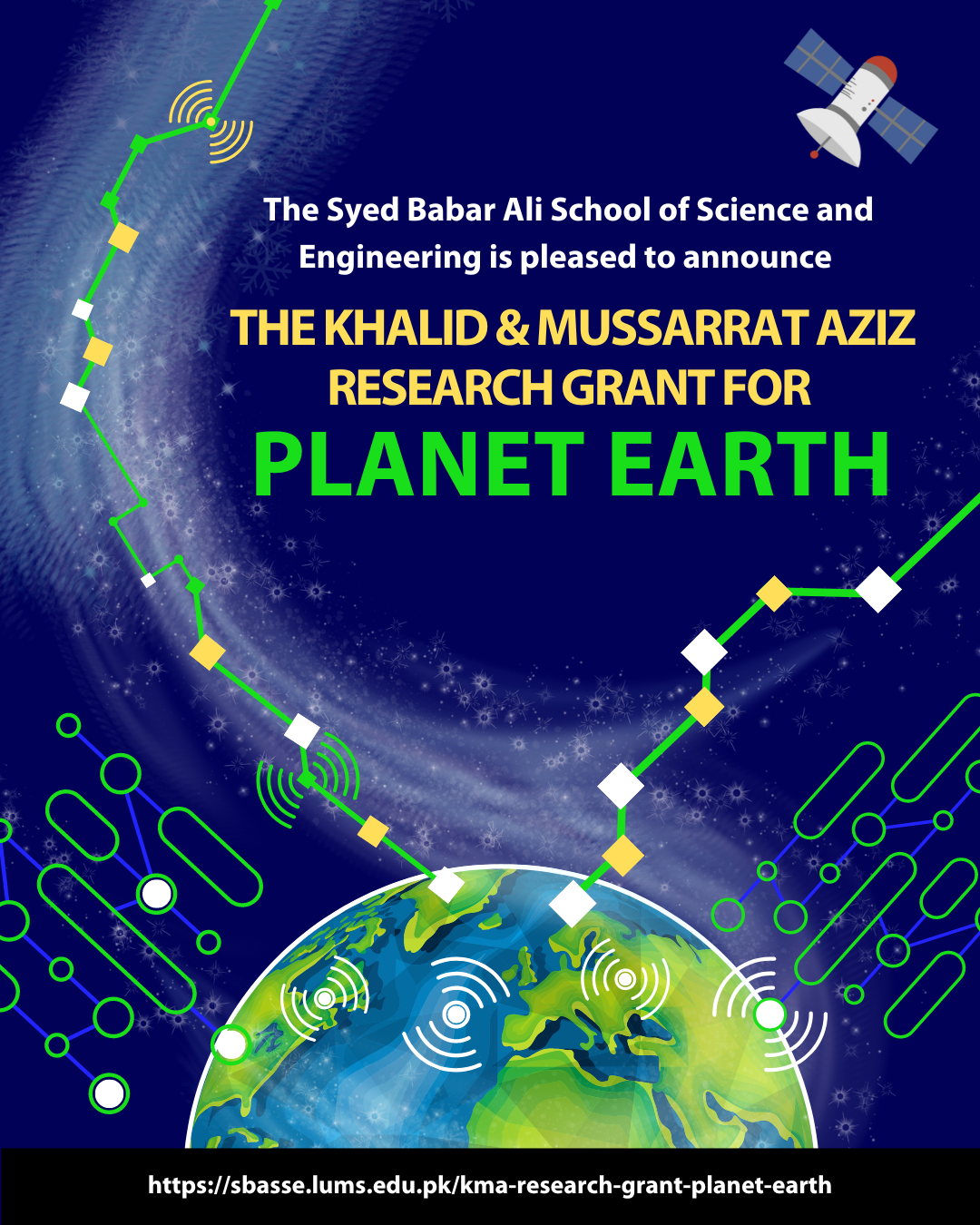 Eligibility and encouraged modes of knowledge creation:
All full-time LUMS faculty (on the tenure-track) are eligible to apply as Principal Investigators (PI). External collaborators can be included as co-P.I.'s.
We would highly encourage interdisciplinary collaborations across LUMS Departments, Centres, and other institutions. Furthermore, active engagement of enrolled students is expected. The grants can fund research assistantships to senior undergraduates, masters, and PhD students; article processing charges, travel, purchase of equipment and technical supplies, and other costs associated with research, teaching, and field work. This includes the development and execution of experiential courses that transport students to the subjects of investigation, outside LUMS and in varied ecological settings. The fund can, for example, support the logistics of these experiential endeavors.
These funds cannot be used for additional salaries of the P.I. or co-P.I. Funds must be completely spent year-to-year (see table below).
Amount and Duration:
First Award
| | |
| --- | --- |
| Total award amount (PKR) | 2.0 million |
| Maximum duration (months) | 24 |
| Amount available each year | 1.0 million |
Second Award
| | |
| --- | --- |
| Maximum award amount (PKR) | 1.5 million |
| Maximum duration (months) | 24 |
| Amount available each year (PKR) | 0.75 million |
Deadlines:
| | |
| --- | --- |
| December 1 | Call for proposals |
| January 31 | Submission of proposals |
| April 31 | Announcement of results |
| July 1 | Commencement of projects |
| June 30 | Progress reports |
Submission Guidelines and Review Process:
Principal investigators are invited to submit proposals by 31 January via electronic submission on the GAMES portal. The proposal includes the following.
A title and graphical abstract
Proposal summary 
How does the proposal fit in with the themes outlined?
Some background that may include state-of-the-art, the scientific question being asked
Research outcomes proposed and how would one achieve these
Expected outcomes
Budget sheets
Some references and web pointers (could be included in response 4 above)
CV's of key personnel

The Dean of the SBASSE will announce the call for proposals every year, and an international review committee will also be announced alongside the call. The review committee will propose a ranking list. Results of the winners (who will be the top two) will also be announced by the Dean. Funds disbursement will occur through LUMS's integrated grant management system. Members of the review committee are not eligible to apply.
Winners of the first Cohort 2023