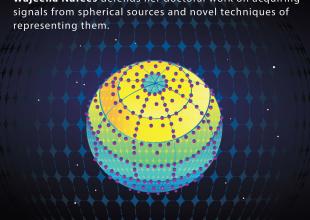 Development of Novel Techniques for Signal Acquisition and Representation on Spherical Manifolds
Wajeeha Nafees defends her doctoral work on acquiring signals from spherical sources and novel techniques of representing them.
Working under the supervision of Dr. Zubair Khalid in SBASSE electrical engineering, Wajeeha has discovered amazing mathematical structures for applications in medical imaging, cosmology, computer vision and many others. We now know many new ways of listening and reconstructing signals emerging from spherical sources, thanks to this amazing body of work. Ideas from the work have been published in IEEE Transactions on Signal Processing (https://ieeexplore.ieee.org/abstract/document/9052486), ICASSP 2018 and ICASSP 2019, flagship conferences on signal processing.
Final Defense Committee:
Dr. Ali Arshad Nasir (EE, KFUPM) External Examiner
Dr. Ali Ahmed (EE, ITU) External Examiner
Dr. Ijaz Naqvi (EE, LUMS)
Dr. Muhammad Tahir (EE, LUMS)
Dr. Haniya Azam (Math, LUMS)
Dr. Zubair Khalid (Supervisor)
The final copy of the thesis can be downloaded from the following link: https://www.dropbox.com/s/qf27drk10x984sy/thesis-final-Wajeeha-Nafees.pdf?dl=0