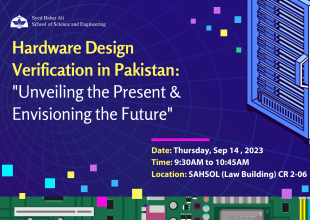 Panel Discussion on "Hardware Design Verification in Pakistan: Unveiling the Present and Envisioning the Future"
This event aims to provide valuable knowledge and foster discussions that will benefit our students and faculty members alike. It's an excellent opportunity to gain insights into the semiconductor industry, network with professionals, and contribute to the growth of design verification in Pakistan. 
The panelists include engineers from:
DreamBig Semiconductors
Rapid Silicon
10xEngineers

In this panel discussion, engineers will discuss.
1. The current status of design verification practices in Pakistan.
2. The gaps and challenges we need to overcome to stay competitive in the semiconductor industry.
3. Strategies to enhance our capabilities and innovation in design verification.
4. Career opportunities and skill sets required to excel in this domain.