Syed Babar Ali School of
Science and Engineering
Through Mentorship

Apply to LUMS Science & Engineering Graduate Programmes!
Syed Babar Ali School of Science and Engineering
Syed Babar Ali School of Science and Engineering (SBASSE) at LUMS is the first private research school of science and engineering in Pakistan. In higher education, the term research school refers to a model of teaching and scholarship practised by some of the best institutions in the world where the primary function of the university is to create and disseminate new knowledge. SBASSE has consciously modelled itself along the lines of the world's top research schools and has a highly qualified faculty to accomplish its mission. The hallmark of SBASSE is its no-boundaries philosophy, which encourages cross-disciplinary collaborations not only between various disciplines at SBASSE but also those offered by other Schools at LUMS.
A Different Kind of
Science and Engineering School
in Pakistan
300,000
Square feet of lab and
classroom learning space
70+
Dedicated labs for research,
teaching and support
Accredited by
PEC and NCEAC

Science for Pakistan
Contribution in Science and Technology by the researchers at SBASSE has an impact on the future development of Science in Pakistan.

Meet our Faculty
At SBASSE our faculty members share the boundaries of their life experiences and interests that foster a dynamic learning environment on campus.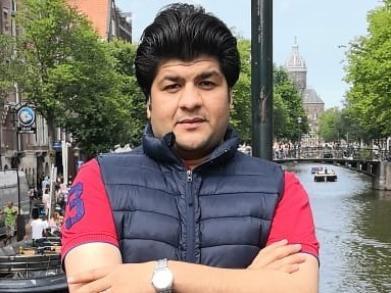 Name: Mumtaz Khan
Supervisor: Dr. Amer Rasheed
Year: 2022
MS/PhD: PhD
Department: Mathematics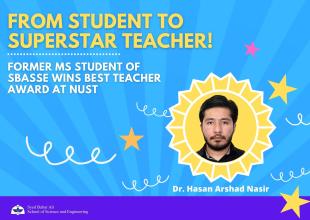 From Student to Superstar Teacher!
Amongst the proudest achievements for a teacher is witnessing the growth and success of their students. One such instance was recently shared by Dr. Abubakr from the Department of Electrical Engineering at SBASSE. This story revolves around the stellar achievement of SBASSE's alumnus, Dr. Hasan Nasir, who graduated from the school in 2011.
Hasan Arshad Nasir went on to do his PhD from University of Melbourne, and then returned to Pakistan to join NUST as an assistant professor at SEECS a few years back. "I have received the news that Dr. Hasan Nasir has been awarded the solo​ university-wide best teacher award at NUST, across all their campuses, colleges, and faculties (Islamabad, Rawalpindi, Risalpur, Karachi)". The news heralds joy and happiness for those faculty members who have helped shape up Dr. Nasir's student career at LUMS.
Recalling Dr. Hasan's earlier years at SBASSE, Dr. Abubakr said "Hasan joined us as a lab engineer at a very young electrical engineering department, when SSE was a small operation running from a few rooms on top of the Pepsi Dining Center. Working sometimes from lounges and pantries due to the absence of office spaces, Hasan helped me design and operationalize the home-grown control systems teaching lab, which is still in operation today. He later joined our MS computer engineering program and produced an MS thesis that laid the foundations for what later evolved into a whole Center for Water Informatics and Technology (WIT). In 2012, he was admitted to an extremely competitive PhD program in electrical engineering at University of Melbourne where he continued the theme of his MS work to invent control techniques for flooding. After his return from Australia, he has continued to maintain a very strong research linkage with WIT center and helped supervise our students in EE." 
"His research achievements had already made us extremely proud but now with his recognition in teaching, it has reinforced my belief that top-class teaching and impactful research go hand in hand.", Dr. Abubakr emphasized.
Paying a heartfelt homage to Dr. Abubakr, Dr. Nasir shared an unfeigned message for Dr. Abubakr, "I learnt different methods of teaching and building the relation with the students from you from 2009-2012. You would be surprised, but I follow those practices, and I want to dedicate this award to you."
After his PhD, Dr. Nasir spent another two years at The University of Melbourne as a Post-Doc researcher, before joining the School of Electrical Engineering and Computer Science (SEECS), NUST as an Assistant Professor. His research interests include optimization-based control and system identification, with water and power systems as the main application areas.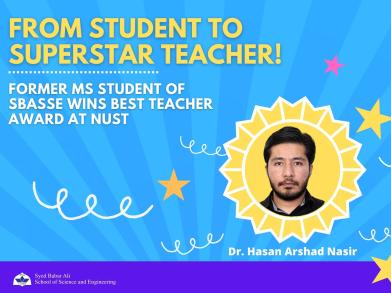 Amongst the proudest achievements for a teacher is witnessing the growth and success of their students. One such instance was recently shared…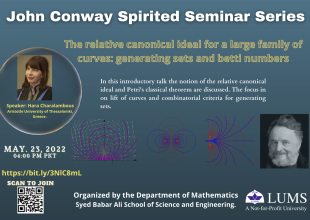 Speaker:
Prof. Hara Charalambous (Aristotle University of Thessaloniki, Greece)
The Relative Canonical Ideal for a Large Family of Curves: Generating Sets and Betti Numbers
Abstract:
In this introductory talk the notion of the relative canonical ideal and Petri's classical theorem are discussed. The focus in on lift of curves and combinatorial criteria for generating sets.
Prof Hara Charalambous will introduce the relative canonical ideal and Petri's classical theorem with special emphasis on the lift of curves and combinatorial criteria for generating sets. 
---
Zoom Meeting link
Meeting ID: 914 3843 0977
Passcode: 317688
For more details click here.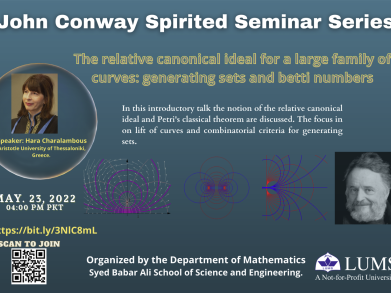 Prof Hara Charalambous will introduce the relative canonical ideal and Petri's classical theorem with special emphasis on the lift of curves and combinatorial criteria for generating sets. 
---
…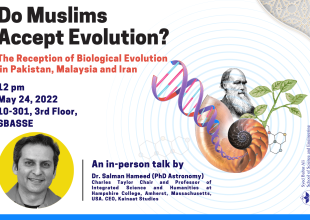 Speaker:
Salman Hameed | Hampshire College, Amherst, Massachusetts, USA.
Vanue:
10-301, 3rd floor, SBASSE building
Do Muslims Accept Evolution? The Reception of Biological Evolution in Pakistan, Malaysia and Iran
Abstract:
The topic of biological evolution is often considered a flashpoint in science and religion debates. There is an impression that this is the case for Muslims as well. However, we find that the meaning of the word "evolution" is often elusive and fluid. Furthermore, the reception of biological evolution is often shaped by political, social, and historical factors. I will present an analysis of 71 interviews of Pakistani and Malaysian physicians and medical students, as well as a quantitative and qualitative study of college educated Iranians. I will conclude by looking at the larger implications of the perception of modern science in Muslim societies.
Salman Hameed is Charles Taylor Chair and Professor of Integrated Science and Humanities at Hampshire College, Amherst, Massachusetts, USA. His primary research interest focuses on understanding the reception of science in Muslim societies and how Muslims view the relationship between science & religion. Salman is also actively engaged in science communication and is the founder and CEO of Kainaat Studios that produces astronomy content in Urdu (https://www.youtube.com/KainaatAstronomyInUrdu). He also has a weekly astronomy segment in English for a radio station in Western Massachusetts. Through Kainaat Studios, he also produces astronomy content in Urdu specially aimed at kids in Pakistan. His writings have appeared in Dawn Magazine, Express Tribune, Science, and the Guardian.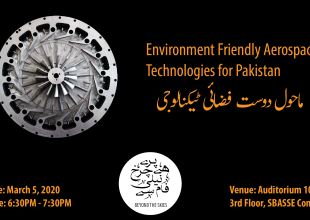 Speaker:
Dr. Sarah Qureshi, CEO/Founder Aero Engine Craft (Pvt.) Ltd.
Vanue:
Auditorium 10-301, Syed Babar Ali School of Science and Engineering, LUMS
Environment Friendly Aerospace Technologies for Pakistan
Abstract:
Aero Engine Craft is developing contrail-free aero-engines for the reduction of global warming and to induce artificial rain during aircraft flight through on-board water recovery from fuel emissions; creating a vision of the future for the aviation industry whereby it can not only reduce aviation induced global warming but also adopt an approach to treat the fuel emissions as a resource. A revolutionary technology is employed that eliminates contrails at source and recovers water from fuel exhaust emissions as a net positive product. This is a true definition of a disruptive technology; a global first attempt to create water within the aero-engine from the exhaust plume during flight, carry it aboard and release it as rainfall prior to landing. Our product is a low cost alternative to aero-engine redesign, and offers revenue potential to the aviation industry while solving a crucial environmental challenge.
Biography:
Dr. Sarah Qureshi is working on contrail-free aero engines as the CEO and founding director of Aero Engine Craft (Pvt) Ltd. She is also a visiting fellow at the School of Aerospace at Cranfield University. Sarah has a PhD degree in Aerospace Engineering from Cranfield University, UK. Her area of specialization is Propulsion whereby she worked on the development of a contrail-free aero-engine that has been derived from a novel patented technology. Sarah was actively involved with the invented technical outcome of the engine. The innovated engine has a tremendous potential in bringing about an environmental revolution in the context of aviation.
Dr. Sarah Qureshi , along with the inventor of technology Mr. Masood Latif Qureshi has now set up Aero Engine Craft (Private) Limited as Pakistan's first commercial engine and aircraft company  to convert this patented technology into a full scale commercial application ready to be used by modern civil transport aircraft. During her PhD, Sarah supervised a number of MSc. students for their research projects on Jet Engine Technology. Prior to this, Sarah completed her master's degree in the field of Aerospace Dynamics from Cranfield University, UK. Her research involved the design of a trajectory following controller inclusive of stability augmentation, attitude control system and outer loop autopilot for unmanned aircraft (UAVs) flying in close formation for the purpose of air to air refuelling. After graduating as a Mechanical Engineer from Pakistan, Sarah gained extensive experience of working in the local automotive and engineering industry.
Her bachelors' research project involved the development of a measurement and data logging system for the in-cylinder temperature and combustion of an internal combustion engine. Her prime technical interests are focused upon engine technology and aircraft design. Sarah holds a Private Pilot License (PPL) with 70 hours of Flying Experience. She has also learned acrobatic flying and several flight manoeuvres while at Cranfield.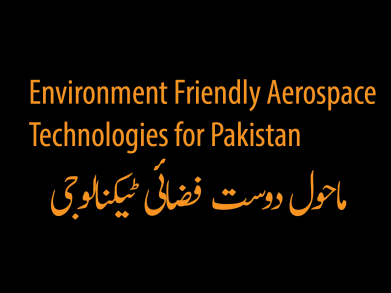 Biography:
Dr. Sarah Qureshi is working on contrail-free aero engines as the CEO and founding director of Aero Engine Craft (Pvt) Ltd. She is also a visiting fellow at the School of Aerospace at Cranfield University. Sarah has a PhD degree in Aerospace Engineering from…
سائنس اور ٹیکنالوجی کی کہانیاں
ایک ہنر مند تخلیق کار
جب آپ فزلیب یعنی فزکس لیب کی تجربہ گاہ کی ورک شاپ میں داخل ہوتےہیں تو خرّادمشین کے عین پیچھےآپ کو نظیری کا یہ بے نظیر شعر خوبصورت  خطاطی میں لکھانظر آئےگا۔
نِیست درخُشک وتر بیشہِ من کوتاہی
چُوبِ ہرنخل کہ منبرنہ شود، دارکُنم
       اس کامطلب بڑا دلچسپ ہے۔ شاعر فرماتےہیں کہ میرے صحرا میں کوئی بھی خُشک یا تر چیز ایسی نہیں جو بے کار ہو۔اگر میں دیکھوں کہ کسی درخت کی لکڑی منبر ومخراب جیسی شاندار چیز بننےکےقابل نہیں، تو میں اُسے بھی استعمال میں لے آتاہوں، چنانچہ میں اُس سے دارِ مقتل بناڈالتاہوں۔
       یہی وصف فزلیب میں میرے ساتھی حافظ محمد رضوان کاطُرّہِ امتیازہے۔ رضوان ایک تکنیک کارہیں جودھات، لکڑی اور گوناگوں قسم کے پلاسٹک کے سامان سے جیتےجاگتے،اُچھلتے کودتے،رواں دواں سائنسی آلات بناڈالتےہیں۔ہواکے دباؤکوقابومیں لاناہو، اپنی مرضی کےاوقات میں کوئی صوتی آہنگ بجانا ہو، بظاہر نامانوس آلات کو آپس میں بے عیب انداز میں جوڑ دینا ہو، یا کوئی نہایت پیچیدہ آلہ بنانا ہو جو پچاس ہزاروولٹ سہہ سکنے کی صلاحیت رکھتاہواور ایک منٹ میں ایک مائکرولیٹر جتنا مائع کسی اور مائع میں تحلیل کرنے کی قابلیت رکھتاہو، تورضوان صاحب ایک ہنرمند تخلیق کار کی طرح نمودار ہوں گےاور سائنسدان کی ضرورت کو عملی جامہ پہنانے کےلیے کمرکس لیں گے۔ ڈیزائن سے لےکر، مٹیریل کے انتخاب اور جدید ترین مشینوں پہ ان کی تخلیق تک کے مراحل رضوان اور اُن کی ٹیم اِس خوبی سے سرانجام دیتےہیں کہ بےساختہ واہ کیے بغیر چارہ نہیں رہتا۔
              اس طرح فزلیب کی ورکشاپ ہر ماہ لاکھوں روپے کی مالیت بچانےمیں کامیاب ہوتی ہے، وہ پیسہ جو بیرونِ ملک درآمدات پہ خرچ ہوناہوتاہے،اب کسی اور کام آتاہے۔ رضوان اور ہمارے دیگر ساتھیوں کے بنائےہوئے سائنسی آلات ہزاروں طلبہ وطلبات، خواہ وہ لمز میں ہوں یا اُس سے باہر، استعمال کرچکے ہیں۔ ہماری تحقیق سرگرمیاں بھی اس تکنیکی مدد کےبغیر نامکمل بلکہ ناممکن ہیں ۔
       مجھے دلی خوشی ہےکہ حافظ محمد رضوان لمز یونیورسٹی کی طرف سے جاری  کردہ بہترین خدمت کے پہلےاعزاز کے مستحق قرار پائے۔ وہ واقعی اپنے دستِ ہنر سےمسِ  خام  کوکندن بنادیتےہیں۔مجھے ان کے ساتھ کام کرنے میں فخر محسوس ہوتاہے اور میں ان کی مزید ترقی کےلیے دُعاکرتارہوں گا۔
                                                                                                                                       محمد صبیح انور
پروفیسر فزکس،لمز
---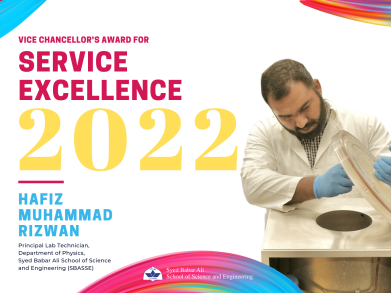 جب آپ فزلیب یعنی فزکس لیب کی تجربہ گاہ کی ورک شاپ میں داخل ہوتےہیں تو خرّادمشین کے عین پیچھےآپ کو نظیری کا یہ بے نظیر شعر خوبصورت…