Syed Babar Ali School of
Science and Engineering
Quantum Technologies

Apply to LUMS Science & Engineering Graduate Programmes!

PhD Chemical and Environmental Engineering SBASSE Banner
Syed Babar Ali School of Science and Engineering
Syed Babar Ali School of Science and Engineering (SBASSE) at LUMS is the first private research school of science and engineering in Pakistan. In higher education, the term research school refers to a model of teaching and scholarship practised by some of the best institutions in the world where the primary function of the university is to create and disseminate new knowledge. SBASSE has consciously modelled itself along the lines of the world's top research schools and has a highly qualified faculty to accomplish its mission. The hallmark of SBASSE is its no-boundaries philosophy, which encourages cross-disciplinary collaborations not only between various disciplines at SBASSE but also those offered by other Schools at LUMS.
A Different Kind of
Science and Engineering School
in Pakistan
300,000
Square feet of lab and
classroom learning space
70+
Dedicated labs for research,
teaching and support
Accredited by
PEC and NCEAC

Science for Pakistan
Contribution in Science and Technology by the researchers at SBASSE has an impact on the future development of Science in Pakistan.

Meet our Faculty
At SBASSE our faculty members share the boundaries of their life experiences and interests that foster a dynamic learning environment on campus.
Research and Impact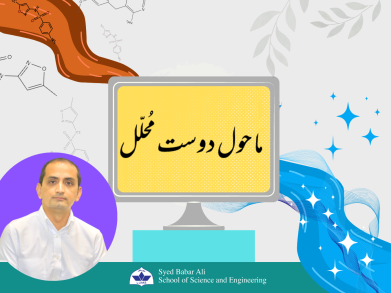 آپ نے کسی بیماری کے دوران اینٹی بائیوٹک تو کھائی ہوگی۔ یہ اینٹی بائیوٹک…
آپ نے کسی بیماری کے دوران اینٹی بائیوٹک تو کھائی ہوگی۔ یہ اینٹی بائیوٹک ہمیں آرام تو دیتی ہے، لیکن ہمارے ماحول پر بُرا اثر بھی ڈالتی ہے۔ جو اینٹی بائیوٹک انسان یا جانور استعمال کرتے ہیں اس کا بڑا حصہ فضلے میں خارج ہو جاتا ہے۔ اس کی وجہ سے ضائع شدہ پانی میں اینٹی بائیوٹک کی مقدار بڑھ جاتی ہے۔ پانی کی صفائی کا پلانٹ ضائع شدہ پانی سے اینٹی بائیوٹک نہیں نکال پاتا۔ ضائع شدہ پانی میں بیکٹریاجب اینٹی بائیوٹک سے ملتا ہے تو وُہ اپنے آپ کو بچانے کے مُختلف طریقے اپنا لیتا ہے اورادویات کے خلاف مدافعت حاصل کر لیتا ہے۔ یہ مدافعت ایک بہت بڑا عالمی مسلئہ بن گئ ہے جس کے نتیجے میں بیکٹریا اینٹی بائیوٹک کے حملوں سے محفوظ رہتا ہے اور اینٹی بائیوٹک ادویات بیماریوں کے خلاف غیر مُوثر ہوتی جا رہی ہیں۔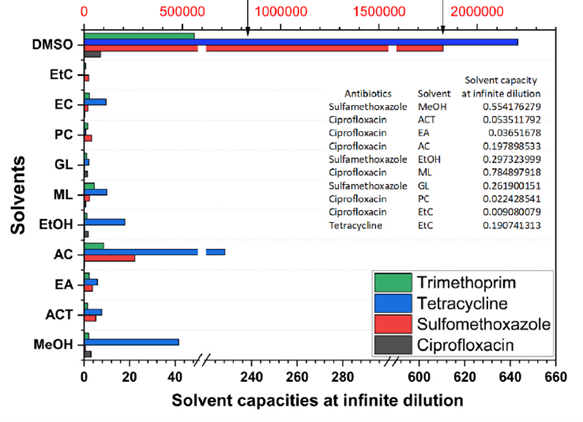 مختلف محلل کی کشید کرنے کی وسعت میں سب سے زیادہ ہے (DMSO)
اینٹی بائیوٹک کو پانی یا دوسرے مواد سے نکال باہر کرنے کےلیے مُحلّل1 کا ستعمال کیا جاتا ہے۔لیکن اگر کوئی زہریلا مُحلّل استعمال ہو تو اُس سے نقصان دہ فُضلہ پیدا ہوتا ہے۔ اس کے علاوہ ادویات میں استعمال ہونے والے مرکبات کا تجزیہ کرنے کے لیے وافر مقدار میں نامیاتی2 مُحلّل کی ضرورت بھی پڑتی ہے۔ چنانچہ محللوں کا استعمال بہت حد تک بڑھ گیا ہے۔ اس لئے ضروری ہے کہ ایسے مُحلّل استعمال میں لائے جائیں جو ماحول کو محفوظ رکھیں اور خطرناک فاضلات پیدا نہ کریں۔اس ماحولیاتی مسلئے کا حل ڈھونڈنے کے لیے نیویڈا یونیورسٹی کے محققین اور لمز کے ڈاکٹر توقیر عباس نے ساتھ مل کر ایسامُحلّل ڈھونڈنے کا سوچا جو مختلف اقسام کے اینٹی بائیوٹک جیسے sulfamethoxazole(SMX) ،ciprofloxacin (CPX) ،trimethoprim (TMP) and tetracycline (TC) کو کشید کرنے کی صلاحیت بھی رکھے اور ماحول پر بُرا اثر بھی نہ پڑے۔ ڈاکٹر توقیر عباس اور ان کے ساتھیوں کی یہ تحقیق ا Elsevier جرنل میں کچھ عرصےپہلےشائع ہوئی تھی۔ڈاکٹر توقیر عباس نے اس جانب بہتر اور پاکیزہ مُحلّل ڈھونڈنے کے لیے COSMO- RS نامی سافٹ وئیر کا استعمال کیا۔ COSMO-RS ایک ایسا سافٹ ویئر ہے جو مُحلّل کی تلاش کے ذریعے    حل پذیری3 کا حساب کرتا ہے۔ اپنی تحقیق کے دوران ڈاکٹر تو قیر نے ناسا کے چار منصوبے بھی حاصل کیے تھے۔ جن میں بینالاقوامی خلائی اسٹیشن4 میں زہریلے اور نقصان دہ مادوں کو حل کر کے تلف کرنے کے لئے مُحلّل ڈھونڈنے تھے۔ ڈاکٹر توقیر اور دیگر مُحقیقن کا کہنا ہے کہ یہ سافٹ وئیر اتنا تیز بہدف، جامع اور موثر ہے کہ کوئی اور تجربہ کرنے کی ضرورت نہیں پڑتی بلکہ وقت اور پیسوں کی بچت بھی ہوجاتی ہے۔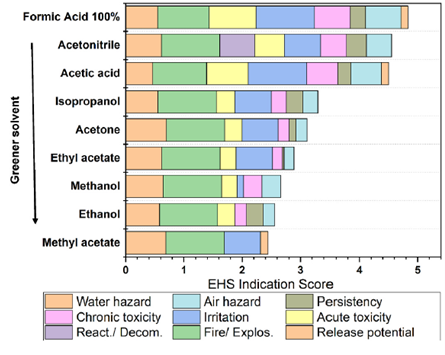 مختلف محلل کا انڈیکیٹر, جتنی کم مقدارہواتنا ما حول کے لیے بہتر (EHS)
چناچہ زیرِ نظر تحقیق میں گیارہ مُحلّل کشید کرنے کی صلاحیت5 کو پرکھا گیا اور اس کے بعد ان کا ماحول ، صحت اور نگہداشت کی خصوصیات (EHS) کا حساب لگایا گیا اور ساتھ ہی ساتھ ان کی قیمت کا موازنہ بھی کیا گیا۔ ان گیارہ محللوں میں سب سے زیادہ ماحول دوست مرکب ethanol, methyl acetate اور methanol کو پایا گیا لیکن ان کی کشید کرنے کی وسعت کم تھی۔ سب سے زیادہ کشید کرنے کی وسعت dimethyl sulfoxide (DMSO) کی ہے اور اس کا ماحول پر بُرا اثر بھی نہیں پایا گیا۔ یعنی مجموعی طور پر DMSO اینٹی بائیوٹک کو کشید کرنے کے لئے سب سے اچھا مُحلّل ہے، لیکن اس کی قیمت اس کے منافع بخش استعمال کو محدود کرتی ہے۔ اگر DMSO کی کم قیمت پیداوار کی جائے تو یہ اینٹی بائیوٹک کو کشید کرنے کے لئےسب سے بہترین مُحلّل ہے۔ صرف اینٹی بائیوٹک بلکہ کسی بھی دوا کا تجزیہ اور کشید کرنے کے لئے استعمال کیا جا سکتا ہے۔ ڈاکٹر توقیر اور ان کے ساتھیوں نے یہ دیکھا ہے کہ COSMO-RS کے ذریعے EHS اور اقتصادی امور کے ساتھ مختلف تجربات کرکےبڑی آسانی سے بہتر مُحلّل ڈھونڈے جا سکتے ہیں۔
1. Solvent
2. Organic
3. Solubility
4. International space station
5. Extraction capacity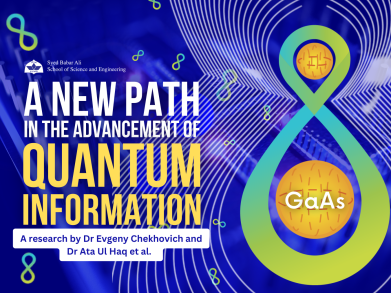 Be it artificial intelligence, development…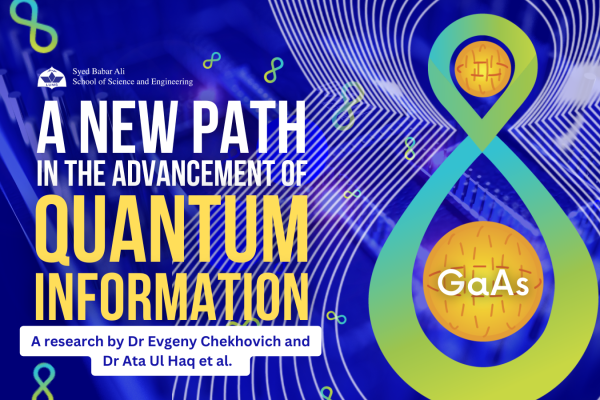 Be it artificial intelligence, development of pharmaceutical drugs or understanding climate change processes, quantum computers have the potential to dominate the future technological landscape when solving sophisticated tasks in a fraction of a second. This is enabled through Quantum Information Technology – a discipline which uses the counterintuitive principles of quantum mechanics to develop information processing. Just like any paradigm shifting technology, full implementation of quantum computing is currently facing challenges, solving which could be the key to advancement in the field. One of the key challenge has been addressed by Dr Evgeny Chekhovich from the University of Sheffield , Dr Ata Ul Haq from the Department of Physics at LUMS and their fellow researchers in their research paper entitled "Measurement of the spin temperature of optically cooled nuclei and GaAs hyperfine constant in GaAs/AlGaAs quantum dots".
We would have to take a closer look at the core/building blocks of quantum information technology to understand the significance of this research paper. The secret to quantum computer's power lies in its ability to generate and manipulate quantum bits, or qubits as they are called. The speed up in quantum computers is due to the ability of qubits to form quantum superposition of its own and entanglement with other qubits. These features arise from a property called quantum coherence. Quantum coherence is destroyed by the tiniest of fluctuations caused by thermal energy at high temperatures. Preparation of physical systems in which qubit exists at ultralow temperature is one of the key challenges in quantum information technology today. This is where the importance of this study comes in. This study uses quantum dots (QDs) which are nanoscale semiconducting structures also called as artificial atoms. Nuclear spins confined within gallium arsenide (GaAs) quantum dots (QDs) can act as a qubit. However, these spins fluctuate even at temperatures as low as a few kelvin. The main challenge is to align all the nuclear spins in a QD so that a quantum memory can be formed and, in the process, cool it down to a few milli kelvin temperature. The researchers of this paper have for the first time achieved the lowest temperature of a qubit system within a nanostructure. Its is also the first time that the temperature of a single nanoparticle has been measured experimentally. All this is achieved using a combination of sophisticated radiofrequency and optical pulses applied to a GaAs structure.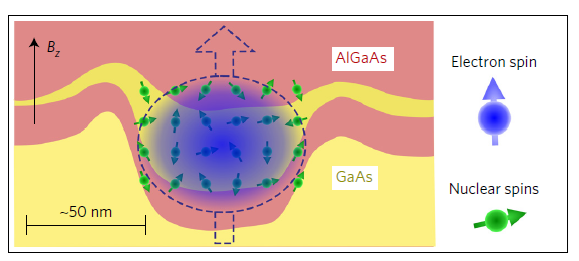 The proposed methodology is a new approach in which the radiofrequency depolarization is performed on quantum dots. The role of the short optical readout pulse is to excite photoluminescence, a process in which a molecule absorbs a photon, excites an electron to a higher electronic state, and then radiates a photon as the electron returns to a lower state. This spectrum is then analysed to calculate the nuclear spin alignment (also called spin polarization) within a QD. Getting close to 100% polarization is ideal and the researchers of this paper observed up to 80% polarization in GaAs – the highest reported so far for optical cooling in QD. Previous research on polarization in diamond and Silicon Carbide (SiC) has been limited to 50-60% for the nuclei spins in quantum dots. The quantum dots spins are cooled down to 1.3 milli kelvin in the process, which is the lowest recorded temperature in nanostructures. The observations made by Dr. Ata Ul Haq and fellow researcher have not only unveiled the capabilities of GaAs, but also unlocked a route for further progress in achieving long qubit coherence through deep cooling of the mesoscopic nuclear spin ensemble.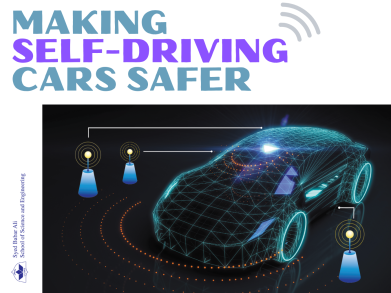 Over the past decade, huge progress has been…
Over the past decade, huge progress has been made in the development of Autonomous Vehicles (AVs), also known as self-driving or driverless cars. But it is still too early to sit back and nap - you can take your hands off the wheel but you still need to have your eyes on the road. The AVs currently out on the roads are only partially automated, meaning they require human oversight to work safely.  
As most of the communication on AV networks take place through wireless communication links, there is an inherent risk of the technology being hacked for malicious purposes. This is why securing the network is key for AVs to deliver on their promise of being safer than traditional cars. Compromised security can cause casualties which may have fatal outcomes. Ali Hussain Khan, Dr Naveed Ul Hassan and Dr Zartash Afzal Uzmi from the Department of Electrical Engineering at LUMS, and Dr Chuadhry Mujeeb Ahmed from University of Strathclyde have published a research article to address the security issues associated with this vulnerable technology. The research proposes and tests an authentication framework based on blockchain technology, termed Proof-of-Communication-Capability (PoCC), which acts as a defence mechanism in wireless networks against malicious actors pretending to be valid communication devices. This type of hacking attack is also known as communication capability spoofing. 
Blockchain, a technology popularized for crypto-currencies, can be utilized effectively for wireless communication between AVs. Blockchain works by replicating the data at multiple computer nodes, thereby making a network more secure and less prone to failures. However, blockchain's strength can also be its weakness. Blockchain inherently relies on consensus – informally speaking, consensus can be defined as an agreement between a set of computers which communicate over a network. If this consensus is subverted or delayed, nodes in a blockchain slow down which can be catastrophic for AVs. Hussain Khan and his fellow researchers identified four different types of attacks that are capable of downgrading the system.
These nodes can either (1) falsely report superior communication capabilities; (2) turn malicious after joining the network and start reporting upgraded wireless communication; (3) report downgraded wireless communication capabilities while joining the network; or (4) turn malicious after joining the network and start reporting degraded wireless communication capabilities.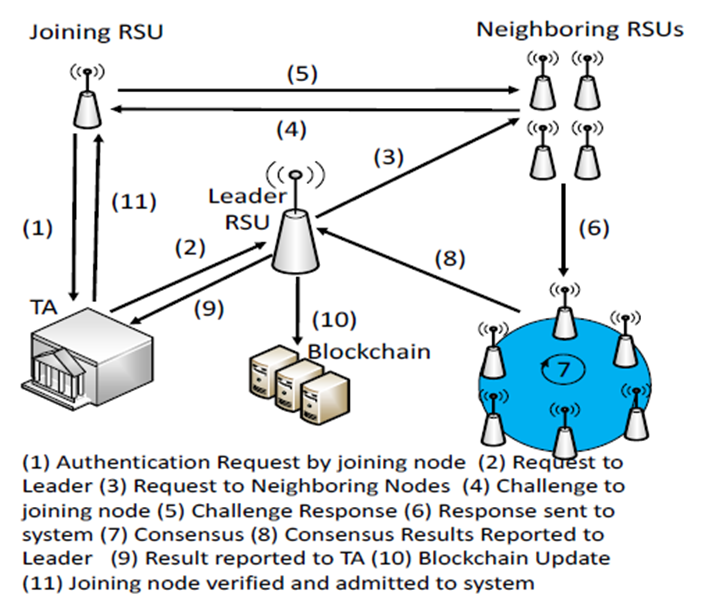 PoCC authentication framework helps detect these malicious nodes by providing a set of consensus rules, a form of test to ensure that only non-malicious nodes join the network. For instance, the claimed capabilities of nodes can be tested through physical features like location and propagation time (the time it takes to transmit data) before joining the network to prevent type (1) malicious nodes to enter. PoCC authentication framework comprises of consensus rules that have been developed in relation to every possible malicious node to prevent them from sabotaging the blockchain. After testing the framework in different scenarios where nodes turn malicious, the researchers concluded that the PoCC authentication framework is not only capable of detecting malicious nodes, but the physical attributes of the consensus rules make it difficult to trick the system. Implementation of the proposed framework in AVs could contribute in avoiding causalities on the road without human intervention and thereby push AVs one step closer to widespread adoption.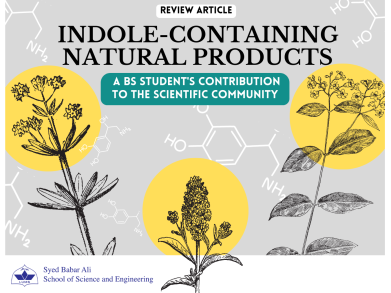 When Dr. Rahman Shah Zaib Saleem was invited to write an article for the special issue on the Recent Advances in Indole Derivatives, he had one particular student in mind. One he describes as brilliant and motivated, Syed Muhammad Umer – an undergraduate student with the highest CGPA in the Department of Chemistry and Chemical Engineering in the BS 2021 session. The two bounced off a couple of ideas and decided that Umer would write a comprehensive review article summarizing recent reports on novel indole alkaloids from 2019 to 2022. The literature review deals with the isolation and characterization of 250 novel indole alkaloids, a reappraisal of previously reported compounds, and total syntheses of indole alkaloids.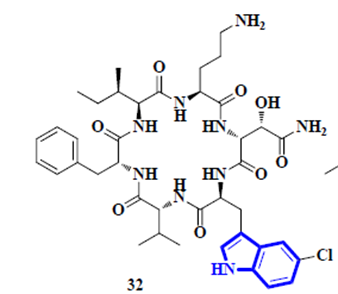 The task assigned to Umer was not an easy one; it was an arduous task to go through all the reports published on novel indole alkaloids in the past few years. Usually found in biological entities, indole alkaloids are a class of naturally occurring organic compounds that contain a structural moiety of indole, an aromatic heterocyclic organic compound. What sparked Umer's interest was that indole-containing molecules are biologically active and are bound to have some effects, with some exhibiting excellent antitumor, antibacterial, antiviral, and antifungal activities. He was especially fascinated by the generosity of the molecules containing indole alkaloids. "At first I couldn't even comprehend what was going on, because they are really complicated", he shares. The more he read about it, the more his interest grew. He was able to write his literature review in a relatively short period of time, during the summers after his undergraduate. LUMS is among the few universities in Pakistan which have access to databases like SciFinder and PubMed. This facilitated the literature survey. With help from co-authors, Mehwish Solangi and Dr Khalid Muhammad Khan, the literature review was ready for submission in fall 2022. When asked if they were met by any hurdles while conducting the survey, Dr Saleem simply smiled and said, "Umer was up to the mark to deal with any hurdles that came during the process". 

Writing this literature review enhanced Umer's interest in the field further. "It sparked a desire to learn more. That's why I have applied for postgraduate schools this year – this is something that I have read about, but now I want to do research in this field" he adds enthusiastically. This opportunity has been useful for Umer in many ways, "Not only was I preparing myself for graduate school, boosting my resumè, I was also preparing myself as a researcher". 
Umer's contribution will facilitate new research in the field. Gathering the isolation, reappraisal, syntheses, and biological activity of indole alkaloids in one place, Umer's review article acts as an encyclopedia over recent advancements in the field. Roughly one moth and a half after its publication, it is too early to tell the article's impact factor through citation. However, Umer's review article is the most read article published in this special issue of Molecules, receiving an "above-average Attention Score compared to outputs of the same age" by the journal.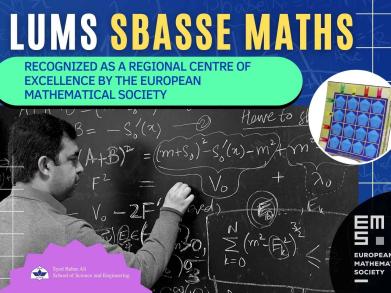 The Department of Mathematics at the Syed Babar Ali School of Science…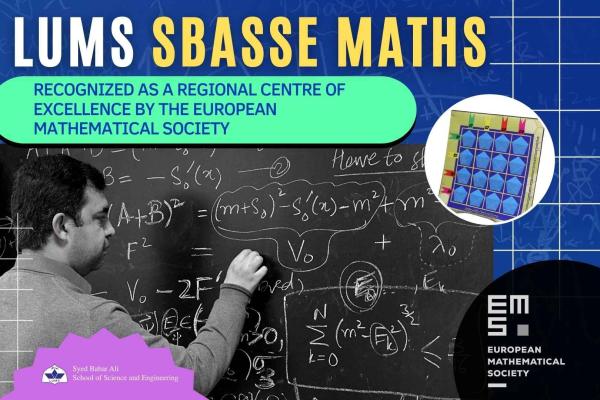 The Department of Mathematics at the Syed Babar Ali School of Science and Engineering has been recognized as an Emerging Regional Centre of Excellence by the European Mathematical Society (EMS).
Emerging Regional Centers of Excellence are official partners in the EMS's mission to create and nurture mathematical knowledge at the finest order, focusing on the training of mathematicians who can then foray into research, industry and education. backed by the Department of Mathematics' commitment to world class and societally relevant education in fundamental and applied mathematics, this is indeed a distinct honor for the Department, School and the University. 
Over the past years, under the vision and leadership of Department Chair, Dr. Imran Anwar, we've seen a vitalization of activity through Math Circles, The John Conway Spirited Seminar series, the mathematical extravaganza with CIMPA, the introduction of the maths honors program and the strengthening of graduate level research activity.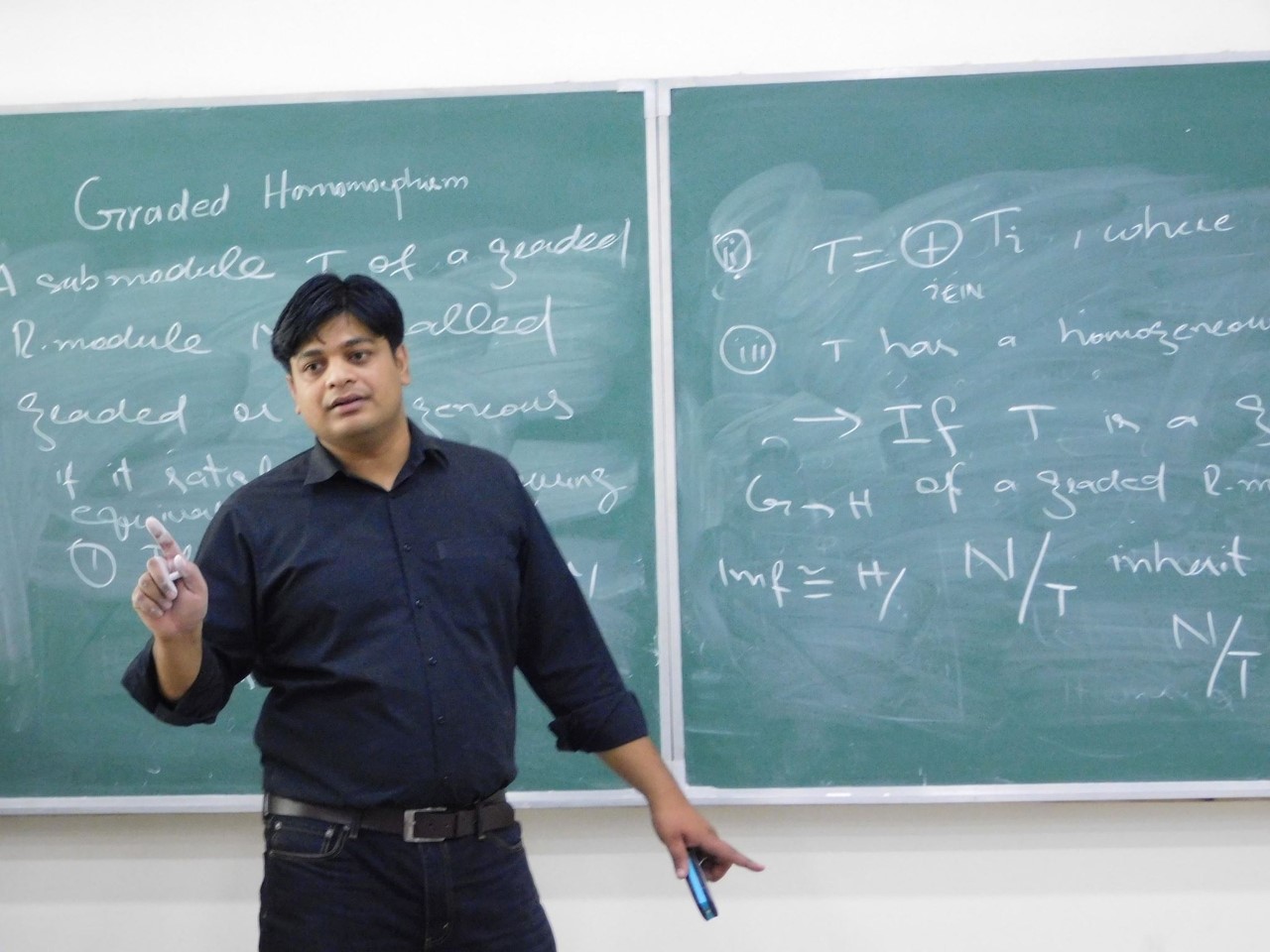 This announcement, backed by mathematicians of international eminence, energizes our commitment to mathematics education at the finest level, human resource training in the country and in the region, and a progressively international outlook that encourages mobility and exchange of ideas and individuals. 
Through this recognition, LUMS SBASSE and our Mathematics Department join the ranks of emerging centers in Vietnam, Malaysia, Indonesia, Benin, Morocco, Nigeria, and Senegal.
Many congratulations to mathematics at SBASSE, LUMS and to the future of mathematical creativity in Pakistan!
---Muhammad Sabieh Anwar