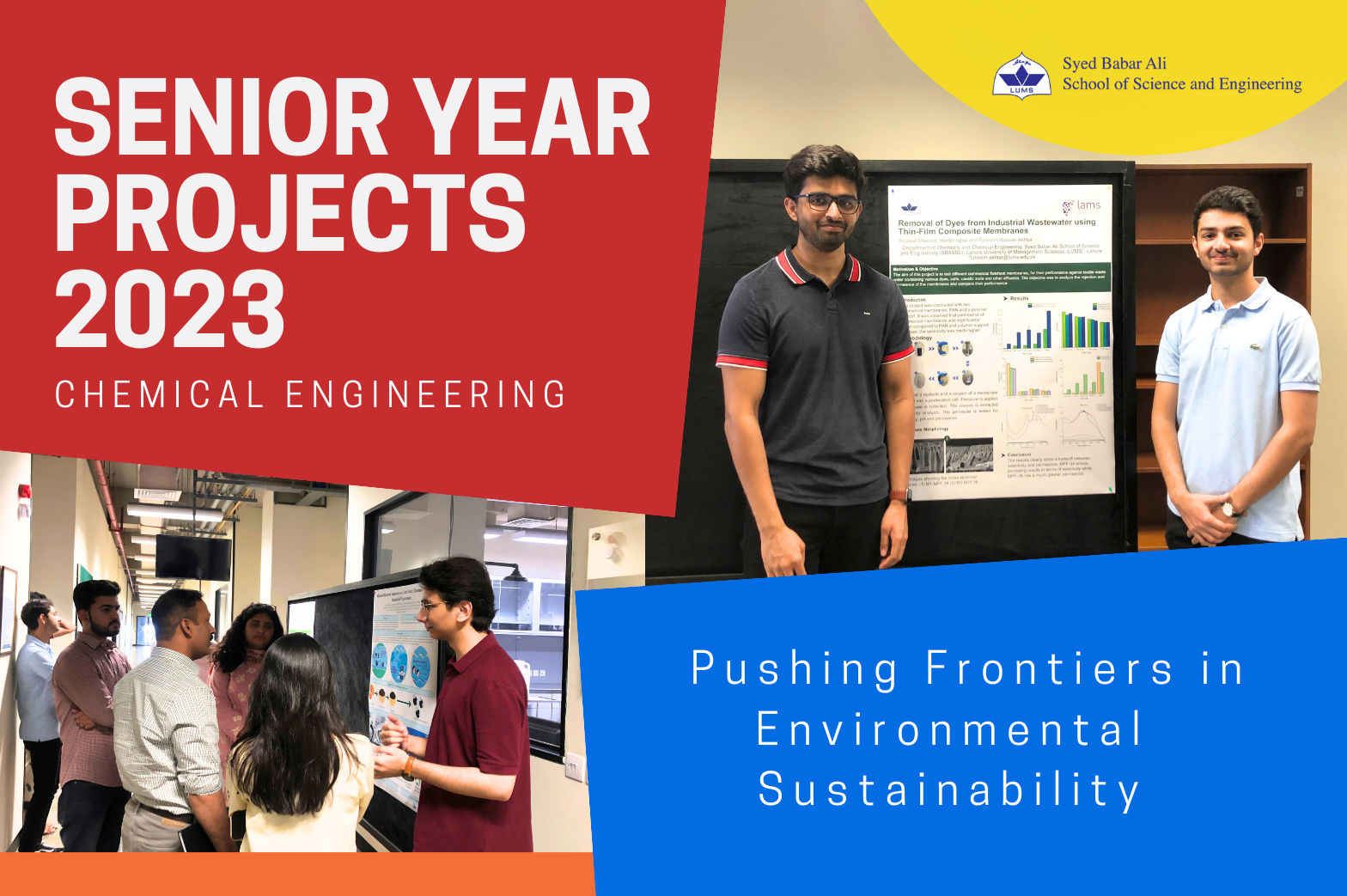 SProj Chemical Engineering - Pushing Frontiers in Environmental Sustainability
As someone going into senior year myself, I am constantly burdened by the thought of all the academic responsibilities I must manage while also transitioning into the competitive real-world phenomenon.   Simultaneously, the looming possibility of bidding farewell to close friends at LUMS adds another layer of overwhelming emotions.
Senior year Project is one of our academic requirements where students apply all they have learned in the past four years into real-world practice. As stressful as a senior year can be, Chemical Engineering students still managed to present groundbreaking research that is both useful and relevant in today's changing world.  
In an event that took place at the Chemical Engineering lobby on the 17th of April 2023, students were asked to present their research on posters and expected to defend any questions asked regarding their research topics.
Chemical Engineering students are typically invested in applying different branches of science like Chemistry, Physics, Biology, and Mathematics to optimize processes and products involving chemical reactions and transformations. As a result, the projects undertaken by students can be broadly categorized as follows:
Process Optimizing and Simulating. This involves enhancing the efficiency, safety, and profitability of processes. Examples include solar-driven electrolysis for renewable methanol production, environmentally friendly purification of advanced bio-ethanol, and the biomass boiler at Bulleh Shah Packaging Limited.

Assessing particulate emissions in SSE and all of Lahore for environmental sustainability.

Sing waste products like biochar to develop varied materials for water treatment.  The biochars produced were walnut biochars for the removal of antimony, metal biochars for the treatment of selenium oxyanions, and mineral biochars to treat chromium; all carried out on contaminated waters.

Developing artificial membranes for water desalination and removal of dyes . 

There were five supervisors for all 17 projects undertaken, with Dr. Faheem Hassan Akhtar being one of them. One project he supervised on polymeric membranes focused focused on upcycling poly(ethylene) terephthalate to fabricate membranes for water desalination by Muhammad Hafi Wadgama. Hafi also co-authored a research paper published on the research.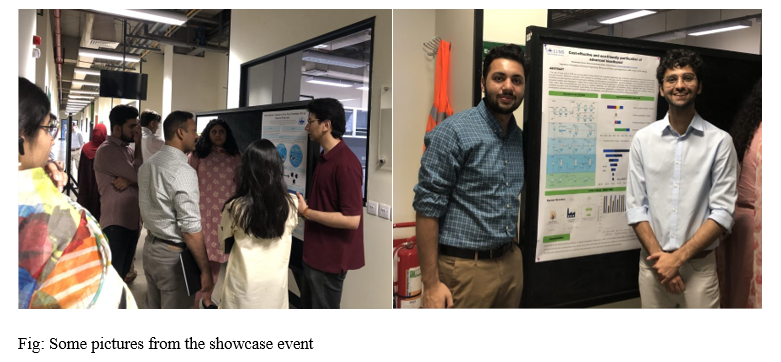 In another project, research was carried out to compare the performance of two commercial flat-sheet membranes against textile wastewater that contains dyes, salts, caustic soda, and other effluents. Sajawal Masood and Haider Iqbal conducted the research under the supervision of Dr. Faheem. The two membranes assessed were Polyacrylonitrile (PAN) membrane  and polymer support. The results obtained showed a clear tradeoff between the permeability and selectivity of the membranes. The permeance of the commercial membranes was relatively lower, but the selectivity was higher than PAN and Polymer support.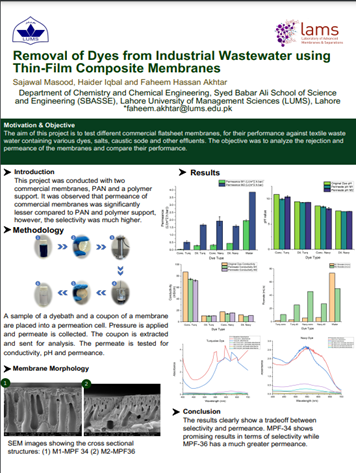 With water scarcity being a massive global challenge, one can predict how significant research on water purification is, be it water desalination or detoxification. Extensive use of fossil fuels has always been a pressing challenge. With climate change causing a sudden uproar in the past few years, introducing innovative solutions like renewable energy sources to minimize carbon emissions can help create sustainable practices that would eventually mitigate climate change. In the same way, process optimization can also help develop cleaner models that would be cost-effective, reduce energy consumption and limit carbon emissions. Hence, all these projects are minor efforts that go a long way to create a more sustainable environment.