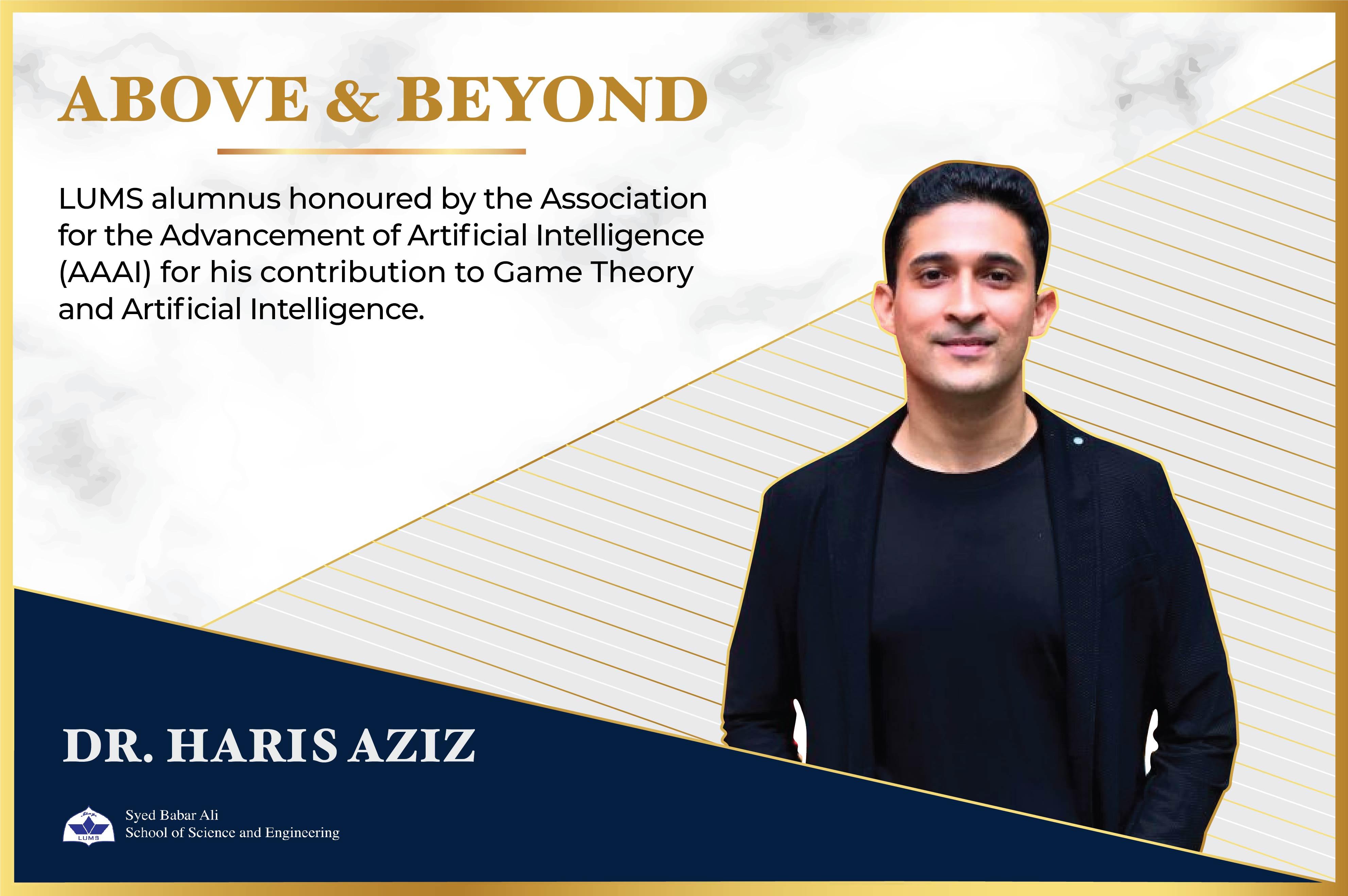 Above and Beyond – A conversation with Dr Haris Aziz
Recognised as one of the world's best scientists, LUMS SBASSE alumnus, Dr Haris Aziz (BSc Class of 2003) and Scientia Associate Professor at the University of New South Wales, Australia, has recently been honoured by the Association for the Advancement of Artificial Intelligence (AAAI) for his contribution to Game Theory and Artificial Intelligence (AI). We reached out to Dr Aziz for a candid interview, which he very kindly agreed to. We hope you enjoy his captivating journey and insight into his latest recognition.
Science Communication Cell (SCC): Please tell us about your place of birth and your initial schooling. How do you credit your schooling in where you are today?  
Dr Haris Aziz (HA): I was born in Lahore. I had my schooling at Beaconhouse Public School (Defence Campus) and Aitchison College of which I have fond memories of a kaleidoscope of activities covering academics, sports and friendships. Obviously, the total schooling experience played a major role in shaping my development in those formative years for which I'm thankful to my teachers and mentors. 
SCC: During your childhood, was there anything (an event or experience) that inspired and sparked your interest in science?  
HA: Throughout school and university, I was inclined towards mathematical subjects for at least two reasons. Firstly, I had a natural aptitude for mathematics, so opting for such courses made less demands on my academic time and allowed me to indulge in my other passion i.e., sports, which led to many a wonderful evenings full of intense physical activity, competition and camaraderie. 
Secondly, I had a growing appreciation of logical reasoning and mathematical proofs. Many people have a misconception and lack of appreciation for mathematics because, at school, mathematics is often equated with arithmetic which tends to be mechanical. Here, I would like to quote two of my favourite researchers David Gale and Lloyd Shapley, who wrote in an influential paper (that pioneered market design) that any argument which is carried out with sufficient precision is mathematical. 
SCC: How do you remember your time at LUMS? Any fond memories or valuable experiences which you would like to share?
HA: I had a great time at LUMS. I enjoyed the liberal arts program with its varied subjects. It was also a time to make lasting friendships some of which formed when I played football and tennis for LUMS against other universities. The highlight of the year used to be our long bus ride to GIKI. I also have fond memories of working for two years as an instructor and mentoring National Outreach Program applicants.  
In terms of developing mathematical maturity, lessons from Professors Ismet Beg, Wasiq Hussain, and Sarmad Abbasi were helpful. I especially want to honour the memory of the late Prof. Zaeem Jafri (may Almighty bless his soul), who took a personal interest in the welfare of students. I was deeply touched when he gave me a hand-written letter for my application to Oxford. 
SCC: We understand that an ambitious and fulfilling path in life is never without its share of difficulties and rough patches. How do you recall such moments in your journey, and what life lessons have they delivered to you?
HA: I am hugely grateful that I have been blessed in my life with opportunities. Obviously, striving for higher degrees can have some challenges for overseas students. In particular, I recall doing various part-time on-campus jobs to supplement my income during my PhD. Also, at the time when there was peer pressure to opt for a more lucrative corporate life, I persevered in pursuing my intellectual interests and personal passions. I strongly believe that one's life should be meaningful and well directed, where effort should be made to find time for the priorities to keep it balanced. 
SCC: You have been listed among the world's top 2% scientists in a study led by Stanford University researchers. Is there a specific set of skills that you think a researcher needs to hone, to achieve such level of success in their field?
HA: I strongly feel that the most important attribute for a researcher is to have an inquisitive and open mind. Asking good questions is as important as problem-solving. Researchers who have a critical mindset are able to build theoretical frameworks and pursue an independent research agenda. Another aspect that I feel is very useful is to have the ability to identify connections and synergies between apparently disparate research disciplines.  
Finally, one piece of advice which I have followed is that being the smartest person in a room may not always be possible but being the most well-read person is always achievable. In research, good awareness of previous ideas can be really helpful to see how to utilize them for novel insights. 
SCC: How do you think developing countries like Pakistan can benefit from investing in research for Decision Science and AI? Do you think it can be a potent tool in guiding policy, especially in the economy and healthcare sectors? 
HA: Decision sciences and AI are key components of a shared economy. Many upcoming markets are inherently online and hence easier to scale up. Examples of Amazon, Airbnb, and Uber are in front of us. Decision Sciences and AI do not just affect the economy and health sector but just about every other sector as well. With overpopulation and stress on our infrastructure, it is even more important for a developing country to plan smartly and use the constrained resources in the most beneficial and effective manner. Unlike certain other engineering fields, Decisions Sciences and AI programs do not necessarily require huge infrastructure. So, investment in these fields provides excellent value for public money. Computer science, in general, is an outward-facing field that interacts with most disciplines.  
SCC: Under the tutelage of AI, technology is poised to become even smarter. Some think the future is surely utopic, while others link advancements in AI with a dystopian future. What are your thoughts on this?
HA: The future is probably somewhere in the middle. For an in-depth discussion on this topic directed toward laypeople, I would recommend popular science books written by Toby Walsh, who is one of my mentors. In general, it is important to keep the perspective that technological advances should be geared toward improving quality of life and aiding decision making. They should not replace human values and expression. As a researcher working within the area, I am aware of the potential pitfalls of designing AI systems that overlook important concerns such as privacy, security, and fairness.  
SCC: What message would you like to leave for students, faculty, and researchers at LUMS?
HA: Students who have a strong mathematical background and who are passionate about similar research topics are welcome to reach out to me to discuss research opportunities. On a final note, we, as members of the LUMS community, have been associated with a great institution. It is up to us to continue on this trajectory to greater horizons ahead.