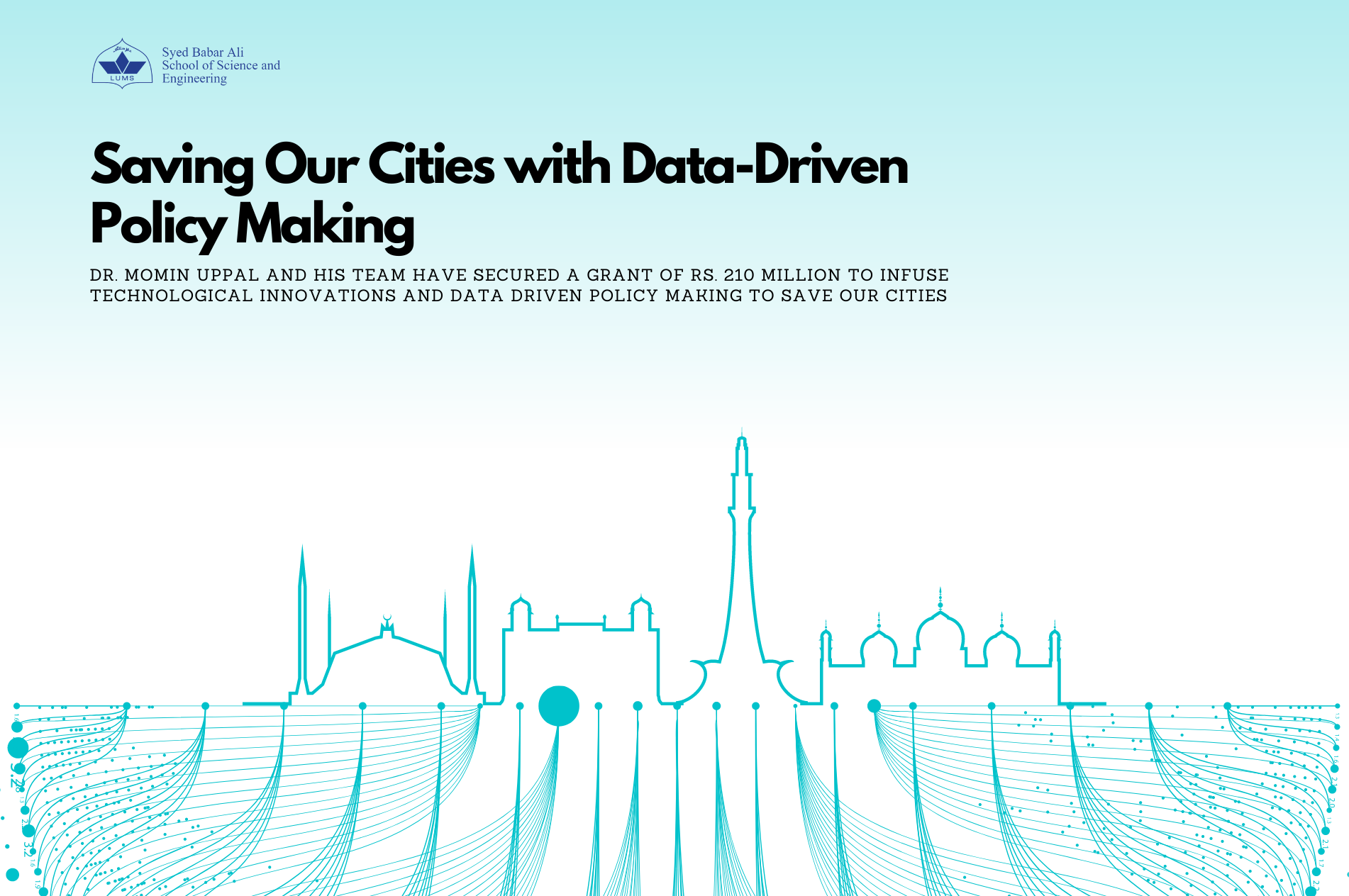 Saving Our Cities with Data-Driven Policy Making
Dr. Momin Uppal and his team have secured a grant of Rs. 210 million for a project that strives to infuse sustainability to our cities, using technological innovations and data driven policy making. The project comes as a response to HEC's Grand Challenge Fund (GCF) call for proposal, which seeks to promote research excellence in strategic sectors of the economy by supporting large, multisectoral/multidimensional research projects. Dr. Momin's project was one of five funded under the GCF, out of more than 700 applications from across Pakistan. 
Seen from above, the urban sprawl of Pakistan's major cities looks like the work of an opportunistic contagion; it is chaotic, unplanned and stems a family of problems that we are all aware of and are frequently affected by its messy spin-offs. An ever-increasing strain on cities' infrastructure, environment, and public services are just a few of the most pressing issues. While Pakistan has seen data collection initiatives in the past, they have so far failed to box in these problems because of a lack of investment in technological advancements. Dr. Momin Uppal is the Principal Investigator of a project where the goal is to enable the use of technological innovations in data gathering, data analytics, and data-driven decision making for addressing problems that have plagued small and large cities of Pakistan. 
To achieve this broad objective, the activities within the three-year project duration will focus on six separate, albeit intertwined vertical dimensions of an urban system. These so-called verticals span Pakistan's pressing urban problems of sprawl, environment and health, and mobility. In particular, the six verticals are:
Mapping and analysis of sprawl in major cities of Pakistan
Smart solid waste management through remote monitoring solutions
Analysis of urban mobility patterns
Tracking and countering air pollution
Tracking spatial prevalence of disease as well as analyzing vaccine coverage, and 
Developing sustainable urban logistics solution
Each one of the six verticals will be guided by intricately linked horizontal themes that have been designed so as to enable transdisciplinary activities as well as to ensure maximum engagement with relevant stakeholders. The horizontals include Data collection, Data  analytics, Development of software toolsets, Capacity building, and Data-driven decision making and policy design. Not only will the project utilize publicly available data as well as data-sets obtained from partners, it will also focus on developing customized data-collection solutions such as a crowd-sourced network of vehicle-mounted sensors and smart device-driven data capture for urban mobility informatics, a ground-based air quality sensing network etc.
The project consists of a truly multidisciplinary team of national and international scientists. It has experts in engineering, information processing, machine learning, bio-informatics, and computer science (the technologists), as well as in urban economics, evidence-based policy design, urban policy, and public health. We wish all the best to Dr. Momin Uppal and his team in pursuing all the primary objectives of this mega project. 
You can read more about this project on saving our cities here. 
Listen to the story from Dr. Momin here: