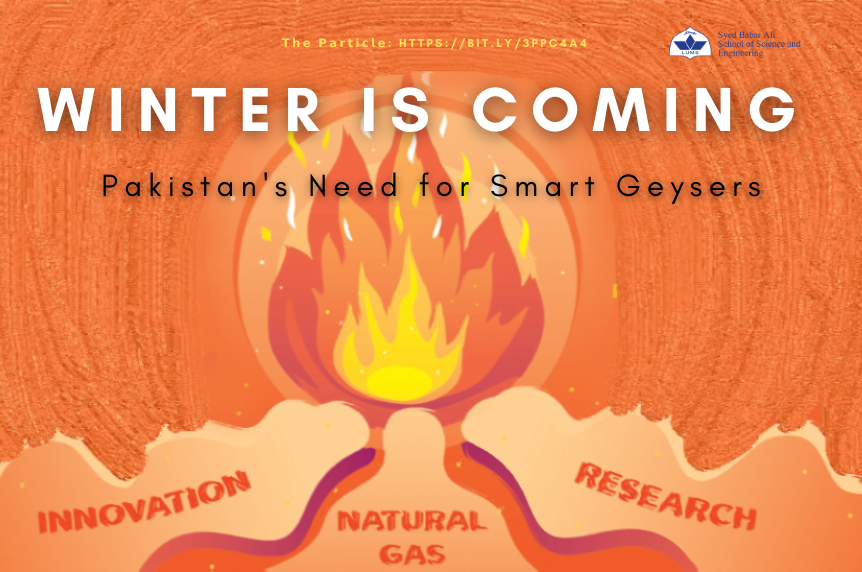 Winter Is Coming - Pakistan's need for smart Geysers
Written by Samoon Iftikhar, who is a Business Development Manager for the National Centre of Big Data and Cloud Computing.
Pakistan is currently producing only about 40% of the gas it needs. The natural gas crisis in Pakistan behooves us to find innovative ways to improve consumption efficiency. In light of this, Dr. Hamad Alizai, Assistant Professor, and head of the Internet of Things (IoT) lab at LUMS, is working with a dedicated team of researchers to develop natural gas-saving devices and technologies. The IoT lab is part of the National Centre of Big Data and Cloud Computing (NCBC) which focuses on innovation and technology to bring about economic changes in Pakistan.
In winters, water- heating geysers start consuming about half of the gas supplied to homes. While a typical household uses warm water for approximately four hours a day, these geysers, which are equipped with manual thermostats, operate 24/7 and that too at their highest operating point, needlessly wasting gas for heating water that remains unused for larger periods. To address this problem, Dr. Hamad has joined forces with Dr. Nouman Ahmed Zaffar and Zaheen Machines to introduce the concept of a smart geyser called Ashray. Dr. Nouman Ahmed Zaffar, who is currently Associate Professor and Director of Energy and Power Systems at the Department of Electrical Engineering in LUMS, will work on the power electronics of Ashray.
Ashray is the extension of an existing product of Zaheen Machines known as Jul Bujh; a programmable geyser thermostat which allows users to control temperature settings of the geysers through a smartphone app. One of the main aims behind the design of Ashray is to minimize gas wastage which will help us save millions of rupees in foreign exchange that are otherwise spent on the import of liquid gas. Ashray will be equipped with smart sensors to detect the usage of hot water in a house so that the temperature of the water changes as per the requirement of the user. The smart sensors will limit the gas usage at times when the user does not require the water to be warm.
Ashray's power and energy efficiency relies on smart power electronics. One of Ashray's features is the automatic ignition of a geyser's pilot. Apart from being a hassle, turning on the pilot comes with the risk of a user's face being burnt in case of a gas leakage. The automation of pilot ignition provides users with both safety and ease.
Through these enhancements, Ashray aims to increase a geyser's efficiency by 35%. With the huge success of its predecessor Jul Bujh, Ashray is all set to be commercialized for the winter season in 2021. Ashray will increase the comfort in our daily lives and on a lighter note make our winters much cozier. Samoon Iftikhar is Business Development Manager for the National Centre of Big Data and Cloud Computing.