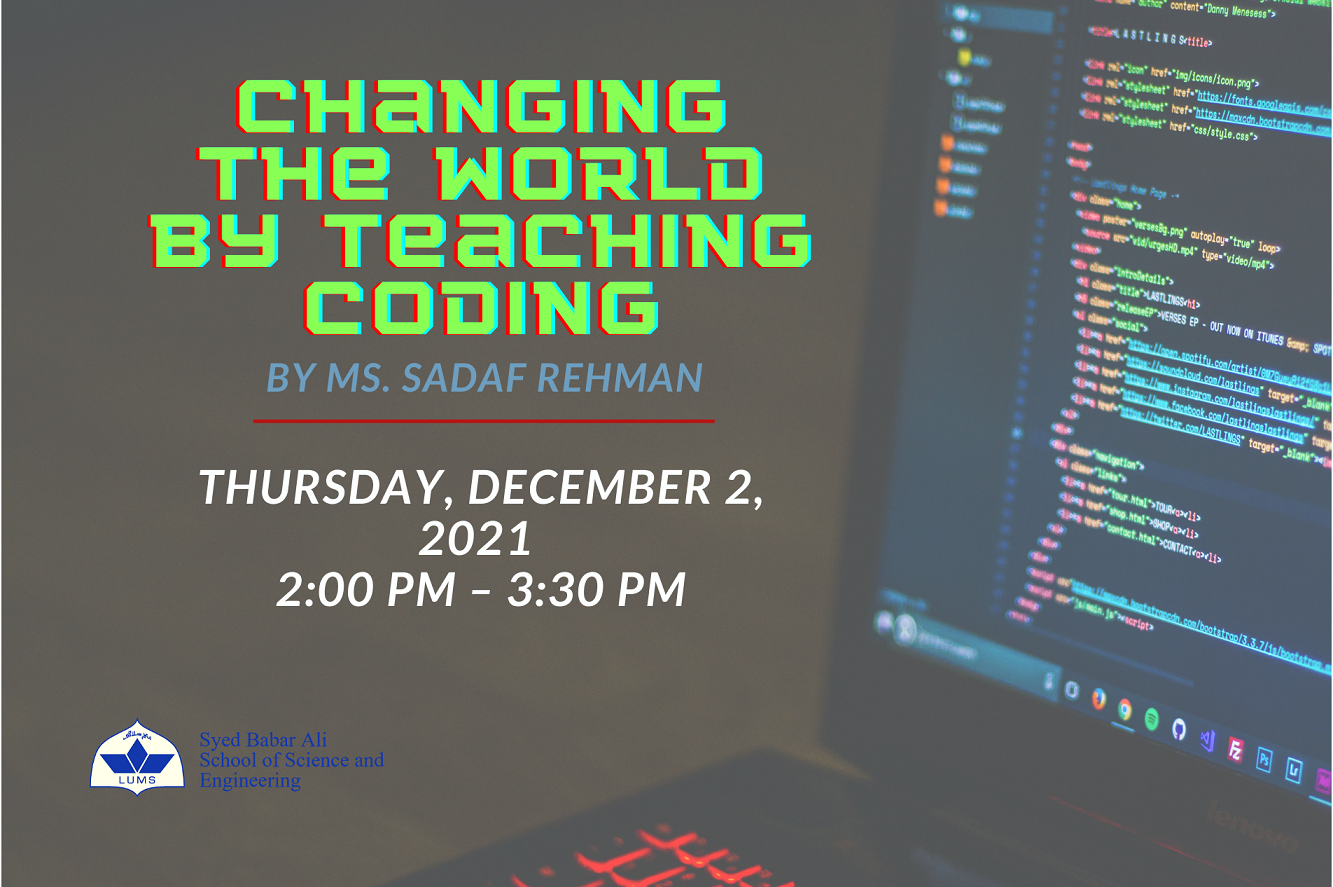 Changing the World by Teaching Coding
Venue
SBASSE 10-202 & Online via Zoom
Abstract
We have more young people today than in the country's history, and by 2050 Pakistan is on track to have a population of over 400 million. But our schools are failing us - digital native children are 21st-century learners, but we have 20th-century digital immigrant teachers teaching in classrooms designed in the 19th century. At the beginning of the curve, we realize that the problem lies in things we aren't measuring. These are essential for any child today, 21st-century skills that make us human and cannot be automated – things like critical thinking, problem-solving, resilience, and creativity. But if schools are diseased, Codeschool.pk believes that the medicine is coding. Seven different research studies show that coding - when taught correctly - inculcates 21st-century skills. Code School is committed to providing coding classes for young children through fun, interactive, play-based programs. Codeschool.pk has reached students in ten countries and has offices in Seattle, USA, and Lahore, Pakistan.
Ms. Sadaf Rehman will be talking about "Changing the World by Teaching Coding" on Thursday, December 2, 2021 at 2pm PKST.
Venue for in-person attendees: SBASSE 10-202
Online attendees can join via Zoom link: https://us02web.zoom.us/j/84696584740?pwd=UGxqQ3YzL2xVdjc5czV6Z3BGNmlCUT09 
Purpose of the Seminar: 
We would like to speak about our experience with teaching children coding, the bottlenecks we have faced with scaling, and how we have to re-think traditional teaching models in schools, and how college students in STEM fields today can help in building a better future not just for Pakistan but for other low-resource countries that are grappling with a tech-centric future.
About the speaker:
Sadaf has nearly two decades of experience in Pakistan's nonprofit education and skills training space, driving positive social change for youth. She has previously served as Pakistan Country Director for Generation Youth Employment, a McKinsey-founded skills training nonprofit. She also served as technical advisor to the Punjab Skills Development Fund, a $200m semi-government fund created by the Government of Punjab and DFID. Her previous experience includes The Citizens Foundation, the world's largest chain of nonprofit schools, and Acumen Pakistan, an affiliate of Acumen, a US-based impact investment fund. She has consulted for LUMS, a leading not-for-profit university, CIRCLE Women, a grassroots digital & financial literacy nonprofit, RAVI Foundation's Infinity School of Engineers, and Pakistan Children's Heart Foundation (PCHF), among others. She is also the co-founder of Codeschool. pk, an ed-tech STEM program, is reaching students in 10 countries. She trained as an IB instructor in 2017, has an undergraduate degree in computer science and math, and an MBA from LUMS, where she received a gold medal for first place overall.
Please find below some useful links: