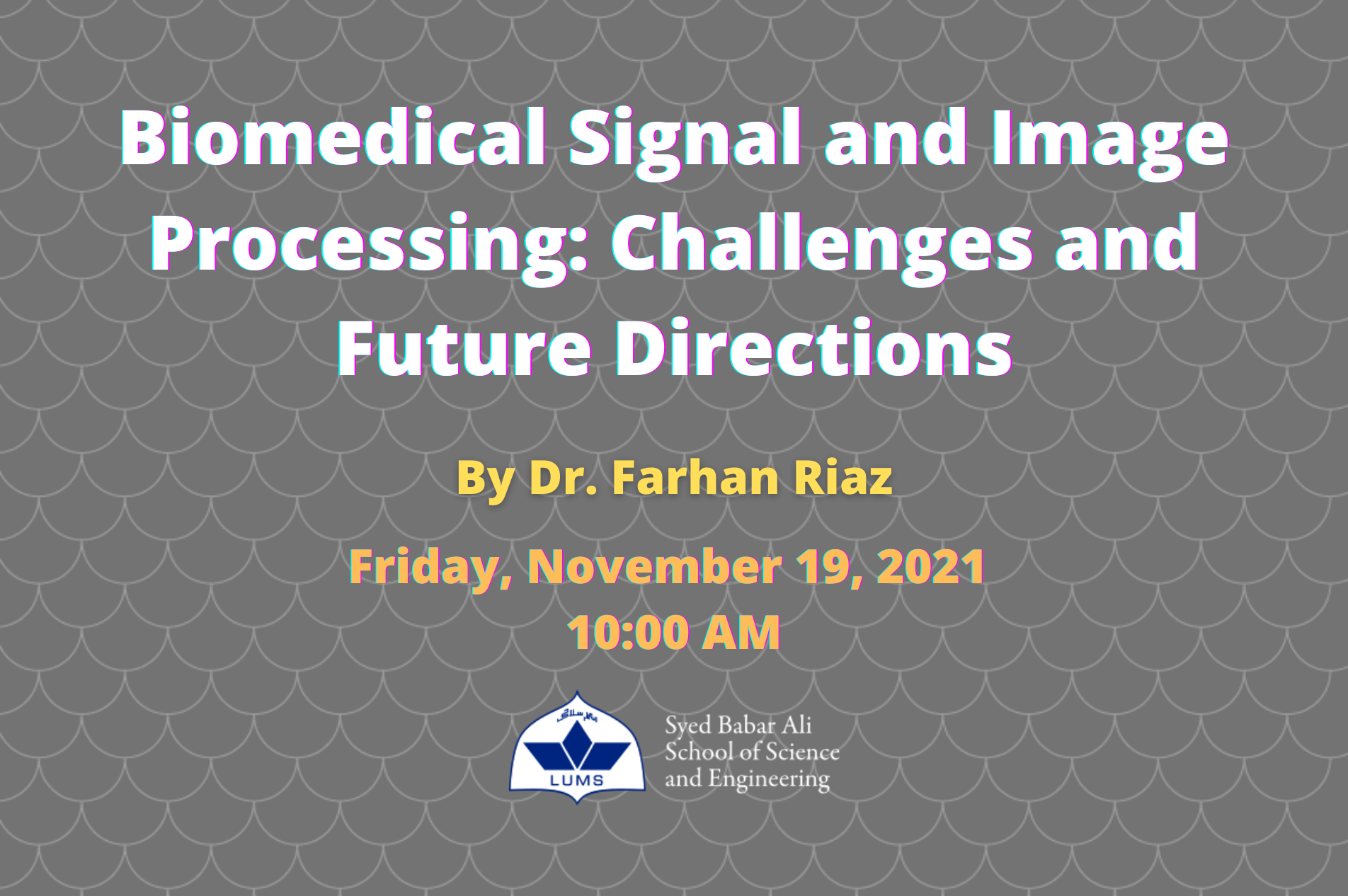 Biomedical Signal and Image Processing: Challenges and Future Directions
Abstract
Over the last decade, the significant advances in digitization has led to the scope of work in several areas. One such area that has seen significant growth due to this digitization is medicine. Recently, clinical diagnostic methods are generating a humungous amount of data which leads to some inherent allied problems leading to research in data security, data integrity, data storage etc. Lately, the evolution in the area of Artificial Intelligence has opened the doors to perform an automatic analysis of biomedical images/signals. In this talk, we will talk about how AI in biomedicine is in the process of reshaping the medical research landscape worldwide. In this context, research performed on several imaging modalities and some research findings will be presented in this talk.
Dr. Farhan Riaz will be talking about "Biomedical Signal and Image Processing: Challenges and Future Directions" on Friday, November 19, 2021, at 10:30 AM. This is a CS Research Seminar.
Venue for in-person attendees: SSE 10-301
Please join us via Zoom meeting link: https://lums-edu-pk.zoom.us/j/8353602730?pwd=emFaM21hNGtWNHhHZ0dmZm5ueFZqUT09
About the speaker:
Dr. Farhan Riaz received his BE degree from National University of Sciences and Technology, Islamabad, Pakistan in 2004, MS degree from Technical University of Munich, Germany in 2007 and PhD degree from University of Porto, Portugal in 2012. Since 2012, he is serving as an Associate Professor at the National University of Sciences and Technology, Islamabad, Pakistan. He has about 10 years of experience in biomedical signal and image processing, applied machine learning and computer vision. The applied areas of his research include dermoscopic image analysis, analysis of gastroenterology images, processing of PPG signals, processing of EEG signals, processing of PCG signals and processing of heart ultrasound videos. He is working in close collaboration with Instituto de Telecomunicacoes, Porto, Portugal for pursuing his research interests where he regularly visits as a consultant on computer vision on various projects. He has 60+ publications in impact factor international journals and peer reviewed conference publications.