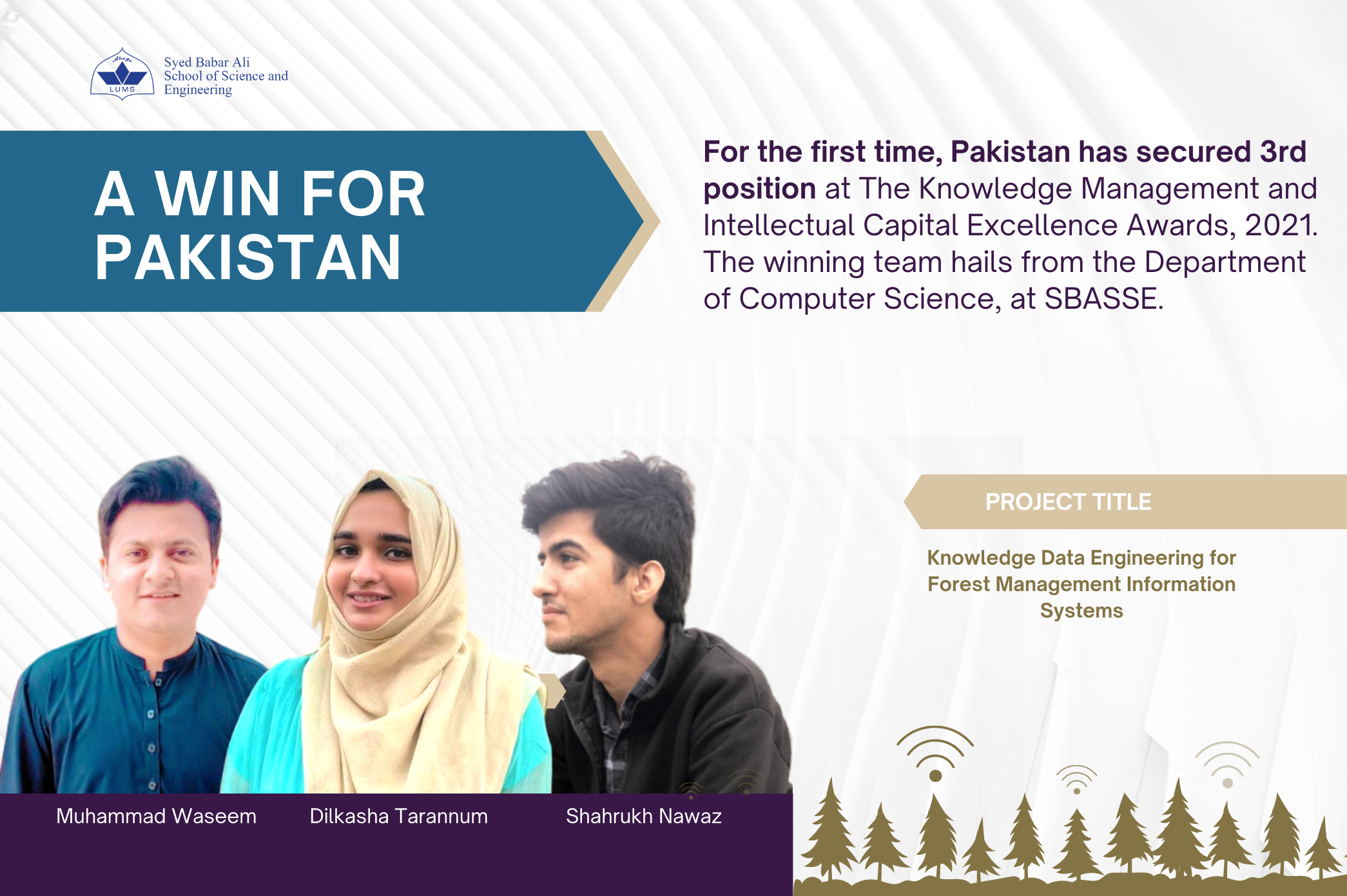 A Win for Pakistan ~ Infuse Cutting-Edge Technology with an Ambition of Saving our Forests, and we have a Winner!
For the first time in the history of 'Knowledge Management and Intellectual Capital Excellence Awards of 22nd European Conference on Knowledge Management', a team from Pakistan was able to secure 3rd position among several case studies presented by the corporate sector, and mainly PhD students from different countries. The winning team consists of undergraduate students from the Department of Computer Science at the Syed Babar Ali School of Science and Engineering. Our heartiest congratulations to the amazing team of Dilkasha Tarannum, Muhammad Waseem, and Shahrukh Nawaz. It must be noted that Dilkasha was the youngest participant in the competition.
The case study presented was titled, "Knowledge Data Engineering for Forest Management Information Systems,", and reports the work the team conducted as part of their final-year project under the supervision of Dr. Mian Muhammad Awais. The proposal focuses on incredibly efficient yet simple tools for extracting valuable data from something as mundane as the width of a tree trunk. The technology is at the union of augmented reality, machine learning, digital image processing, data mining and big data analysis.
When asked to comment on the achievement, the three team members sent back interesting responses. Ms. Dilkasha commented, "I started from sketching innovative ideas. Perseverance then took me to this project that, I hope, will go a long way in contributing to the green environment mission [...] It was a moment of pride for me to present the paper while representing the Lahore University of Management Sciences, and my country at an international level."

Muhammad Waseem summed up the achievement in a one-liner, "Don't cry because it's over. Smile because it happened."

Shahrukh Nawaz expressed his renewed sense of motivation, "It doesn't get easier, you get stronger."
This coveted award only recognize the highest quality work in knowledge management and intellectual capital that can lead to considerable improvements in organizational efficiency and effectiveness. There were over 100 case studies presented by the corporate sector, and mainly PhD students from 25 countries.
Many congratulations to Dilkasha Tarannum, Muhammad Waseem, Shahrukh Nawaz and their supervisor Dr. Mian Muhammad Awais on winning this award!
For more information on the awards, please visit this link: https://www.academic-conferences.org/conferences/eckm/eckm-excellence-awards/
National Agricultural Robotics Lab (NARL), Forestry Research Cluster, Department of Computer Science, SBASSE