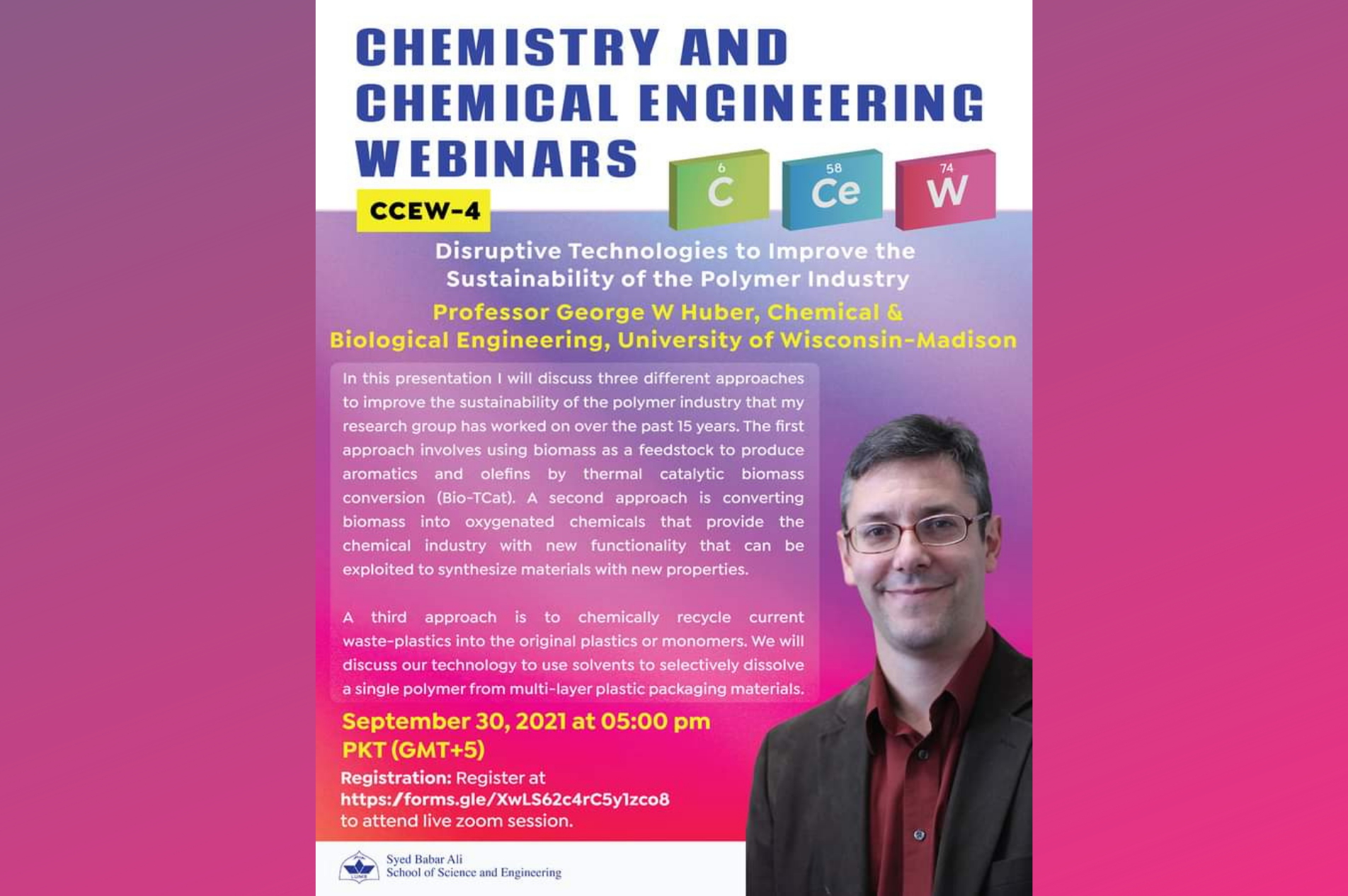 CCEW-4 Disruptive Technologies to Improve the Sustainability of the Polymer Industry
Abstract
In this presentation I will discuss three different approaches to improve the sustainability of the polymer industry that my research group has worked on over the past 15 years. The first approach involves using biomass as a feedstock to produce aromatics and olefins by thermal catalytic biomass conversion (Bio-TCat). Aromatics and olefins are the raw materials that are used to produce the majority of the polymers today and are derived from crude oil and natural gas. The technology involves removing minerals from the wood followed by catalytic pyrolysis in a fluidized bed reactor and can produce 22-24 wt% of liquid aromatic products. Bio-TCat has been demonstrated in an integrated pilot unit with over 4,000 hours-time on stream by Anellotech, IFP, and Johnson Matthey. The technology is now ready for licensing by AXENS.
A second approach is converting biomass into oxygenated chemicals that provide the chemical industry with new functionality that can be exploited to synthesize materials with new properties. Biomass has a high oxygen content making it a useful feedstock for oxygenated monomers. The monomers include α,ω-diols, di-acids, a triol and a tetrol. Rigorous techno-economic analysis indicates that these monomers can be cost competitive and even cheaper than petroleum-derived oxygenated monomers depending on the scale that they are produced. For example, furfural can undergo a series of 4 reactions to produce 1,5 pentanediol (1,5 PDO), at fully loaded costs with a >20% IRR of less than $3,000/ton. The 1,5 PDO is being commercialized by Pyran who has already successfully tested the 1,5 PDO in several current polymer formulations with polymer manufacturers. These new biomass-based monomers are also being used to create biodegradable polyesters that can replace polyolefins in packaging applications.
A third approach is to chemically recycle current waste-plastics into the original plastics or monomers. We will discuss our technology to use solvents to selectively dissolve a single polymer from multi-layer plastic packaging materials. The Center for Upcycling of Waste Plastics (CUWP) at the University of Wisconsin is studying the pyrolysis of plastics as a feedstock for the chemical industry. CUWP is developing mechanistic based models for pyrolysis of mixed plastic and demonstrating this technology in laboratory and pilot scale equipment. The pyrolysis oils can then be converted into aromatics and olefins using zeolite catalysts or by steam cracking. CUWP is developing rigorous process models that are used to estimate the economics of different approaches to chemically recycle waste-plastics along with the integrated supply-chain.

Professor George W Huber will be chatting with us in the 4th seminar session organized by the Department of Chemistry & Chemical Engineering. This session will take place on 30th September 2021 at 5pm PKST and will be webcasted via Zoom.
Professor Huber is currently working in the Chemical and Biological Engineering area at the University of Wisconsin-Madison, USA.
Register at https://forms.gle/XwLS62c4rC5y1zco8 to attend live zoom session. 
About the Speaker:
George Willis Huber is the Richard Antoine Professor of Chemical Engineering at University of Wisconsin-Madison.  His research focus is the design of disruptive technologies for the conversion of biomass, waste plastics and other waste resources into renewable fuels and chemicals.  He is co-founder of Anellotech (www.anellotech.com) and Pyran (www.pyranco.com). He is the director of the $12.5 million Center on Chemical Upcycling of Waste Plastics (CUWP) which was funded in 2021.  George did a post-doctoral stay with Avelino Corma at the Technical Chemical Institute at the Polytechnical University of Valencia, Spain (UPV-CSIC).  He obtained his Ph.D. in Chemical Engineering from University of Wisconsin-Madison (2005).  He obtained his B.S. (1999) and MS (2000) degrees in Chemical Engineering from Brigham Young University.