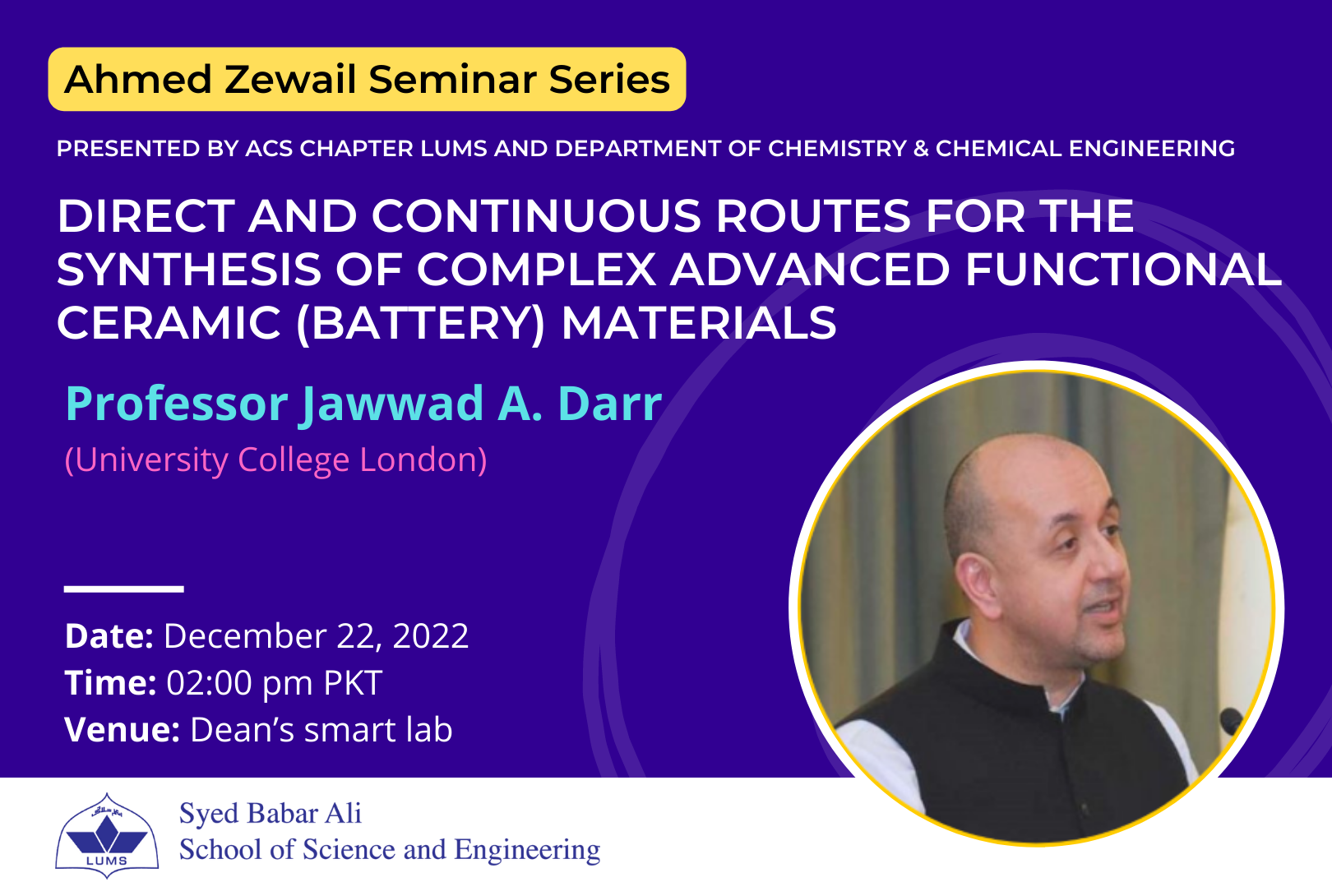 Direct and Continuous Routes for the Synthesis of Complex Advanced Functional Ceramic (Battery) Materials
Speaker(s)
Prof. Jawwad A. Darr (University College London)
Venue
Dean's Smart Lab, 4th floor SBASSE Building
Abstract
Laboratory-scale Continuous Hydrothermal Flow Synthesis (CHFS) systems for the controlled synthesis of inorganic nanoparticles (diameter <100 nm) have many potential commercial applications, from catalysts to sunscreens and battery materials to fuel cell components. CHFS systems offer many advantages over batch processes: it is a green technology (using supercritical water as the reagent at >374°C and 22.1 MPa), and uses inexpensive precursors (e.g. metal nitrate salts), and parameters such as temperature, pressure etc., can be controlled independently for the synthesis of high-quality, technologically-important functional nanomaterials in a single step (or fewer steps than conventionally used).

The Clean Materials Technology Group at UCL, now use CHFS made intimately mixed metal oxide precipitates as precursors to the direct synthesis of "difficult to make" solid-state phases using only a single heat treatment step and no grinding (i.e., "Bake Without the Shake!"). This approach can be used for rapid materials discovery and also to manufacture materials using continuous, low energy manufacturing methods which are inherently scalable. As well as the use of CHFS for battery materials discovery, the talk will discuss the design and operation of a scaled-up CHFS Pilot Plant capable of Kg/h synthesis of nanoceramics as well as future directions for the CHFS technology. A review article on the topic has been published and gives an excellent overview on the technology.
Professor Jawwad Darr is the son of Pakistani immigrants from the Punjab who came to the UK in the 1960's to work in Bradford West Yorkshire. Despite an unremarkable early education, he is now one of the UK's leading industrially facing academics in advanced functional materials/nanomaterials process engineering, with the title of Professor of Materials Chemistry at University College London, UCL (world's top 20 university). He has published over 200 academic publications and three patents and has been awarded funding valued at over 20 million pounds and has graduated over 45 PhD students (as of 2021). From 2016 to 2021, he was vice dean of enterprise in the Maths and Physical Sciences faculty at UCL in, which he was supporting UCL's faculty engagement with industry.
He is visiting professor at Comsats University Islamabad (Lahore Campus) since 2008. In 2017, he co-founded the UPSIGN charity (UK-Pakistan Science and Innovation Global Network; www.upsign.org.uk) that works to support, educate and connect British Pakistani and Pakistani academics. In his UPSIGN work, he is involved in public outreach workshops and lectures, training Pakistani academics and students, and developing training and workshops to support underprivileged undergraduate black and minority Asian students in research.
He is a regular speaker at industrial forums and academic events in a wide range of topics. As well as his own latest research, he teaches on topics related to green chemistry, applications of advanced functional materials (including batteries) and at outreach lectures for (virtual/real) schools/universities in the UK and Pakistan.