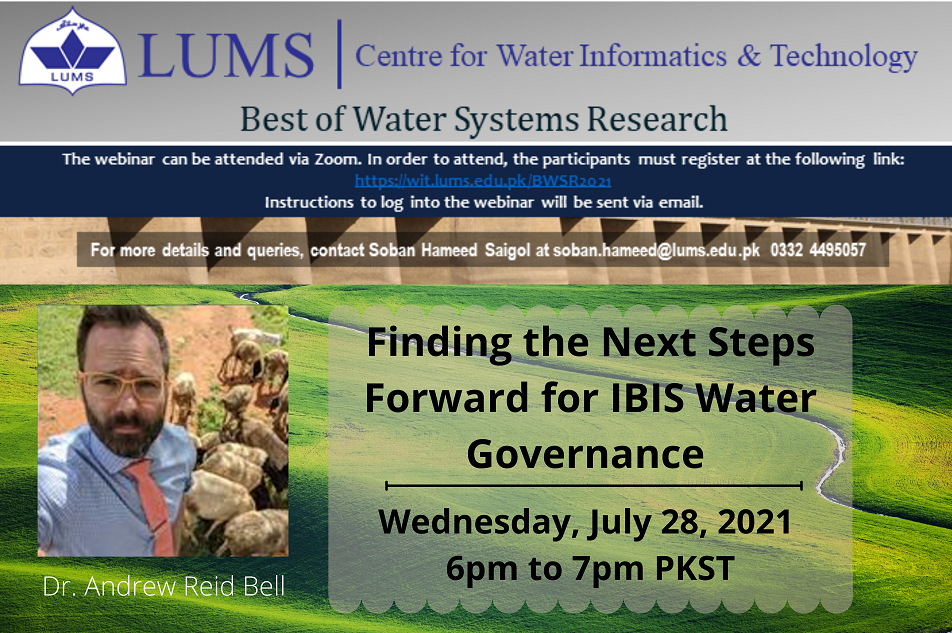 Launch of the "Best of Water Systems Research" Seminar Series by WIT SBASSE LUMS
Abstract
In this talk, we identify water governance challenges in the Indus Basin Irrigation System (IBIS), and highlight the layers of decision-making over the past century that have contributed to shaping them. Specifically, we consider limitations on the potential for Participatory Irrigation Management (PIM) in theory and in practice and discuss alternative paths toward improved water governance and water resource outcomes for irrigators in Pakistan. Finally, we present previous work examining the role of information in the IBIS, as a foundation for functional governance toolkits, and point to key next steps in this research domain.
The Centre for Water Informatics & Technology at SBASSE, LUMS is extremely excited to announce the launch of a webinar series intended to celebrate distinguished works in 'Water Systems Research'. The seminars will be targeted towards researchers and technical experts working in water resource systems and will be delivered by scientists who have produced acclaimed research in the field. Securing the future of our water resources is becoming less of a problem of scarcity and more of a problem of effective management of what we already have. We strongly believe that this can be achieved only by adopting a systems perspective on water that takes into account the intricate linkages connecting the water system with food, energy, technology, and society. 'Best of Water Systems Research' is aimed at propagating the science and techniques of exactly this approach to sustain our water resources. In this series, WIT will be inviting top researchers who have applied systems theoretic methods to address real problems in water resource management.
The first talk will be delivered by Dr. Andrew Bell from Boston University on his work on participatory irrigation management in Punjab, Pakistan. Other confirmed speakers include Dr. Murugesu Sivapalan from UIUC, Dr. Ariel Dinar from UC Riverside, Dr. Grey Nearing from UC Davis, and Dr. Michael Mitchell from CSU Australia. Many other esteemed researchers are (and will be) invited and we are very excited to be able to learn collectively from their wealth of experiences. 
The talks will (mostly) be delivered bi-weekly on Wednesday evenings. A tentative schedule for the webinars can be found at here, while you can register here. The webinars will be streamed via zoom with the opportunity to interact with speakers during the Q&A after the presentation ends. A link for attending will be sent via email to registered individuals. Colleagues who register once can attend all future talks without the need to register again. 
The first talk will be delivered by Dr. Andrew Bell from Boston University and is titled: "Finding the next steps forward for IBIS water governance". The talk is scheduled for 6:00-7:00 pm PKT on Wednesday, July 28, 2021 and will be moderated by Dr. Talha Manzoor, Assistant Professor, Center for Water Informatics & Technology. 

About the speaker: Andrew Bell studies livelihoods and resource decision-making. including domains of irrigation, pest management, ecosystem services, technology adoption and migration. Most of his work applies survey and experimental tools (games, high-frequency smart-phone based surveys) to identify and model behaviour; and agent-based models to understand what these behaviours imply for system-level outcomes under scenarios of environmental change. He received his PhD (2010) in Natural Resource Management from the University of Michigan's School of Natural Resources and Environment (SNRE, now SEAS), also MASc in Environmental Engineering from Waseda University and BASc in Environmental Engineering from the University of Waterloo. 
For more details and queries, contact Soban Hameed Saigol from WIT at soban.hameed@lums.edu.pk.