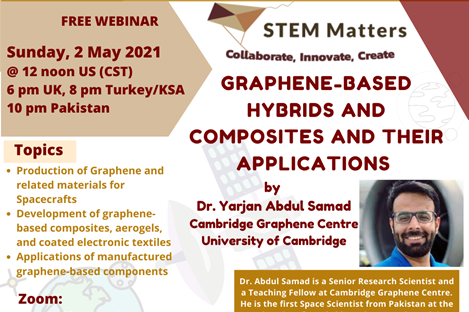 Graphene-based Hybris and Composites and their Applications
Dr. Yarjan Abdul Samad is a world-renowned Pakistani scientist at Cambridge who is pushing the boundaries of nanotechnology in space science. Originally from a small village in a remote area of Pakistan, he has set great examples for hard work and resilience to become a space scientist at Cambridge.
We are honoured to have him for a discussion seminar where he will talk about "Graphene-based Hybrids and Composites and their Applications". 
Dr. Abdul Samad Is a Senior Research Scientist and a Teaching Fellow at Cambridge Graphene Centre. He Is the first Space Scientist from Pakistan at the University of Cambridge. His research work is focused on space technologies. and he has won several awards for his work. He is mentoring numerous graduate students. He got his Bachelors degree from Ghulam Ishaq Khan Institute (GIKI) in Pakistan and Ph.D. from Khalif., University with research work done at top Institutions of Japan, USA and China. 
The topics he will cover are:
Production of Graphene and related materials for Spacecrafts
Development of graphene based composites, aerogels and coated electronic textiles
Applications of manufactured graphene based components 

This event is scheduled for the following, please tune in according to your time zones:
Sunday, 2 May 2021 @ 12 noon US (CST), 6 pm UK, 8 pm Turkey/KSA, 10 pm Pakistan
To watch the seminar LIVE, please visit the links below: 
Zoom: https://tinyurl.com/SM-Nano
FB Live:  fb.me/STEMatters & fb.me/YPSoc