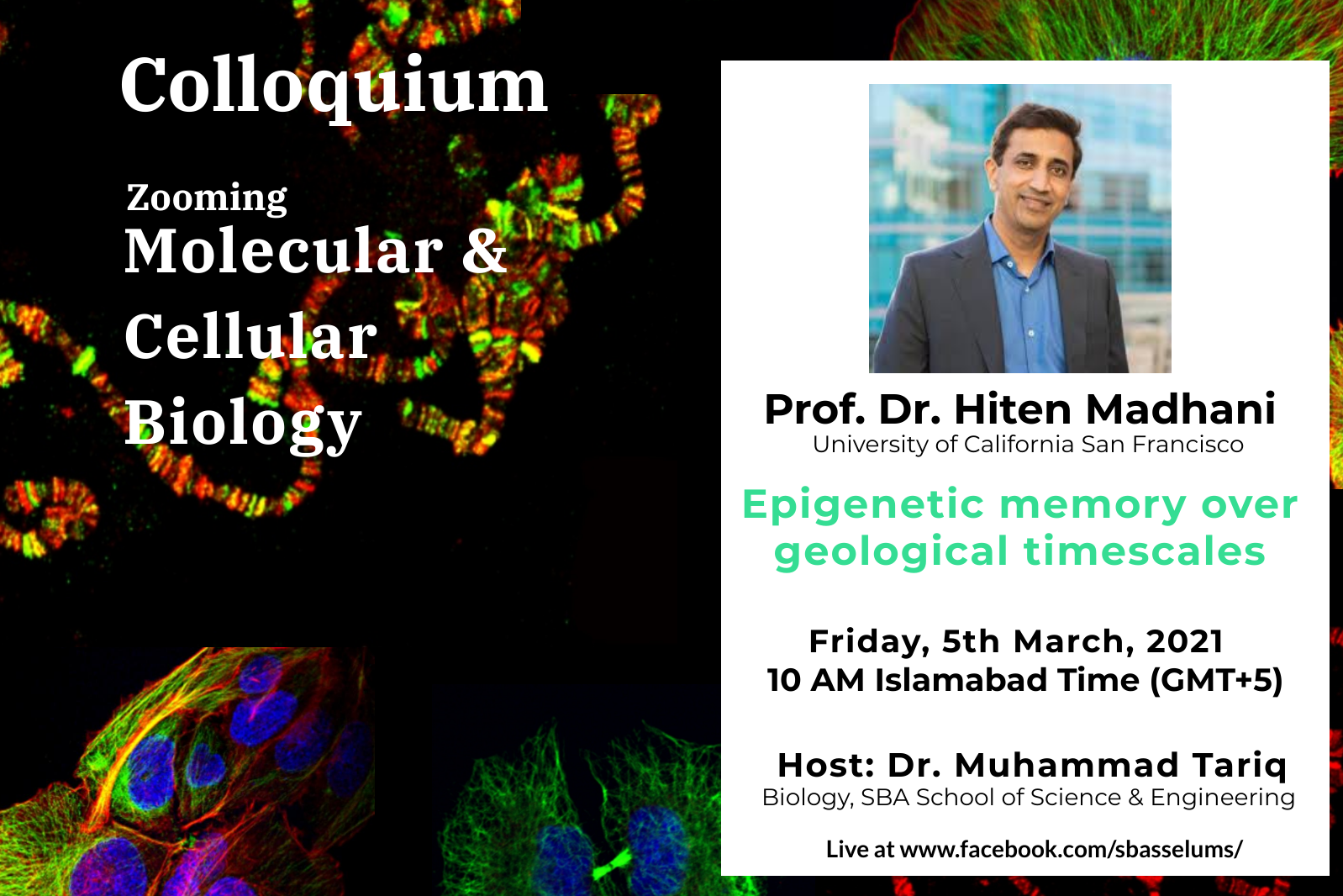 Epigenetic Memory Over Geological Timescales
Abstract
Dr. Hiten describes his recent work with his team, examining the maintenance of DNA methylation in the yeast Cryptococcus neoformans. In many species, DNA methylation is established by a de novo enzyme that can methylate unmethylated DNA. Such enzymes act in narrow developmental windows and this initial activity is subsequently propagated epigenetically via a maintenance enzyme specific for hem methylated DNA. He also describes a species which lacks a de novo enzyme and only harbors a maintenance enzyme.
Prof. Hiten Madhani joins us for the next session of  Zooming Molecular and Cellular Biology Colloquium to talk about "Epigenetic Memory Over Geological Timescales". The session is taking place on Thursday 4th March 2021, 9pm San Francisco Time, which is Friday 5th March, 10am PST.  
Hiten investigates host pathogen interactions and innate immunity. He has also discovered epigenetic phenomenon in human pathogens like Candida albicans and Cryptococcus neoformans. Recently his laboratory has discovered evolutionary persistence of DNA methylation for millions of years in the absence of key machinery involved in setting up these covalent marks at DNA. Hiten has received several awards and distinctions and is a Fellow of American Academy of Microbiology as well as Fellow of American Association of the Advancement of Science.    
About the speaker:
Hiten Madhani was Born in London, U.K., grew up in Seattle, Washington, and attended Stanford University.  He received his MD and PhD degrees from UCSF and, after postdoctoral work at MIT/Whitehead Institute, returned to UCSF as faculty in 1999.  He is currently a Professor in the Department of Biochemistry and Biophysics.  He was recently elected as a fellow of the American Association of the Advancement of Science.