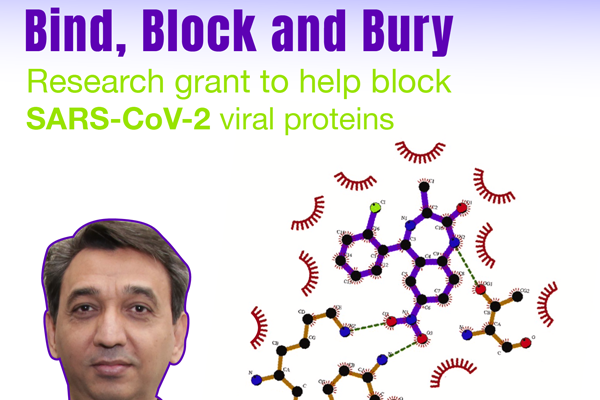 Raise the fences – increase defenses. Block infiltration stop proliferation. These are one-point agendas that guide Dr. Shahzad ul Hussan's latest work to arrest the workings of SARS-CoV-2 virus (more popularly known as 'the coronavirus' these days). Dr. Hussan is working to find a molecule that can bind to either of the viral proteins; RdRp, 3CL-protease and helicase, to help disable the sinister virus and its hopefully end its terrible reign.
However, first things first - our sincerest congratulations to Dr. Shahzad ul Hussan for receiving the Shahid Hussain Public Health Research Grant 2020, for "Discovery of New Potential Therapeutics Against Coronavirus by Targeting Viral Cellular Entry and Replication". In simpler words, Dr. Hussan is looking to find ways to 1) prevent the entry of the SARS-CoV-2 virus into the human body and 2) stop it from multiplying if it gets inside.
Dr. Hussan established the Biochemistry and Structural Biology (BSB) lab at the Department of Biology, SBASSE, which helped his past work in discovery of drugs related to HIV and Hepatitis C. He believes this laboratory, and the grant he has received, shall help him conduct further research to figure out a that one killer molecule, disabling the normal workings of SARS-CoV-2. We wish Dr. Shahzad ul Hussan the very best in his search to find the 'COVID killer' molecule.