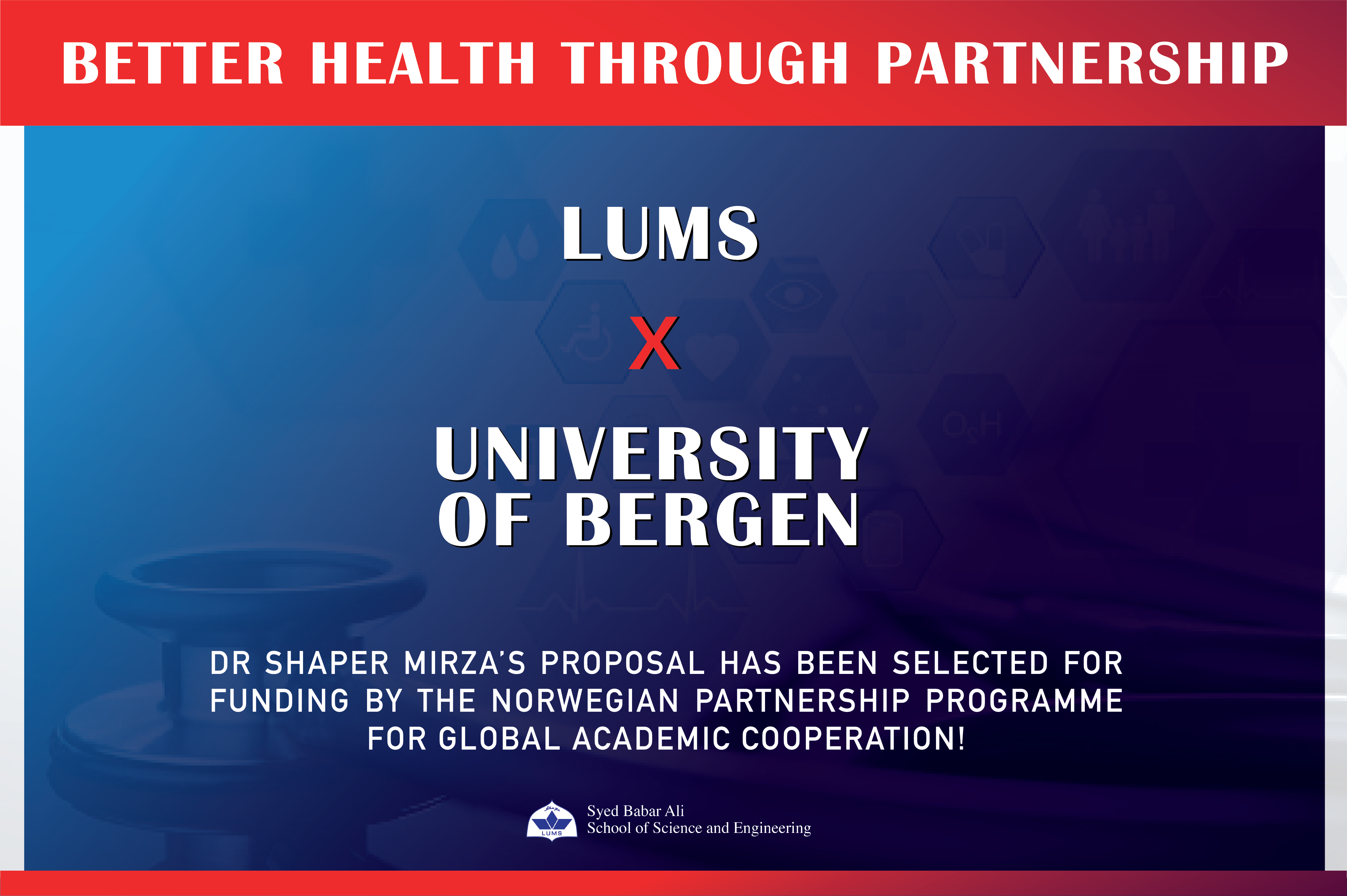 Better Health Through Partnership
Cooperation between humans has spawned great things in the past. This optimism is deeply rooted in the nature of collaborative work. One such opportunity has been the NORPART - Norwegian Partnership Programme for Global Academic Cooperation. Out of a total of 150 proposals that were submitted, 26 were accepted for funding, including Dr Shaper's proposal, which aims to greatly enhance the internationalization efforts that are already underway at the Syed Babar Ali School of Science and Engineering.
The project is titled 'Better health through partnership in higher education and bilateral student mobility: collaboration between Pakistan and Norway'. The offerings of this proposal are really exciting! Students from Norway will be offered courses at the LUMS campus. The two courses that have been selected for these international students are
Health Systems Management and Entrepreneurship and Innovation in Health Care. Alongside these courses they will also be offered a six-month internship for which the project offers two streams; Lab based Internship and Field based Internship. "To enable field based internship, we are parterning up with  Indus Hospital, Institute of Public Health (with whom LUMS had already signed an MoU), Gulab Devi Hospital and Institute of Public Health, Baluchistan.", says Dr Saper Mirza. Speaking about additional aims of the project, Dr Shaper said that the project is to develop two courses in collaboration with  Institute of Global Health University of Bergen the courses are Disease Surveillance in low resource countries
Infection prevention and control in low resource countries.
We wish Dr Shaper Mirza and her team heartiest congratulations, and the best of luck for pulling off this promising project.
The NORPART aims to enhance the quality of higher education in Norway and selected partner countries in the Global South through academic cooperation and mutual student mobility. The programme is funded by the Ministry of Education and Research and the Ministry of Foreign Affairs of Norway.
For more information on the list of proposals, including the one selected from SBASSE, please visit: https://diku.no/en/programmes/norpart-norwegian-partnership-programme-for-global-academic-cooperation