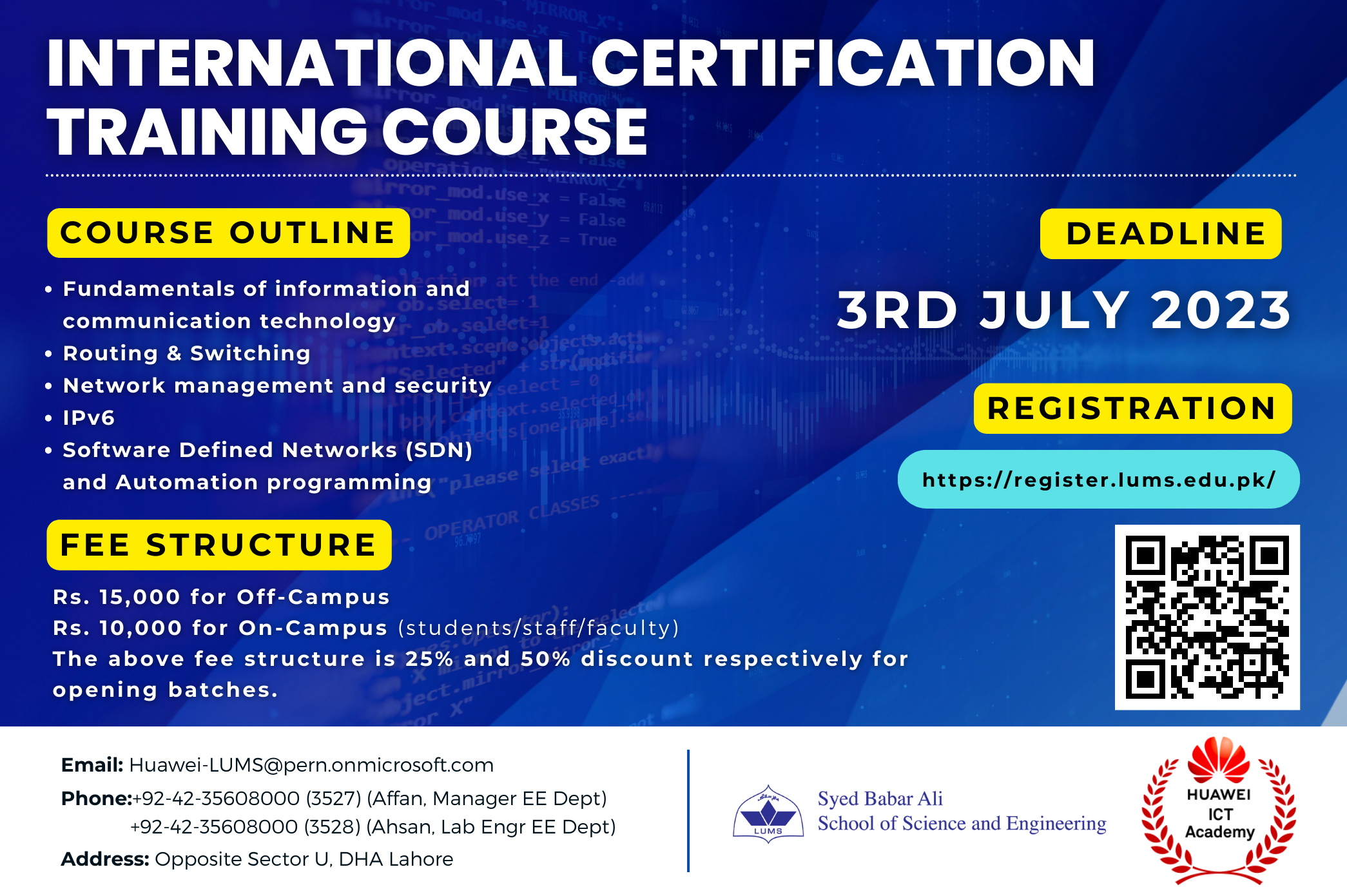 International Certification Training Course - Huawei ICT Academy
Venue
Syed Babar Ali School of Science and Engineering LUMS
Huawei is one of the leading global information and communications technology (ICT) giants and developing significant share including but not limited to software and energy sector. Huawei offers an enormous range of courses and certifications and partners with other institutes for exam trainings. The Department of Electrical Engineering, SSE-LUMS has also establish Huawei Authorized Information and Network Academy (HAINA) in partnership through MoU with Al-Khawarizmi Institute of Computer Science (KICS) that is currently supervising the Huawei academy partnership programs in Pakistan. The EE Dept., LUMS aims to offer training courses for career certifications. See this brief video presentation for overall and general functioning of any HAINA academy. Initially, the academy is offering exam training course for "Huawei Certified ICT Associate (HCIA) - Datacom". The HCIA-Datacom is a newly designed course outline from Huawei that has replaced the previous HCIA-Routing & Switching certification.
Eligibility Criteria
Currently, there are no official eligibility pre-requisites from Huawei for registering HCIA Datacom exam. It is expected that candidates are already aware of the general working of computers, mobile devices, and internet. Research Assistants (RAs) and Teaching Assistants (TAs) in LUMS should have prior consent of their supervisors before enrolling.
Details on the course fee structure
Course outline:
•    Fundamentals of information and communication technology
•    Routing & Switching
•    Network management and security
•    IPv6
•    Software Defined Networks (SDN) and Automation programming
•    See Official Course Outline for further details
Fee Structure: Rs. 15,000 for Off-Campus
Rs. 10,000 for On-Campus (students/staff/faculty)
The above fee structure is 25% and 50% discount respectively for opening batches.
Dates and Deadlines
Registration is open till 3rd July 2023. The training course is expected to start from 5th July 2023 and span over 6 weeks. Currently, seat capacity is 25 and registration date may be closed early if exceeds limit or extended if not filled enough.
Contact Details
Email: Huawei-LUMS@pern.onmicrosoft.com
Phone: +92-42-35608000 (3527) (Affan, Manager EE Dept) ,
+92-42-35608000 (3528), Cell: 0331-5480059 (Ahsan, Lab Engr EE Dept)
Address: Opposite Sector U, DHA Lahore