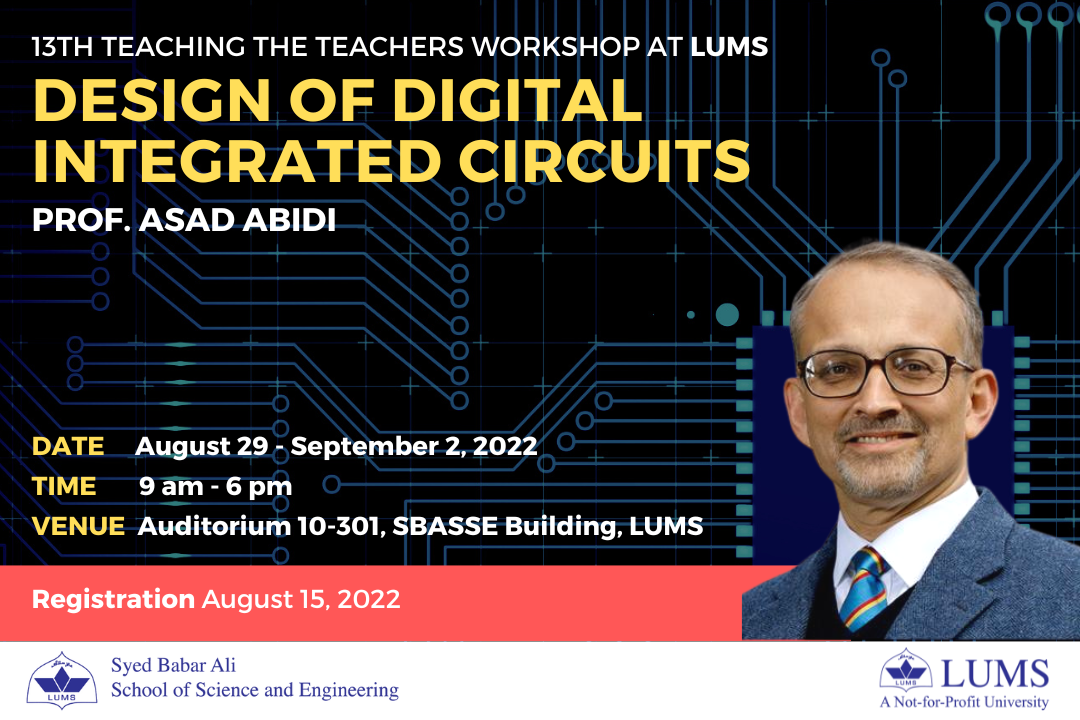 Design of Digital Integrated Circuits
This workshop is a part of the 13th Teaching the Teachers Workshop series conducted by Dr. Asad Ali. Abidi, Distinguished Chancellor's Professor at the Electrical Engineering Department, University of California, Los Angeles, USA.  
In this workshop, Professor Abidi will focus on the physical design of digital ICs. It is aimed at teachers and practitioners with a strong background in circuits and devices. The presentations, although starting from first principles, are calibrated to a professional audience.
The workshop will be conducted at LUMS Syed Babar Ali School of Science and Engineering.
Duration:  Aug 29 - Sep 02, 2022. 
Eligibility Criteria: Applicants need to be students, full/part-time faculty members at HEC recognized universities or degree awarding institutes or working in the industry in the capacity of an Electrical/Electronics Engineer or relevant technical post. 
Application Procedure: Fill out the workshop registration form available at the following address here, 
Application Deadline: 15th Aug 2022.
Successful candidates will be notified till 17th August 2022, (Limited seats available).
Registration Fee: Selected candidates will be required to send a Bank Draft of Rs 10,000/- (for the industry) or Rs 5,000/- (for the academics) in favor of "Lahore University of Management Sciences (LUMS)" via courier to:
Mr. Affan Anwar
Assistant Manager 
Department of Electrical Engineering,
Syed Babar Ali School of Science and Engineering
Lahore University of Management Sciences, DHA Phase 5, Lahore
 OR
To pay in cash by visiting SBASSE, LUMS. 
Please note that the deadline for payment of the registration fee by either option is August 22, 2022.