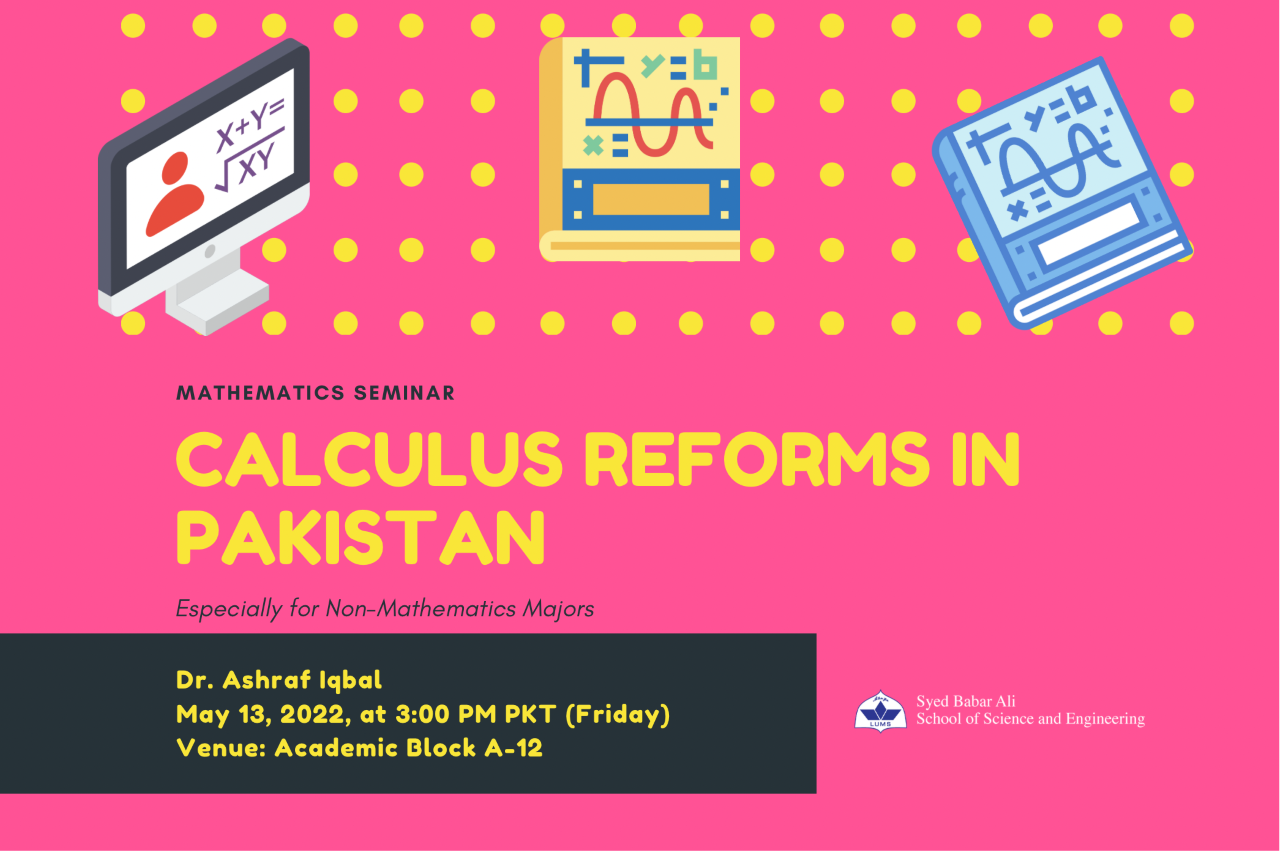 Calculus Reforms Needed in Pakistan Especially for Non-Mathematics Majors
Abstract
1. Why & How Mathematics Reforms in Pakistan, Now or Never?
2. A history of mathematics reforms in the US, Israel and India; What were their intended outcomes; How much effective these reforms were?
3. Do we need to change the Curriculum of our Programs to implement these reforms? In the short term(first four years) none but in the long run may be. I know how difficult it is to get approval of such changes from different bodies of a university. We shall discuss how?
4. Do we need Extensive Teacher Training for subjects which involve Calculus but taught by the degree awarding department? In the short run, a four week workshop is necessary but not essential? The proposed reforms are to be implemented in such a simple and user friendly fashion that we need to do minimum hassle. In the long term, the instructors who initially adopt these reforms voluntarily, can themselves conduct such workshops and training exercises. So no extra expenditure will be needed? We just need a will to do it.
5. Do we need to convince the respective Mathematics Department? Well initially no as I know that they are quite conservative people, and we are basically talking about just applied Calculus for problem solving in the real world. In the final round they will realise themselves the need of these reforms not only in Calculus but in other subjects of Applied Mathematics. This is the most non-confrontational way to achieve our goals.
6. Do we need new books, or change existing books? Initially no, we can supply supplemental material and yes in the coming years, I expect that almost all Calculus Books will hopefully incorporate these reforms?
7. What is the guarantee that these reforms will actually achieve the desired results? This is a tricky question and can not be proved or disproved the way we prove a theorem in mathematics. But our experience of conducting more than a dozen workshops at the national and international level (recording of these workshops are in public domain) show convincingly that we should conduct these reforms without delay. The experiences of India, Israel, and the US, are there to guide us.
Dr Ashraf did his postdoc at University of Southern California, LA, and at the Institute of Parallel and Distributed Computing at University of Stuttgart, Stuttgart, Germany. From the year 2002, he has been working on problems of learning and teaching mathematics at the high school, college and university level. In order to address these and related problems, he has started an innovative and futuristic MS Program at NUST, Islamabad. The name of the graduate program is (ITL) Innovation, Technology, and Learning. It is a close replica of the TIE (Technology, Innovation, Education) program at Harvard University. He has been conducting National & International Workshops on "The Magic and Beauty of Differential Calculus" for the last five years. He had participants from India, China, Ireland, Germany and the UK.
His research work on problems of learning mathematics using technology had been presented in International Conferences in Spain, Portugal, Turkey, Australia, Taiwan and of course Pakistan.