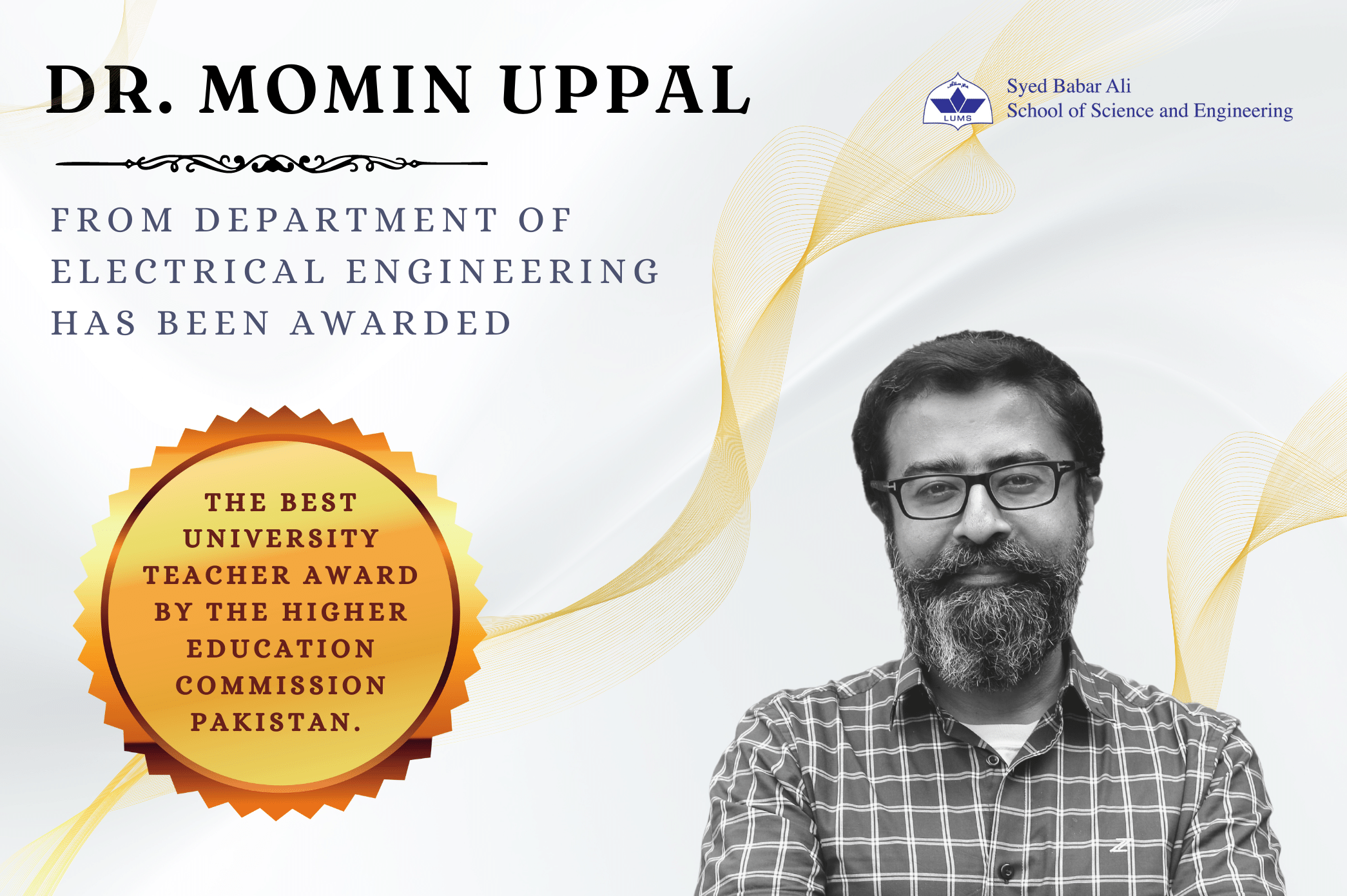 HEC Best University Teacher Award
Dr. Momin Uppal from the Department of Electrical Engineering has received the HEC Best University Teacher Award for the year 2021. The entire LUMS community is proud of Dr. Momin's achievement and wishes him the heartiest congratulations!
Commenting on the news of his achievement, Dr. Uppal said "I am proud to have received the honor and the recognition. But more than anything, I am humbled since the "I" is nothing but only one little piece in the galaxy of stars that we call SSE and LUMS." This achievement also complements his leadership in research addressing national grand challenges with a truly interdisciplinary focus. Reflecting on his decade-long tenure as a teacher he added, "If there is one thing that a decade of teaching has taught me is that I have much more to learn. I continue to learn, I continue to move, and I continue trying to do what I cannot."
Dr. Momin's brings advanced engineering problems to freshman students, freeing his pedagogy from temporal limitations, and blends invention with discovery and applied fundamental principles and algorithmic tools to solve grand challenges. Dr. Momin is also the recipient of the LUMS Vice Chancellor's Teaching Excellence Award 2021 (university-wide award), and the LUMS' Department of Electrical Engineering Distinguished Teaching Award 2019.
Dr. Momin Uppal is a tenured associate professor of electrical engineering at Lahore University of Management Sciences. He received his Ph.D. in Electrical Engineering from Texas A&M University in 2010. At SBASSE, he serves as the director of the Advanced Communications (AdCom) Lab and the Smart Data Systems and Applications (SDSA) Lab. He has published over 50 papers in leading IEEE Journals and Conferences and has two US patents to his name. He is currently leading an Rs. 220 million multi-PI projects from the HEC that broadly deals with the use of technology and data-driven decision-making to save our cities. His research interests lie in urban computing, statistical signal processing, machine learning for wireless communications, back-scatter communications, and environmental sensing using radio signals.
Find out more about Dr. Momin's research projects here. 
---
Note from the Dean

On behalf of the whole community, please accept my heartiest congratulations for winning HEC's national Best Teacher Award for the year 2021. You continue to inspire me with your comprehensive leadership in teaching, research, and professional contributions to the discipline of electrical engineering, and science and technology. 

The way you've blended invention with discovery and applied fundamental principles and algorithmic tools to solving grand challenges and importantly, carrying your students in this odyssey, is trailblazing. I often find this ghazal to be a succinct summary of the qualities of an ideal teacher and one can see all these in your personality.

غلامِ همتِ آن رندِ عافیت سوزم
که در گداصفتی کیمیاگری داند

Momin, keep shining!

~ Muhammad Sabieh Anwar