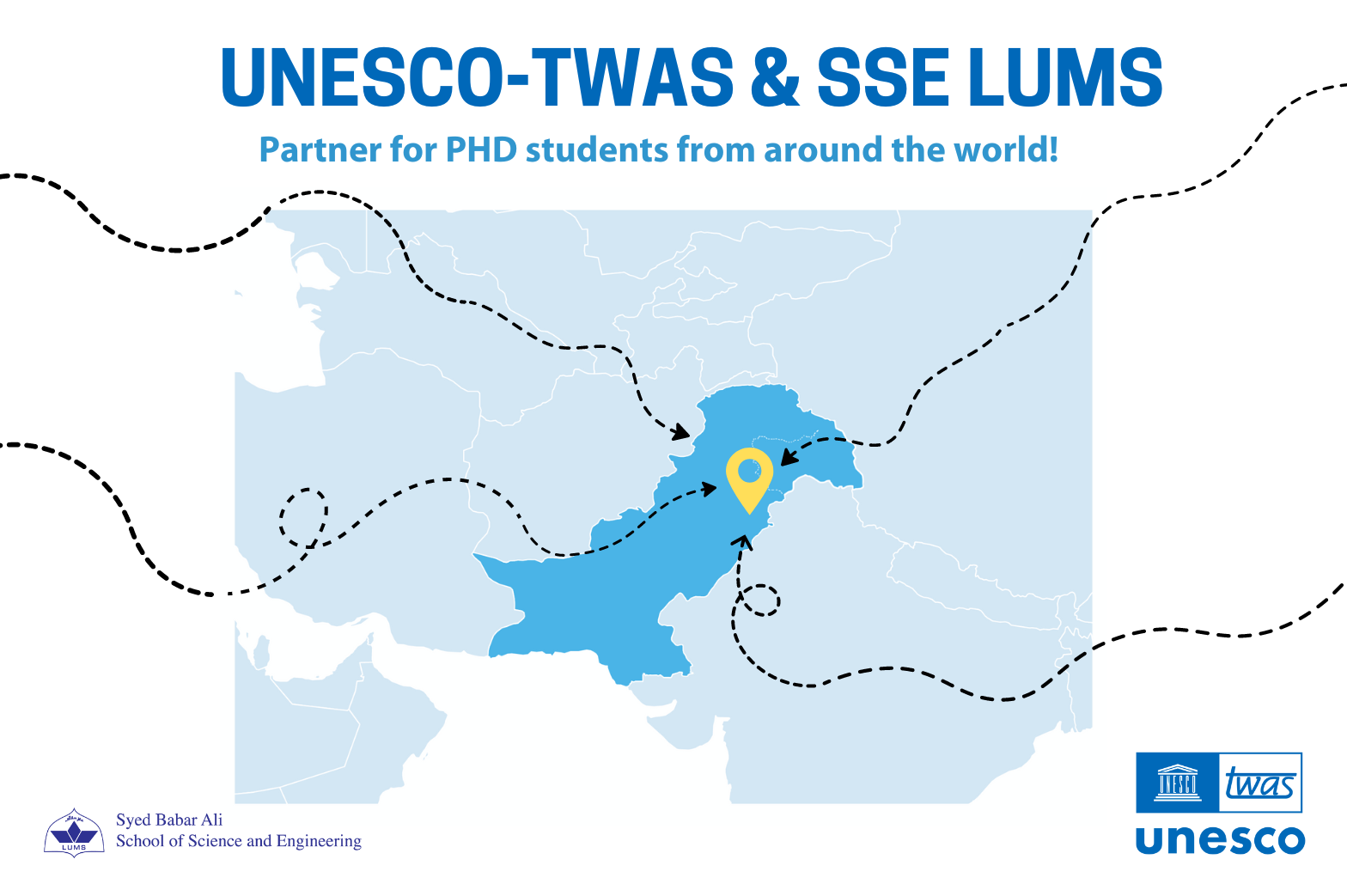 SBASSE LUMS Partners with TWAS/ UNESCO for its International PhD and Postdoctoral Programme
The Syed Babar Ali School of Science and Engineering strives to recruit international PhD students as well as post-doctoral researchers to create global partnerships for solving big challenges faced by the region and the large, employing and synthesizing new knowledge in science, engineering and innovation. Towards this mission, the Lahore University of Management Sciences (LUMS) is excited to announce its partnership with The World Academy of Sciences for the advancement of science in developing countries (TWAS), a programme unit of  the United Nations Educational, Scientific And Cultural Organization (UNESCO), to launch a fellowship programme for recruiting excellent PhD and post-doctoral researchers from the developing world. 
The MoU was signed by LUMS Vice Chancellor, Dr. Arshad Ahmad, and the Executive Director of TWAS-UNESCO, Professor Romain Murenzi and is a significant step towards promoting scientific research and innovation in Pakistan and the region. This promises to help break scientific isolation of our communities, will foster global mobility, fusion of new ideas and will bring the best minds and most skilled resources together. The benefits to cultural symbiosis are evident. 
Under the agreement, LUMS will open its doors for doctoral and postdoctoral studies to students applying through the vast TWAS/UNESCO network, drawing upon the global network of scientists and engineers built over the past decades. Students will enter into the School of Science and Engineering's existing PhD programme in the disciplines of computer science, physics, mathematics, electrical engineering, chemical and environment engineering, chemistry and biology. The LUMS fellowship provide full tuition fees waiver as well as coverage of living expenses in the form of a monthly stipend for the duration of the programme. Additionally, UNESCO/TWAS will provide travel support to the selected fellows. These researchers promise to galvanize innovation and discovery in their respective homelands and become torchbearers of south-south collaboration. Of course, these initiatives also help decolonize scientific knowledge and democratize the process of innovation. 
In order to be eligible for these fellowships, prospective applicants must be permanent residents in a developing country other than Pakistan and hold a university degree (minimum PhD degree for the post-doctoral fellowship; and Masters level degree for the doctoral fellowship). However, they should not be currently pursuing doctoral degrees at any university/institution in Pakistan. Moreover, they must have a maximum age of forty-five (45) years on December 31st of the year of application for the Postdoctoral fellowship to the LUMS-TWAS/UNESCO Fellowship programme; and thirty-five (35) years on December 31st of the year of application for the doctoral fellowship to the LUMS-TWAS/UNESCO Fellowship. 
If you meet the above criteria, you can check the following link for information related to LUMS PhD programme: https://sbasse.lums.edu.pk/international-students. TWAS/UNESCO will soon announce the call for admissions and have a dedicated webpage.