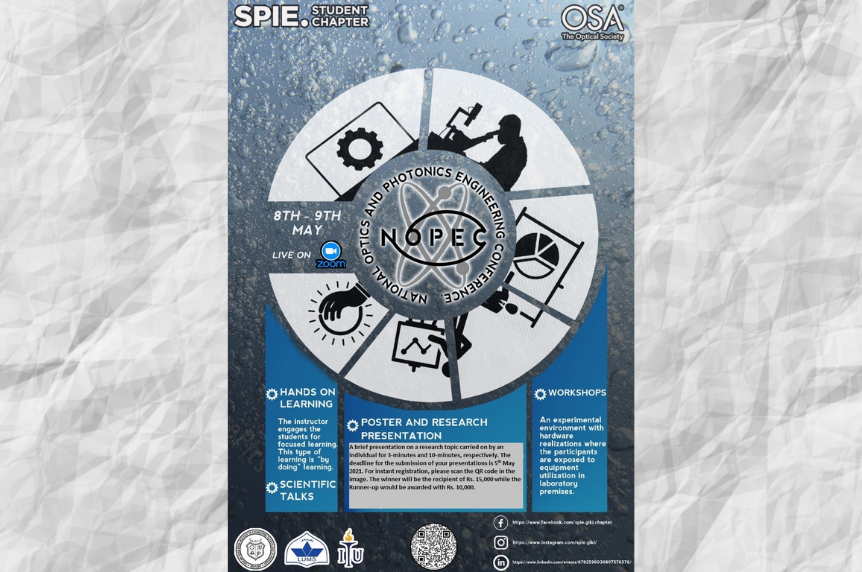 National Optics and Photonics Engineering Conference by SPIE
LUMS SPIE chapter is organizing the "National Optics and Photonics Engineering Conference" on the 8th & 9th of May 2021, online via Zoom. This conference is being held for the students in collaboration with SPIE chapters of GIKI and ITU and will have plenty of opportunities for the students to learn from. The conference will include: 
Hands-on Learning
The instructor engages the students for focused learning. This type of learning is "by doing" learning.
Scientific Talks
Poster and Research Presentation
A brief presentation on a research topic carried on by an individual for 3-minutes and 10-minutes, respectively. The deadline for the submission of your presentations is 5th May 2021. For instant registration, please scan the QR code in the image. 
The winner will be the recipient of Rs. 15,000 while the Runner-up would be awarded with Rs. 10,000.
Workshops
An experimental environment with hardware realizations where the participants are exposed to equipment utilization in laboratory premises.
For any questions, please contact chapter president Ali Raza Mirza.