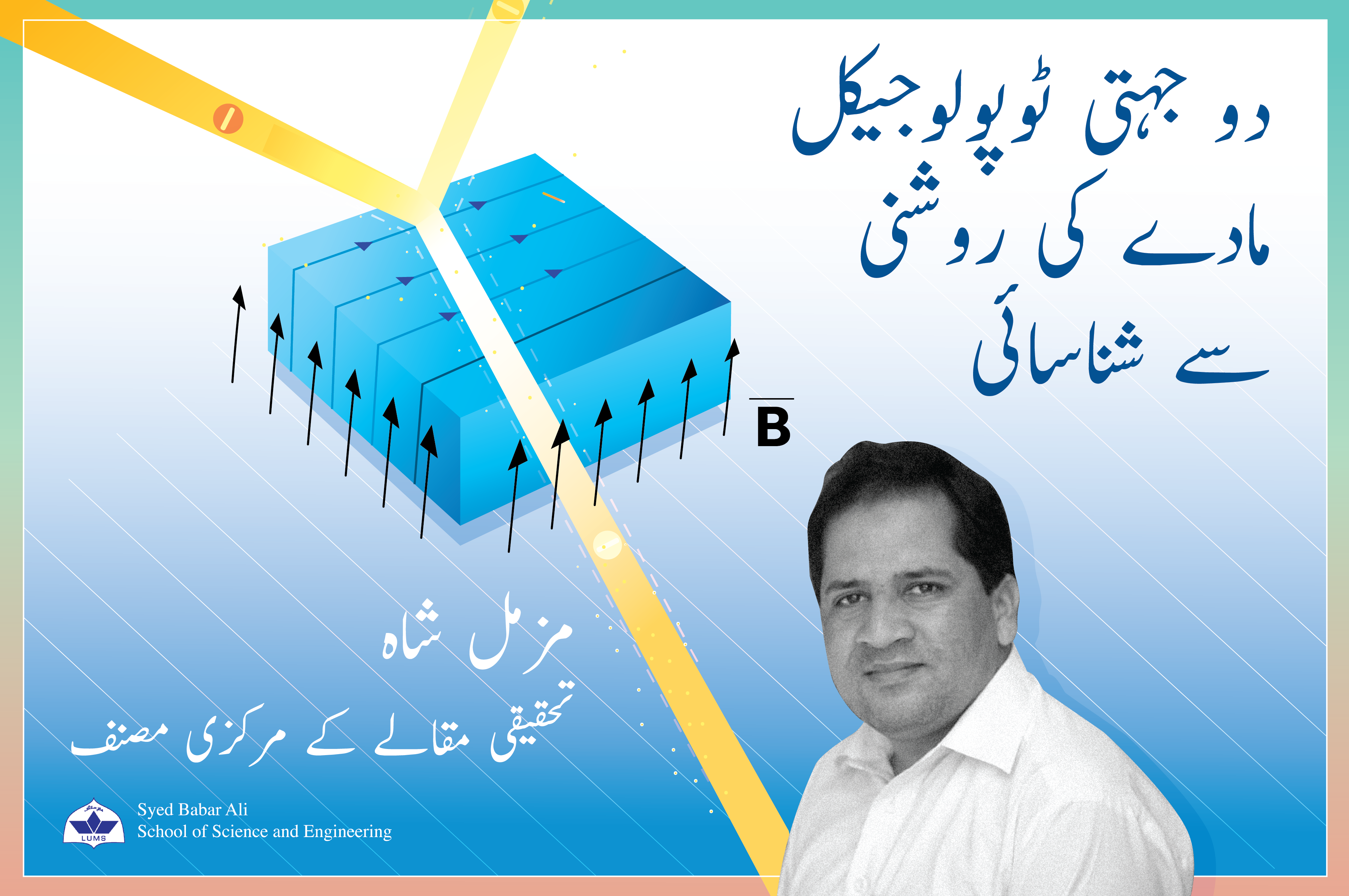 برقی مقناطیسیت میں دو جہتی ٹوپولوجیکل مادے کی روشنی سے شناسائی
لمز کی فزلیب میں بطور پی ایچ ڈی طالبِ علم خدمات انجام دیتے ہوے، مزمل شاہ نے اپنے تحقیقی مقالے میں دو جہتی ٹوپولوجیکل مادے پر روشنی گرنے سے نت نئے بدلتے زاویوں کی تحقیق پیش کی۔ امید ہے کہ ایسی جانچ پڑتال سے بائیوسینسرز کے ارتقا میں جدت لائی جا سکے گی اور مقناطیسی قوت ناپنے والے آلات کو بھی مزید بہتر بنایا جا سکے گا۔
مزمل شاہ صاحب نے اپنی تحقیق میں اِن غیر معمولی مٹیریلز کا استعمال کیا جن کا ڈھانچہ تین پرتوں پر مشتمل ہوتا ہے۔ اس میں پہلی اور تیسری پرت، جس کو دو جہتی سطح تصور کیا جاتا ہے، نہایت باریک ہوتی (صرف ۵  تا ۱۰ نینومیٹرز موٹی) اور برقی اصالت کی خوبی رکھتی ہیں، جبکہ درمیانی تہہ غیر موصل ہوتی ہے۔ مزمل شاہ کی سیمولیشن میں اوپر اور نیچے والی دو جہتی سطح پر روشنی گرائی جاتی ہے جس کے انعکاس میں اہم معلومات چھپی ہوتی ہیں۔ مگر اس سیمولیشن میں مزمل صاحب نے ایک اور متغیر عنصر کا اضافہ کیا: یعنی مقناطیسی قوت۔ اس اضافی جز سے پیدا ہونے والی توانائی کو زیمین انرجی کہا جاتا ہے۔ پہلی اور تیسری پرتوں پر گرتی ہوئی روشنی مقناطیسی میدان میں اپنی تقطیب میں رد و بدل کرتی ہے۔ یہ گھومنے کا عمل دو طرح سے بیان کیا جاتا ہے۔ جب مادے پر روشنی گر کر واپس پلٹ جائے تو  اس کو گردشِ کر، جبکہ یہی عمل اگر اس طرح واقع ہو کہ روشنی مادے میں سے آر پار گزر جائے، تو اس کو گردشِ فاراڈے کہتے ہیں۔
مزمل شاہ نے دریافت کیا کہ ۵ ٹیسلا کے مقناطیسی میدان میں حیرت کن حد تک بڑی گردشِ کر دیکھی گئی۔ جبکہ اس طرح کے تجربات میں عمومی طور پر دوسرے مادوں میں گردش محض ۵ یا ۶ ڈگری تک ہوتی ہے۔ اس سیمولیشن میں یہ بڑھ کر ۱۵ ڈگری تک ناپی گئی امید ہے کہ یہ کھوج طبیعیات کے معروف مضمون کوانٹم تھیوری کے مزید کرشمات کو انسانی عقل و فہم کے قریب لانے میں مدد دے گی۔
یہ تحقیقی مقالہ ڈاکٹر صبیح انور، ڈاکٹر علی اکبر اور ڈاکٹر محمد ساجد کے تعاون سے مکمل کیا گیا۔ اس مقالے کی مکمل تفصیلات کے لیے درج ذیل لنک پر کلک کیجیے:
https://www.osapublishing.org/ome/fulltext.cfm?uri=ome-11-2-525&id=446949
M. Shah, A. Akbar, M. Sajid, and M. Sabieh Anwar, "Transitional Faraday and Kerr effect in hybridized topological insulator thin films," Opt. Mater. Express 11, 525-538 (2021).