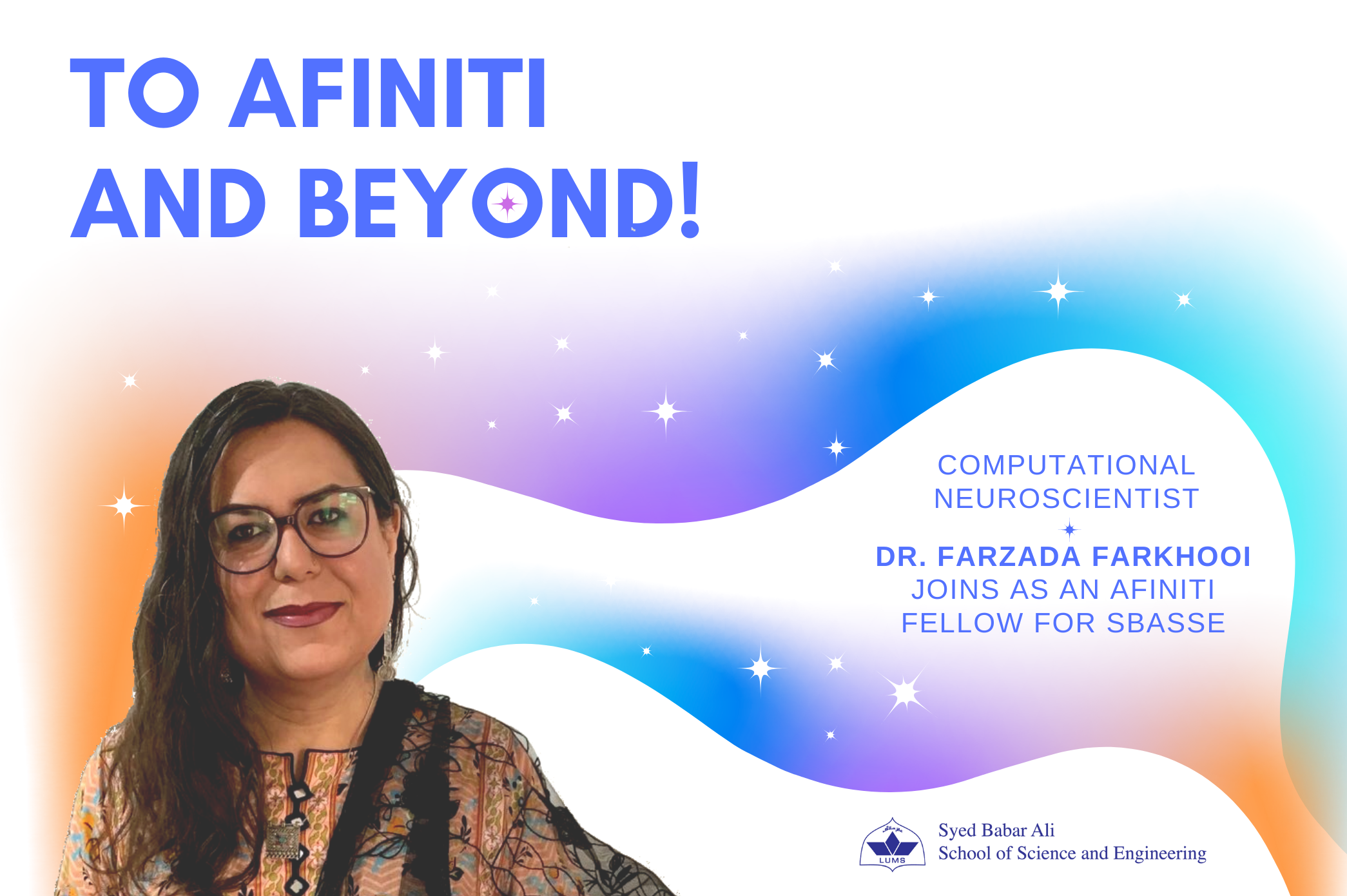 To Afiniti and Beyond - SBASSE welcomes the first cohort of Afiniti Fellows
Like a pencil balanced upside-down, the brain is a conglomerate of finely balanced neurological jugglery that is sophisticated enough to stir fascination yet delicate enough to respond boisterously to the otherwise imperceptible fraction of an electrical impulse. To untangle some of the most gripping mysteries of the brain requires an academic arsenal of astronomical proportions. This is where Dr. Farzada Farkhooi's research interest comes in. Dr. Farkhooi's research agenda as an Afiniti fellow will be devoted to developing the theoretical tools necessary to address important questions in the physics of brain dynamics and functions.
Understanding our brain is interdisciplinary research and spans across physics, mathematics, electrical engineering, computer science, and biology. Dr. Farkhooi envisions extending and catalyzing her scientific knowledge and links with the vibrant local communities at the SBASSE and forming a new solid research and teaching area here.
Dr. Farzada Farkhooi received a bachelor's from Allameh Tabataba'i University, Tehran, Iran, and her master's from the University of Nottingham, UK. She completed her Ph.D. at Freie Universität Berlin, Germany, in computational neuroscience in 2011. She was a postdoc fellow and visiting scholar at the National Institute of Health, Bethesda, USA, and CNRS, Paris, France. She established her independent line of research at the Institute for Mathematics at Technische Universität Berlin, Germany, in 2015. Afterward, she moved to the Institute for Theoretical Biology at Humboldt-Universität Berlin, Germany. Her work is pursued in close collaboration with outstanding experimental and theoretical research groups around the world. She is building a strong publication record with articles in journals such as Physical Review Letters, Physical Review E, PLoS Computational Biology, and Proceedings of the National Academy of Sciences. 
Her life journey as a Muslim trans person, always moving, made her more resilient and resourceful in dismantling visible and invisible social barriers while doing cutting-edge research. "I quest to be on the path of conjoining myself with the active intellect, as al-Ghazālī phrases it in The Alchemy of Happiness (499 AH)— a process that, perhaps in our age, means creating a sacred space for liberating opportunities.", says Dr. Farkhooi. Further expanding on her aspirations as an Afiniti fellow, Dr. Farkhooi said "I will contribute to the sensitization of the mentorship program to transform learning and research spaces for women and gender minorities so they can realize their full potential at SBASSE." 
We congratulate and welcome Dr. Farzada Farkhooi to the Afiniti Fellowship program at SBASSE, LUMS, and wish her success in her academic and research endeavors.